Ollie Horgan: 'I don't think anyone in there knows any other way of doing it'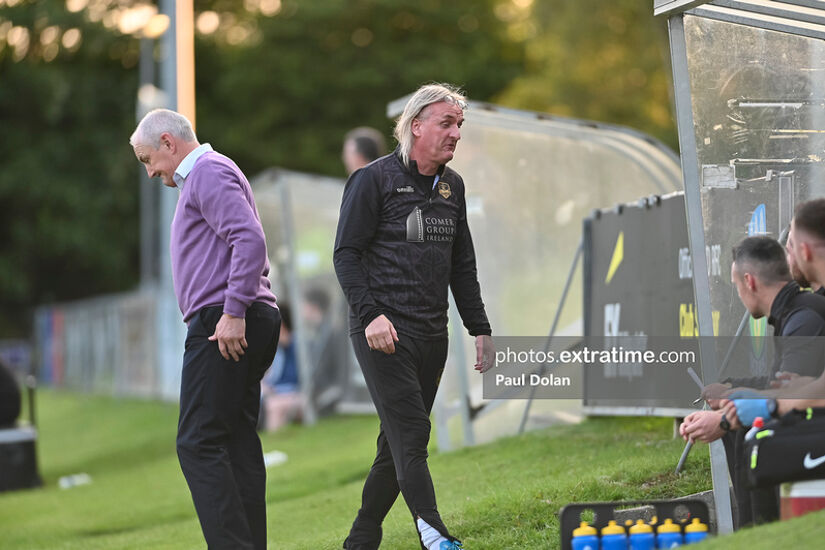 Paul Corcoran reports from Eamonn Deacy Park
Galway United returned home on Monday night for the first time since they confirmed their First Division title win against Kerry FC last Friday night.
A crowd of 2,503 welcomed the Tribesmen at Eamonn Deacy Park on Monday as they sought to give the home fans more to shout about by keeping their unblemished home record intact against Finn Harps.
They managed to do just that – but not without some difficulty despite numerous chances to kill the game.
We probably made it hard for ourselves, but we won, it wasn't the fact that we didn't play well but we couldn't get the second goal, that left it open which is the case in a lot of games, but we won," Galway United assistant manager Ollie Horgan said, speaking to the media after the game.
"We actually played very well, I felt, just we couldn't finish it and make it that bit easier but when you haven't put a team away, they're always going to get a chance.
"BJ Banda got a chance and then they had a corner and a long throw that created havoc, but we've moved on and we're playing Athlone on Friday and we need to get ourselves right for that.
"If we hadn't won and those chances weren't taken, you'd be a little bit more critical. We had a game here against Harps during the summer, I'd say we created more chances than that tonight.
"But fair play to them, that're on a poor run and they dug in and always when you can't put a team away, they'll always get a half chance, which they did."
The Tribesmen were dominant throughout the game but only came away with a 1-0 win against the struggling Donegal side – but it had been just days since the raucous celebrations in Kerry after United clinched the First Division title and promotion back to the Premier Division and a number of players were rested.
"We had a number carrying knocks and a number that we needed to freshen up and get a little bit of recovery time to but we still have enough on the pitch to win it, and we did win it and that's really the height of it.
We probably should have put it to bed earlier but at least we got out of there intact with our home record in particular.
"We have a game against Athlone at home. It was very tight at home the last time we had them and that's all we're really focused on at the moment on Friday, to try and get people recovered.
It's been a long week and we need to freshen and get people with energy back in their legs and to go out on Friday night to try and turn Athlone over."
That home record is still important for the Tribesmen – last night saw them win their 15th league game in a row all season (every game this year), including the FAI Cup quarter final victory over Dundalk that's 16 wins so far with four games at Eamonn Deacy Park to go.
Horgan outlined that even with the title won there's just no other way to approach a game than with a win in mind.
"There's no other way to do it, I don't think anyone in there knows any other way of doing it. We'll prepare for that game every bit as we prepared for any of the games in the league up to having won it and we'll do the same with Athlone."
Galway United are back in action on Friday, 29 September against Athlone Town before they play Bohemians in an FAI Cup semi-final on Saturday, 7 October.
Galway United received a glorious reception when they returned to Eamonn Deacy Park as First Division champions on Monday night – they kept the good times rolling with a 1-0 win over Finn Harps.https://t.co/jxAWInHGQc

— Extratime.com (@ExtratimeNews) September 26, 2023