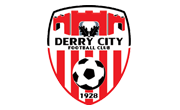 Derry City
Candystripes
Follow
Derry City's Biography
Derry City Football Club was founded in 1928 (refounded 2010) and has spent the majority of its time in the League of Ireland in the Premier Division, the top tier of league football in the Republic of Ireland. However, the club was expelled in November 2009 when it was discovered there were secondary, unofficial contracts with players. Derry were reconstituted a few weeks later and readmitted to the First Division.

Derry City are the League of Ireland's only participant from Northern Ireland. They play their home fixtures at the Brandywell Stadium and the players wear red and white striped shirts from which their nickname, the Candystripes, derives.

The club initially played in the Irish League, the domestic league in Northern Ireland, and won a title in 1964–65. In 1971 security concerns related to unrest in Northern Ireland meant matches could not be played at the Brandywell. The team played "home" fixtures 30 miles (48 km) away in Coleraine. Security forces withdrew their objections to the use of the Brandywell the following year, but in the face of insistence from the Irish League that the unsustainable arrangement continue, the club withdrew from the league.

After 13 years in junior football Derry joined the League of Ireland's new First Division in 1985/86. Derry won the First Division title in 1987 and achieved promotion to the Premier Division where they remained until 2009, being relegated as a result of financial problems rather than poor sporting performance. The club won a domestic treble in 1988–89, the only Irish club to ever do so.

League Champions:Twice
1988/89, 1996/97.

First Division Champions: Twice
1986/87, 2010.

FAI Cup Winners: Five times
1988/89, 1994/95, 2002, 2006, 2012.

League Cup Winners: Eleven times
1988/89, 1990/91, 1991/92, 1993/94, 1999/00, 2005, 2006, 2007, 2008, 2011, 2018.


Derry City 2022 Record
| | Matches | Wins | Draws | Losses |
| --- | --- | --- | --- | --- |
| Home | 19 | 10 | 6 | 3 |
| Away | 17 | 10 | 4 | 3 |
| Total | 36 | 20 | 10 | 6 |
Derry City 2022 Record - League of Ireland Premier Division
| Comp | Date | Against | Venue | Score | Att |
| --- | --- | --- | --- | --- | --- |
| Prem | Feb. 18, 2022 | Dundalk Dundalk | Oriel Park | 2 - 2 | 3357 |
| Prem | Feb. 25, 2022 | Shamrock Rovers Shamrock R | The Brandywell | 2 - 1 | 3,490 |
| Prem | Feb. 28, 2022 | Sligo Rovers Sligo | The Brandywell | 0 - 0 | 3,445 |
| Prem | March 4, 2022 | Shelbourne Shels | Tolka Park | 1 - 0 | 2886 |
| Prem | March 14, 2022 | Drogheda United Drogheda | The Brandywell | 2 - 0 | 3,110 |
| Prem | March 18, 2022 | St. Patrick's Athletic St. Pats | The Brandywell | 2 - 1 | 3,125 |
| Prem | April 1, 2022 | Bohemians Bohs | Dalymount Park | 2 - 1 | 2990 |
| Prem | April 4, 2022 | UCD UCD | The UCD Bowl | 2 - 0 | 473 |
| Prem | April 9, 2022 | Finn Harps Harps | Finn Park | 2 - 1 | 3,126 |
| Prem | April 15, 2022 | Shelbourne Shels | The Brandywell | 1 - 2 | 3430 |
| Prem | April 18, 2022 | Drogheda United Drogheda | United Park | 1 - 1 | 1301 |
| Prem | April 22, 2022 | UCD UCD | The Brandywell | 7 - 1 | 3735 |
| Prem | April 29, 2022 | St. Patrick's Athletic St. Pats | Richmond Park | 4 - 0 | 3475 |
| Prem | May 6, 2022 | Bohemians Bohs | The Brandywell | 1 - 1 | |
| Prem | May 9, 2022 | St. Patrick's Athletic St. Pats | The Brandywell | 0 - 0 | |
| Prem | May 13, 2022 | Shamrock Rovers Shamrock R | Tallaght Stadium | 0 - 1 | 7,126 |
| Prem | May 20, 2022 | Dundalk Dundalk | The Brandywell | 1 - 2 | |
| Prem | May 23, 2022 | Sligo Rovers Sligo | The Showgrounds | 1 - 2 | |
| Prem | May 27, 2022 | Finn Harps Harps | The Brandywell | 2 - 2 | |
| Prem | June 17, 2022 | Drogheda United Drogheda | The Brandywell | 1 - 1 | |
| Prem | June 24, 2022 | UCD UCD | The UCD Bowl | 1 - 0 | |
| Prem | July 1, 2022 | Bohemians Bohs | Dalymount Park | 3 - 2 | |
| Prem | July 17, 2022 | Finn Harps Harps | Finn Park | 2 - 1 | |
| Prem | Aug. 5, 2022 | Dundalk Dundalk | Oriel Park | 1 - 1 | 2,856 |
| Prem | Aug. 12, 2022 | Shamrock Rovers Shamrock R | The Brandywell | 0 - 0 | |
| Prem | Aug. 19, 2022 | Drogheda United Drogheda | United Park | 1 - 1 | 1,353 |
| Prem | Aug. 29, 2022 | Shelbourne Shels | Tolka Park | 1 - 0 | None |
| Prem | Sept. 2, 2022 | UCD UCD | The Brandywell | 3 - 0 | |
| Prem | Sept. 9, 2022 | Bohemians Bohs | The Brandywell | 1 - 0 | |
| Prem | Sept. 13, 2022 | Sligo Rovers Sligo | The Brandywell | 1 - 0 | None |
| Prem | Sept. 30, 2022 | St. Patrick's Athletic St. Pats | Richmond Park | 1 - 0 | |
| Prem | Oct. 7, 2022 | Finn Harps Harps | The Brandywell | - | |
| Prem | Oct. 21, 2022 | Shelbourne Shels | The Brandywell | - | |
| Prem | Oct. 24, 2022 | Sligo Rovers Sligo | The Showgrounds | - | None |
| Prem | Oct. 30, 2022 | Shamrock Rovers Shamrock R | Tallaght Stadium | - | None |
| Prem | Nov. 4, 2022 | Dundalk Dundalk | The Brandywell | - | |
Derry City 2022 Record - FAI Cup
Derry City 2022 Record - Europa Conference League