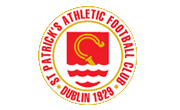 St. Patrick's Athletic
The Saints, Pats
Follow
St. Patrick's Athletic's Biography
St. Patrick's Athletic FC was founded in 1929 and the club was elected to the League in 1951. They promptly won the league in that first year and the Saints added two more League titles that decade. The next League title came in 1989/90 under future Ireland manager, Brian Kerr and by the end if the 90s Pats had three more League crowns in the trophy cabinet, topping the table in 1995/96, 1997/98 and 1998/99. The club's eighth league title came in 2013 when Liam Buckley's side finished three points clear of Dundalk at the top of the Premier Division standings.
The Saints have won three League Cup trophies, beating UCD over two legs in 2000/01, winning 1-0 against Longford Town in 2003, and beating Galway United in a penalty shootout in 2015. The club have also lifted the FAI Cup on three occasions, winning it for the first time in 1959 when they overcame Waterford 2-1 after a replay. Their second trophy came just two years later, in 1961, when the Saints beat Drumcondra 2-1. The Saints third FAI Cup triumph came in 2014 when they defeated Derry City 2-0 at the Aviva Stadium. Pats have also lost seven FAI Cup finals.
League Champions:
Eight times
1951/52, 1954/55, 1955/56, 1989/90, 1995/96, 1997/98, 1998/99, 2013
FAI Cup Winners:
Three times
1959, 1961, 2014.
League Cup Winners:
Three times
2000/01, 2003, 2015.
Squad Photos taken by Darragh Connolly (
Connolly Photographs
)
St. Patrick's Athletic 2022 Record
| | Matches | Wins | Draws | Losses |
| --- | --- | --- | --- | --- |
| Home | 21 | 10 | 4 | 7 |
| Away | 21 | 9 | 6 | 6 |
| Total | 42 | 19 | 10 | 13 |
St. Patrick's Athletic 2022 Record - League of Ireland Premier Division
| Comp | Date | Against | Venue | Score | Att |
| --- | --- | --- | --- | --- | --- |
| Prem | Feb. 18, 2022 | Shelbourne Shels | Tolka Park | 3 - 0 | 4,238 |
| Prem | Feb. 25, 2022 | Sligo Rovers Sligo | Richmond Park | 1 - 2 | 3,930 |
| Prem | Feb. 28, 2022 | Bohemians Bohs | Dalymount Park | 0 - 1 | 3,516 |
| Prem | March 4, 2022 | Shamrock Rovers Shamrock R | Richmond Park | 1 - 0 | 4,871 |
| Prem | March 11, 2022 | Finn Harps Harps | Finn Park | 2 - 0 | 1,515 |
| Prem | March 14, 2022 | UCD UCD | Richmond Park | 2 - 0 | 2,627 |
| Prem | March 18, 2022 | Derry City Derry | The Brandywell | 1 - 2 | 3,125 |
| Prem | April 1, 2022 | Drogheda United Drogheda | Richmond Park | 1 - 1 | 3,325 |
| Prem | April 8, 2022 | Dundalk Dundalk | Richmond Park | 0 - 0 | 4,322 |
| Prem | April 15, 2022 | Shamrock Rovers Shamrock R | Tallaght Stadium | 0 - 1 | 7424 |
| Prem | April 18, 2022 | UCD UCD | The UCD Bowl | 2 - 1 | 956 |
| Prem | April 22, 2022 | Finn Harps Harps | Richmond Park | 2 - 0 | 2825 |
| Prem | April 29, 2022 | Derry City Derry | Richmond Park | 0 - 4 | 3475 |
| Prem | May 6, 2022 | Drogheda United Drogheda | United Park | 4 - 0 | 1503 |
| Prem | May 9, 2022 | Derry City Derry | The Brandywell | 0 - 0 | |
| Prem | May 14, 2022 | Sligo Rovers Sligo | The Showgrounds | 1 - 1 | |
| Prem | May 20, 2022 | Shelbourne Shels | Richmond Park | 1 - 2 | |
| Prem | May 23, 2022 | Bohemians Bohs | Richmond Park | 3 - 0 | 3,473 |
| Prem | May 27, 2022 | Dundalk Dundalk | Oriel Park | 0 - 1 | 2,889 |
| Prem | June 17, 2022 | UCD UCD | Richmond Park | 2 - 1 | |
| Prem | June 24, 2022 | Finn Harps Harps | Finn Park | 2 - 2 | 1,020 |
| Prem | June 27, 2022 | Shamrock Rovers Shamrock R | Richmond Park | 1 - 2 | |
| Prem | July 1, 2022 | Drogheda United Drogheda | Richmond Park | 3 - 0 | 2,115 |
| Prem | July 15, 2022 | Dundalk Dundalk | Richmond Park | 1 - 1 | |
| Prem | Aug. 14, 2022 | Sligo Rovers Sligo | Richmond Park | 1 - 0 | None |
| Prem | Aug. 19, 2022 | UCD UCD | The UCD Bowl | 2 - 1 | 1,023 |
| Prem | Aug. 29, 2022 | Bohemians Bohs | Dalymount Park | 3 - 1 | None |
| Prem | Sept. 2, 2022 | Finn Harps Harps | Richmond Park | 2 - 1 | None |
| Prem | Sept. 9, 2022 | Drogheda United Drogheda | United Park | 2 - 0 | 1,560 |
| Prem | Sept. 30, 2022 | Derry City Derry | Richmond Park | 0 - 1 | |
| Prem | Oct. 3, 2022 | Shelbourne Shels | Tolka Park | 4 - 4 | 3,483 |
| Prem | Oct. 7, 2022 | Dundalk Dundalk | Oriel Park | 2 - 1 | 2,734 |
| Prem | Oct. 14, 2022 | Bohemians Bohs | Richmond Park | 3 - 1 | 5,106 |
| Prem | Oct. 21, 2022 | Shamrock Rovers Shamrock R | Tallaght Stadium | 1 - 4 | 7,469 |
| Prem | Oct. 28, 2022 | Sligo Rovers Sligo | The Showgrounds | 0 - 1 | None |
| Prem | Nov. 6, 2022 | Shelbourne Shels | Richmond Park | 4 - 0 | 4,644 |
St. Patrick's Athletic 2022 Record - Presidents Cup
St. Patrick's Athletic 2022 Record - FAI Cup
St. Patrick's Athletic 2022 Record - Europa Conference League