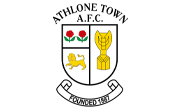 Athlone Town's Biography
Athlone Town F.C. was founded in 1887 and is the oldest Association football club in Ireland. They were first elected to the League of Ireland in 1922 when they finished sixth of twelve, and won their first major trophy when they won the 1924 FAI Cup, beating Cork side Fordsons in the final.
Athlone spent six seasons in the League before being replaced by Drumcondra at the end of the 1927/28 season, next entering League of Ireland competition in 1969. They won their first League title in !980/81, repeating the feat two years later.
Athlone played their home games at St Mel's Park up until the end of the 2006 season, and moved into their new home at Lissywoollen at the start of the 2007 season.
League Champions:
Twice
1980-81, 1982/83
First Division Champions:
Twice
1987/88, 2013.
FAI Cup Winners:
Once
1923/24
League Cup Winners:
Three times
1979/80, 1981/82, 1982/83
Team headshots are courtesy of Ashley Cahill of AC Sports Images


Athlone Town 2022 Record
| | Matches | Wins | Draws | Losses |
| --- | --- | --- | --- | --- |
| Home | 14 | 3 | 2 | 9 |
| Away | 15 | 2 | 0 | 13 |
| Total | 29 | 5 | 2 | 22 |
Athlone Town 2022 Record - League of Ireland First Division
| Comp | Date | Against | Venue | Score | Att |
| --- | --- | --- | --- | --- | --- |
| First | Feb. 18, 2022 | Waterford Waterford | Athlone Town Stadium | 2 - 5 | 397 |
| First | March 4, 2022 | Wexford Wexford | Ferrycarrig Park | 1 - 2 | 332 |
| First | March 14, 2022 | Cobh Ramblers Cobh | Athlone Town Stadium | 2 - 3 | 308 |
| First | March 18, 2022 | Galway United Galway | Athlone Town Stadium | 1 - 2 | 532 |
| First | March 25, 2022 | Cork City Cork | Turners Cross | 1 - 4 | 2,754 |
| First | April 1, 2022 | Bray Wanderers Bray | Athlone Town Stadium | 1 - 1 | 342 |
| First | April 4, 2022 | Treaty United Treaty United | Markets Field | 0 - 2 | 677 |
| First | April 9, 2022 | Longford Town Longford | Strokestown Road | 0 - 2 | 451 |
| First | April 15, 2022 | Treaty United Treaty United | Athlone Town Stadium | 1 - 1 | 424 |
| First | April 18, 2022 | Cobh Ramblers Cobh | St. Colman's Park | 2 - 3 | 350 |
| First | April 29, 2022 | Wexford Wexford | Athlone Town Stadium | 0 - 3 | 120 |
| First | May 2, 2022 | Waterford Waterford | Regional Sports Centre | 0 - 1 | 1072 |
| First | May 6, 2022 | Cork City Cork | Athlone Town Stadium | 1 - 2 | |
| First | May 13, 2022 | Longford Town Longford | Athlone Town Stadium | 1 - 2 | |
| First | May 20, 2022 | Galway United Galway | Eamonn Deacy Park | 0 - 3 | |
| First | May 27, 2022 | Bray Wanderers Bray | Carlisle Grounds | 0 - 3 | |
| First | June 10, 2022 | Cobh Ramblers Cobh | Athlone Town Stadium | 5 - 2 | |
| First | June 17, 2022 | Treaty United Treaty United | Markets Field | 1 - 2 | |
| First | June 27, 2022 | Waterford Waterford | Athlone Town Stadium | 2 - 5 | |
| First | July 1, 2022 | Wexford Wexford | Ferrycarrig Park | 1 - 3 | 361 |
| First | July 8, 2022 | Bray Wanderers Bray | Athlone Town Stadium | 1 - 2 | |
| First | July 16, 2022 | Longford Town Longford | Strokestown Road | 3 - 1 | |
| First | July 22, 2022 | Galway United Galway | Athlone Town Stadium | 1 - 3 | |
| First | Aug. 5, 2022 | Cork City Cork | Turners Cross | 1 - 6 | 2,669 |
| First | Aug. 19, 2022 | Treaty United Treaty United | Athlone Town Stadium | 2 - 0 | |
| First | Sept. 2, 2022 | Bray Wanderers Bray | Carlisle Grounds | 0 - 2 | |
| First | Sept. 9, 2022 | Wexford Wexford | Athlone Town Stadium | 2 - 0 | |
| First | Sept. 16, 2022 | Cobh Ramblers Cobh | St. Colman's Park | 3 - 1 | |
| First | Sept. 30, 2022 | Longford Town Longford | Athlone Town Stadium | - | |
| First | Oct. 7, 2022 | Galway United Galway | Eamonn Deacy Park | - | |
| First | Oct. 14, 2022 | Cork City Cork | Athlone Town Stadium | - | |
| First | Oct. 21, 2022 | Waterford Waterford | Regional Sports Centre | - | |
Athlone Town 2022 Record - FAI Cup