League Preview: Shamrock Rovers -v- Shelbourne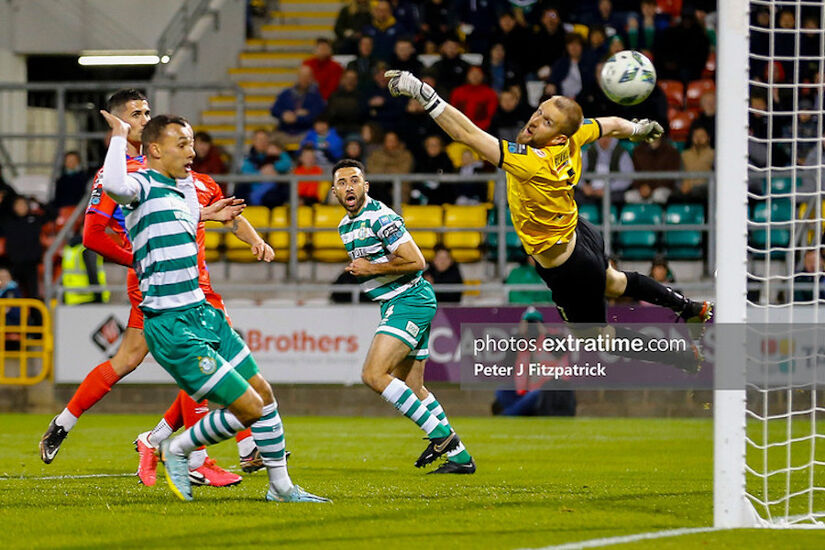 SHAMROCK ROVERS
While Shelbourne have to go back to 2005 for their last league win over Rovers' first team, it has been honours even in each of the three matches between the Hoops and the Reds this year.
Should the Hoops secure their first victory over Damien Duff's Shelbourne this season on Friday, it would be a massive step to retaining the title and earning a record equalling four in a row.
It would leave them requiring a minimum seven points from their final four matches and that is only if the other teams around them don't slip up – something opposition clubs don't seem capable of doing.
"We know Shelbourne will be a difficult opponent," said Hoops Head Coach Stephen Bradley speaking to shamrockrovers.ie about the game. "We know they're well organised and they work extremely hard for each other.
"They have some good players in there as well so it's going to be a difficult game. But we also know if we hit our performance levels, as I said, nine times out of ten it'll be enough to win games."
Bradley's side were frustrated by not being able to break down UCD in their scoreless draw last week but with Derry City losing to Sligo Rovers on Friday and St. Patrick's Athletic losing to Drogheda United on Monday, it means the Hoops are still firm favourites to win the league.
"Having watched the game back (against UCD), I think a lot of the performance was really good. The one crucial part is putting the ball in the net, that we didn't do on the night. We certainly had enough chances to do that. But as I said, a lot of the performance was really good. Yes we're frustrated as we wanted three points but happy with large parts of the performance so we take the point and move on."
"We've just got to go and perform the way we have been the last while. I think our performances have been really good, apart from little spells here and there, we've been really good. So we've got to stay there and get our performance levels. We know if we do that, nine times out of ten, it's enough to win the game."
Lee Grace, Sean Kavanagh and Johnny Kenny are all available for selection and the match could see the return of Jack Byrne to action for the first time since June.
Gary O'Neill has eyes on 'big incentive' to create history but knows job is not complete yet https://t.co/eVKLwGL4Kvpic.twitter.com/K9zen2zD2T

— Extratime.com (@ExtratimeNews) September 28, 2023
SHELBOURNE
Is Friday night in front of the live RTÉ TV cameras the game when Shelbourne finally win a Premier Division match in Tallaght?
Their current run of form, performances against Rovers this year and the Hoops patchy results give them as good a chance as any. The Reds are on the best run of any team in the league with three wins and two draws from their last five matches (compared with Rovers' two wins and three draws).
Shels come into the game unbeaten in their last ten matches and just the one loss in 15 – a 1-0 away defeat to St. Patrick's Athletic in June. They have the best defensive record in the top flight conceding just 14 goals in 31 matches.
It means that they are carrying momentum in the race for Europe coming into the final five games. They are just three points off third place and a guarantee of Europe. Indeed their current fourth position could be enough depending on the FAI Cup winners.
Shels were pegged back by Bohs on Monday late on and had to settle for a 1-1 draw in Dalymount and face into their third game in eight days.
"Contrary to certain headlines after Monday, I know that this team is ready to take the next step right now," said Duff speaking to his club's media team.
"That next step is finishing in the European places. That's what I've spoken about since day one. That's all we've spoken about as a group. It's ingrained in them and we are absolutely ready to take that step now.
"I think the pressure is on their players, there's no pressure on our guys. It's the same every single week, we go in and we encourage them to express themselves. They are relishing it. They are looking forward to it. They want to show their ability and their personality.
"I think we can score more and be colder in front of goal and killers in the final third, they've had a year and a half of coaching. The lads are sponges, that have grown, that second goal (for Shels) in Tallaght last time, in the 2-2 draw, that's the League of Ireland goal of the season, no doubt about it, that's the best team goal seen in the league this year, proper quality, real speed, composed finish, proper killers."
Luke Byrne on 'outstanding' Gavin Molloy: 'He deserves all the credit, praise and attention he's going to get' https://t.co/S8EwHooV4Vpic.twitter.com/GvnsDy9pDS

— Extratime.com (@ExtratimeNews) September 28, 2023
Referee: Damien MacGraith
MATCH STATS
The last time Shamrock Rovers lost a competitive first team game to Shelbourne was a 2-1 defeat in the 2012 FAI Cup quarter-final in Tolka Park. Philly Hughes got both goals for the Reds that day. Sean Gannon scored late for the Hoops in that match which saw Stephen Glass in temporary charge of Rovers following Stephen Kenny's departure from the club.
It is 18 years since Shelbourne's last league win over a Shamrock Rovers' first team – that was a 2-0 victory in September 2005. Their last 'away' win over Rovers in the Premier Division was in June that year when the Hoops were using Tolka Park as their home venue.
Rovers haven't lost at home in the league since May.
PREDICTION
2-1 home win
Shamrock Rovers
Injured: None
Doubtful: None
Suspended: None
Shelbourne
Injured: Matty Smith
Doubtful: None
Suspended: None
Jack Keaney: 'I'm going to see what happens next year and try go into full-time football' https://t.co/DHyx5kduCypic.twitter.com/ptdhvnDdwR

— Extratime.com (@ExtratimeNews) September 28, 2023