Luke Byrne on 'outstanding' Gavin Molloy: 'He deserves all the credit, praise and attention he's going to get'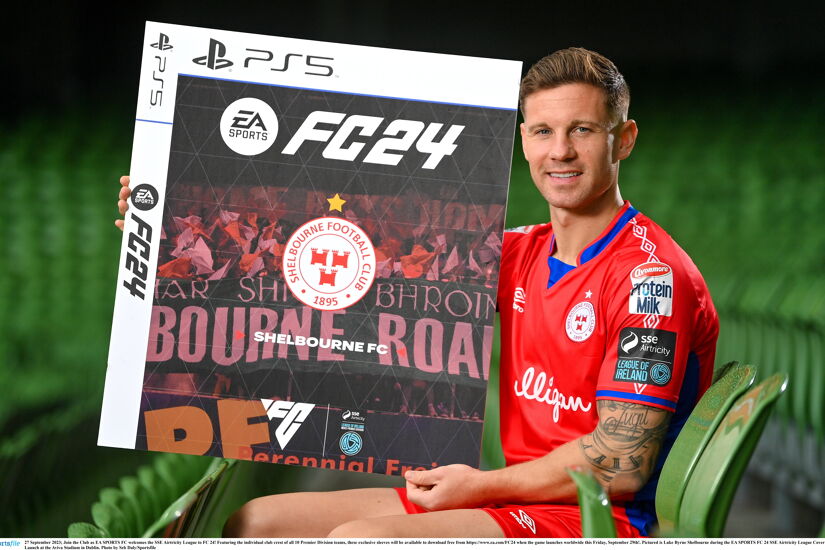 Andrew Dempsey reports from the Aviva Stadium
Shelbourne captain has heaped praise on teammate Gavin Molloy.
Molloy, 22, has been one of the standout players in the Premier Division this season – but his performances have often gone under the radar.
And with Jack Moylan set to leave the Reds for pastures new in the winter, Molloy's underrated tag may slowly start to dissipate.
"Gavin is just playing with a real confidence," Byrne told extratime.com at the EA SPORTS FC 24 SSE Airtricity League Cover Launch. "It is great to see for a young player.
"He only really established himself at the back end of last season as a regular star and he's still only 22. But he's outstanding for me.
"He's the best centre back in the league this season and I would put him forward for any of the individual awards at the end of the season.
"He is my pick for the most underrated player in the league and he's kind of our well-kept secret so I don't want to ruin that but look he deserves all the credit and praise and attention he's going to get.
"When a young player plays the way he is, that's what he is going to get. He's so capable of handling any attention that would come his way.
"He's just very calm, composed and a down to earth kid. I'm just so proud of him. What a player."
But Shels will be without Moylan from next season onwards with his move to Lincoln City locked in. And Byrne went on to hail his departing teammate.
"Jack probably gets more spotlight being a goal scorer and stuff," he adds. "He's got his move to Lincoln – and while I'm speaking about Gav that's not to say Jack hasn't been unbelievable for us.
"He's really led the line and carried the mantle for us with Sean Boyd being injured all year. He's on 11 goals this season and is a 21-year-old playing out of position for a lot of the year so he has been brilliant.
"To watch his development over the course of 18 months has been really good. That's a credit to himself and the coaches who have worked with him.
"He's a big part of the group and we will be very disappointed to see go but that was his dream and he's got his move so I'll be rooting for the kid."
But individual player talk aside, Shels are on the cusp of qualifying for European football next year.
The Reds are just three points off third-placed St Patrick's Athletic and a point clear of fifth-placed Bohemians.
The European dream is well and truly on.
"It'd be huge to reach it," Byrne added. "It would be a great achievement for the club. That's what we're focused on.
"But you've just got to take it game by game.
"There are just five games to go and they're all very winnable. We know that if we apply ourselves and hit our levels that we're capable of beating anybody."
Join the Club as EA SPORTS FC welcomes the League of Ireland to FC 24! Featuring the individual club crest of all 10 SSE Airtricity Men's Premier Division teams, these exclusive sleeves will be available to download free from https://www.ea.com/FC24 when the game launches worldwide this Friday, September 29th!
Jack Keaney: 'I'm going to see what happens next year and try go into full-time football' https://t.co/DHyx5kduCypic.twitter.com/ptdhvnDdwR

— Extratime.com (@ExtratimeNews) September 28, 2023