Gary O'Neill has eyes on 'big incentive' to create history but knows job is not complete yet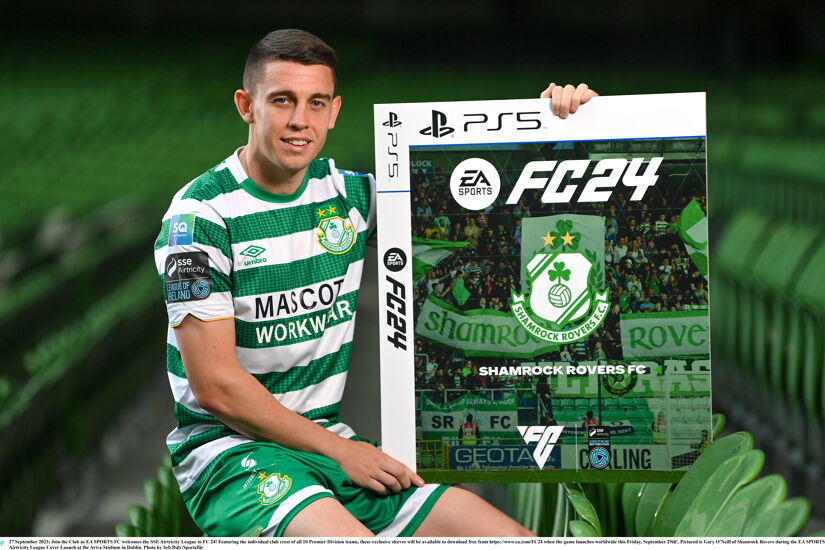 Andrew Dempsey reports the Aviva Stadium
Gary O'Neill and Shamrock Rovers are out to create a legacy this year – and they are very close to doing so.
Closing in on a fourth league title in a row, the Hoops need just 11 points from their last five games to retain their crown.
And that would be the perfect tonic to make up for their European disappointment earlier this season.
"It's been a bit more competitive than in previous seasons," O'Neill told extratime.com at the EA SPORTS FC 24 SSE Airtricity League Cover Launch.
"But that's a good thing. If you look at our results over the season, we have beaten Cork City just once out of three games – and we haven't beaten Shels or Drogheda yet.
"We dropped points against UCD on Friday night so it's just one of them seasons where it's been really competitive.
"I think it leaves the league in a good place before the end of the season."
While Rovers are close to securing their aim of domestic supremacy once again, their European setback threatened to derail their season – and 'legacy' according to some.
But O'Neill said: "I saw a few people say online that it was bad for our legacy – which was absolutely ridiculous.
"It happens and unfortunately you lose football matches. We had a really tough draw in Europe.I'm not making excuses but if you look at the draw, each of the four teams we could have played are in the group stages.
"We got a really tough draw and lost over two legs. Deservedly so as well. We didn't go enough to go through over the two legs and Breidablik were better than us.
"That's just how it goes."
The Hoops were also missing a host of key players throughout their run, with Neil Farrugia and Trevor Clarke the most notable of which. Jack Byrne was also out for a spell.
"We have our squad and the gaffer assembles it for the scenarios," former UCD captain O'Neill added.
"I wouldn't say we are weaker or stronger without anyone in the team – but I just don't think we did enough over the two legs and that is how football goes sometimes.
"We got a really tough draw against Ferencvaros and that was our European campaign for another year. It happens but hopefully we'll be back next year for the Champions League."
While Rovers were criticised for bowing out of Europe, O'Neill later admitted that the criticism they faced was perhaps down to an ignorance of the teams they played.
"It is a complete ignorance of the quality of football in these countries. Scandinavian countries are well known for being very good technically," the Kerryman explained.
"Dundalk played the team who were fifth or sixth in that league and they bowed out as well – and there didn't seem to be that much made out of it.
"Ignorance is probably the right word and a lack of understanding of how good these countries are."
But O'Neill and his teammates can create a legacy by winning a fourth league in a row, mirroring the famous Hoops side of the 1980s.
"Of course it would be a legacy," he admitted. "It would go down in the history books and it is something that has only been done once before by the historic Shamrock Rovers team in the 1980s.
"It's a big incentive for us but unfortunately it has to be one game at a time at the minute. I'm sure we would play the last five games in a week if we could.
"But there is an excitement and buzz around the place to hopefully get back on the podium again. But we have Shels on Friday night and that is the focus.
"They are a good side and are really well organised and well drilled. They are tough to play against.
"I think we have performed reasonably well against them but we haven't put the final touches on it yet. Hopefully Friday night is the night for that."
Join the Club as EA SPORTS FC welcomes the League of Ireland to FC 24! Featuring the individual club crest of all 10 SSE Airtricity Men's Premier Division teams, these exclusive sleeves will be available to download free from https://www.ea.com/FC24 when the game launches worldwide this Friday, September 29th!