Caitlin Hayes on her emotional debut for the Girls in Green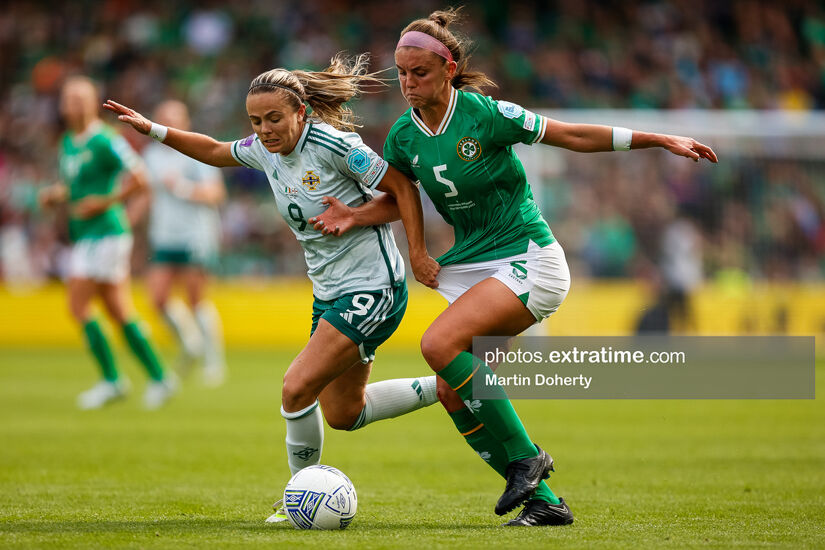 Macdara Ferris reports from the Aviva Stadium
Celtic defender Caitlin Hayes turned 28 last Friday and described receiving her clearance to play for Ireland that day as "the best birthday present I've ever had".
It enabled her to make her international debut for the Republic of Ireland on Saturday in the 3-0 win over Northern Ireland at the Aviva Stadium in front of a record breaking crowd of just under 36,000.
Speaking after the game, Hayes said she would have been happy just to be the water girl but while former Hoops player Tyler Toland won player-of-the-match, Hayes could well have won that award after a very assured performance at the back.
"When the opportunity came I just wanted to grab it with both hands," said Hayes who is eligible to play for the Girls in Green thanks to her Offaly-born Grandfather James Hayes. "To be in this squad in any capacity, be it a water girl or a first team player, is something that I would have taken.
"I've tried for a very long time and it is something I've desired and wanted to represent that side of my family. I was overwhelmed with emotion. I can't really describe how it feels. It is something I've waited for and brings my family great pride. It brings a smile on my parents faces and to see them watching me today in the stands."
Kyra Carusa on scoring in 'electric' Aviva Stadium: 'When that ball came off my foot for the back of the net, there is a sense of relief, of joy, of excitement' https://t.co/nFUKn7zqwMpic.twitter.com/NTTgBozYsH

— Extratime.com (@ExtratimeNews) September 24, 2023
Hayes is a welcome addition to the squad. Born in Warrington, she began her club football and signed for Celtic in 2020. Last season she won the club, league and players' player-of-the-year award.
Interim Ireland boss Eileen Gleeson was delighted with Hayes' contribution. "You've seen Caitlin, she's walked in and taken over the place," said Gleeson. "It was a really dominant performance defensively, in possession composed on the ball, and she gave us lots of out ball for our forwards. We've got strong defenders, now we've got another one."
Hayes slipped seamlessly in the back three formation set out by Gleeson alongside alongside Diane Caldwell and Louise Quinn. The Celtic defender said she was looking forward to playing alongside the Birmingham City player in particular.
"I played against her once when I played for Lewes when she was at Arsenal," said Hayes about Louise Quinn.
"I was just in awe of the way she holds herslef and the leader she is and how she plays the game so calmly. That is something I hope to be a sponge around her and learn from her as much as I can.~
"There are no better players to have around you than Louise Quinn and Diane Caldwell. I was learning off them and adding my little bit to the table. I'm thankful that I was able to slip in and hopefully it gets better and better."
Hayes says she was helped on Saturday by playing in a very similar to system at Celtic.
"I play that position at club so it wasn't too much learning, just learning the players around me. There wasn't too much in terms of tactics and analysis that was too much different so I was thankful for that so it gave me the opportunity to slip in pretty seamlessly."
It was the perfect start for Ireland in their UEFA Nations League campaign – a competition which plays a pivotal role in qualifying for the Euros. Having been in the World Cup during the summer, the Girls in Green want to make it back-to-back tournament qualifications.
"I've admired this team from afar and I know what they are all about. Just turning up and doing my game, I do it week in and week out at Celtic and that gives you confidence as you know what you can bring. If you've not got that then you are going to struggle. This team did well today and we got the three goals, the clean sheet and the three points."
Lucy Quinn on her Aviva debut goal: 'We all wanted to be the person to score first. I'm absolutely honoured and very lucky it was me' - https://t.co/94rjArr8tjhttps://t.co/7aJJhH5f2f

— Extratime.com (@ExtratimeNews) September 24, 2023