Andy Myler on his UCD managerial departure: 'I can't combine the day job with it any more and keep all the plates in the air'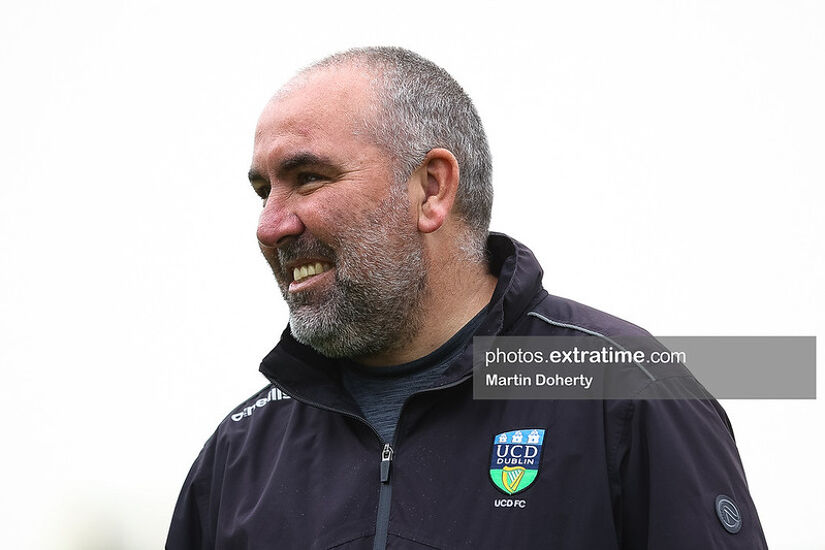 Macdara Ferris reports from the UCD Bowl
It was confirmed on Thursday that Andy Myler's stint as UCD boss will come to a four year end at the conclusion of the season.
Following that announcement on Friday his team earned a point from the scoreless draw with Shamrock Rovers but without a win it meant his team were relegated. Myler said after the draw that his mind had been made up back in May to move on from his managerial position with the Students.
Myler, whose day job is UCD's Director of Estates Operations & Services, explained he has struggled with combining his Head Coach role and work and so that means he will step away from football for a while.
UCD announced that Myler's assistant William O'Connor will take charge next season.
"The decision was announced this week but it was probably made in May," said Myler. "I spoke to the club about it. I'm just too busy with work. I can't combine the day job with it any more and keep all the plates in the air. I need to step away and focus on the day job for a while.
"(I'll miss it) every single day. You love doing it. I will be driving out of here from work and will probably see the lads out training and I'll get a right pining. I will miss it, especially Friday nights. I will miss it dearly, but the day job pays the mortgage.
"I will stick around and support the club in whatever way I can. I'm in the middle of my Pro Licence at the moment, so I'll finish that off. I'm not saying goodbye to the game. Hopefully there is something to do, but that doesn't take up as much time but I won't be part of the coaching team."
Realistic
Myler wasn't agreeing with the premise that the UCD model with players moving on following the end of the academic studies can be disheartening to the manager and he had an interesting take on the job of the UCD manager.
"It's not a downside. I love seeing the lads at the other teams, looking at Sam (Todd) and Collie (Whelan) up at Derry, Tommy (Lonergan) at Pat's and Liam (Kerrigan) over in Italy, all that stuff is brilliant.
"The club is realistic about it in terms of they'll get picked up. We're always going to go down at some point and it's all about rebuilding now.
"You've seen tonight with Harry Curtis, Eanna Clancy, Adam Wells wasn't there tonight (suspended) but he'll be back, Sean Brennan, those guys, there is a good group forming. They probably need the First Division to develop, but they'll be back.
"You could say it's the third best job in Irish football, behind the (Shamrock) Rovers manager and whoever is chasing Rovers at the time because they have the budgets, but after that there is not many better jobs. We're getting relegated but there's never a sense of 'you better start winning games'.
"The club is realistic about where the players are at in terms of their development cycle so it's a great job to have with the facilities and all that sort of stuff."
Effort
On Friday, the Students were facing into their 16th consecutive league loss to Shamrock Rovers but through a spirited defensive effort they kept a clean sheet and avoided defeat against the Hoops for the first time in a decade.
They only had 22% of the ball and had just the one shot on goal – their xG was 0.01 – but Rovers couldn't break them down.
"It was a great effort. They've better players, bigger squad, yada, yada, yada but we spoke during the week about having to go to places that we don't normally go to, to get anything out of them and we were brilliant.
"Our defending was fantastic and the keeper didn't have a whole lot to do either so it was really good from that point of view. I'd be disappointed with how we used the ball the odd time but when you're up against the champions you're going to have to dig in a bit."
The Students spoiled Rovers' party, preventing them from going seven points clear with five matches to go. Though his team are relegated, Myler said he'll be looking for his side to keep performing in his final five matches of the season.

"The aim is to spoil a few parties. That's what you have to do. You have to be honest with the rest of the league and what everyone else is doing. We're not going to be trialing players over the next few weeks or thinking about next season too soon.
"We need to put in performances like that They show the levels they can get to."
Stephen Bradley on being five points clear with five games to go: 'If you said to me at the start of the year that would be the case, I'd have taken that all day long' https://t.co/4msBeyKP0Fpic.twitter.com/mvB3nX5ynC

— Extratime.com (@ExtratimeNews) September 23, 2023