Lucy Quinn on her Aviva debut goal: 'We all wanted to be the person to score first. I'm absolutely honoured and very lucky it was me'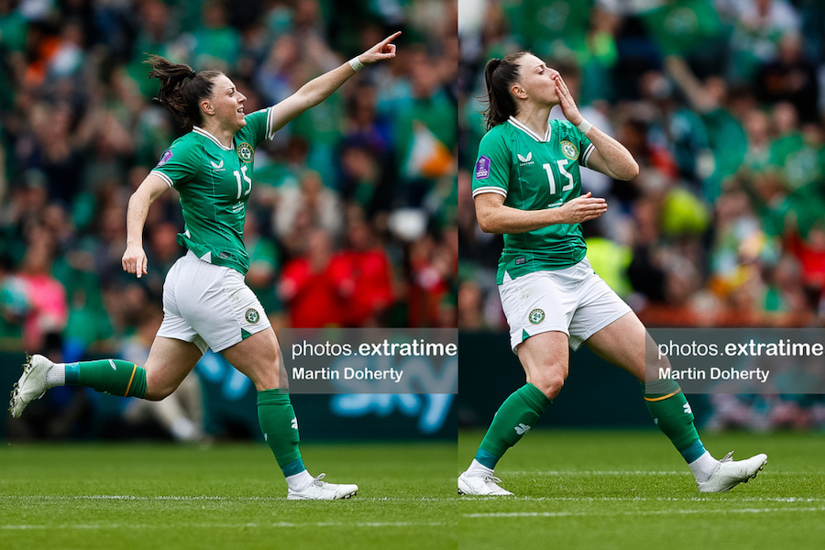 Macdara Ferris reports from the Aviva Stadium
It was a day of firsts with the Irish women's national team playing their first international at the Aviva Stadium in what was their inaugural UEFA Women's Nations League match.
The honour of scoring the first goal for the Girls in Green on Lansdowne Road fell to Lucy Quinn – unsurprisingly a grin was still on the Birmingham City player's face when she spoke to the media after the 3-0 win over Northern Ireland.
"It was an unbelievable feeling and one that will never be topped in my career really," said Quinn of her first half drilled effort from outside the box. It was her fourth goal for Ireland, coming in the week of her 30th birthday.
"Secretly we all wanted to be the person to score first. I'm absolutely honoured and very lucky it was me. To see it hit the back of the net…you kind of black out a little bit.
"It was the stuff you dream of as a kid and you never really grow out of. Playing for your country in the Aviva, 35,000 fans, we wanted goals and we wanted to give a performance. The delight you feel, you can't compare it."
Quinn reeled away in celebration pointing to the Lower West Stand, blowing kisses in that direction. Confirming to extratime.com after the game, Quinn said she was running to her parents who had travelled across the Irish Sea to support their daughter.
"Both my parents were here so it was super special. Yeah, after (the goal), I kind of ran towards them but they're very small and cute so it's difficult to point them out! They were waving like maniacs. I just wanted to thank them for all the sacrifices and everything they've done to put me in this position.
"I know they'll always be super proud and tell me I'm the best player on the pitch whatever. It was just really nice to score a goal and for them to be here. I'm really happy and proud. It hasn't quite sunk in yet I don't think, but what a day.
"If someone said before the game that it would be 3-0, clean sheet and you'll score one I'd have ripped your hand off. It's a great start. We want to keep scoring goals, keep being creative and keep clean sheets. We're happy with it in the end."
Eileen Gleeson: 'What happened three weeks ago, I was just travelling along, doing my job, happy out, and now I'm standing here with Amhrán na bhFiann playing, packed out stadium, best group of girls and best group of staff' https://t.co/t3lSbp7WeSpic.twitter.com/MBWTRid71D

— Extratime.com (@ExtratimeNews) September 23, 2023
The players did a lap of honour after the final whistle in front of the 36,000 spectators who had made up the record breaking crowd.
"We knew there were going to a lot of fans coming out. We were desperate to kick on from the World Cup, get back together.
"The girls have worked so hard for years, way before I've been involved, the players that are no longer with us have all been building for this moment to put us on the stage the girls deserve be on."
Tyler Toland: 'Nothing makes me prouder than playing for Ireland and pulling on the green jersey' https://t.co/x6jitkhb7xpic.twitter.com/g5vzDFsUoR

— Extratime.com (@ExtratimeNews) September 23, 2023