Tyler Toland: 'Nothing makes me prouder than playing for Ireland and pulling on the green jersey'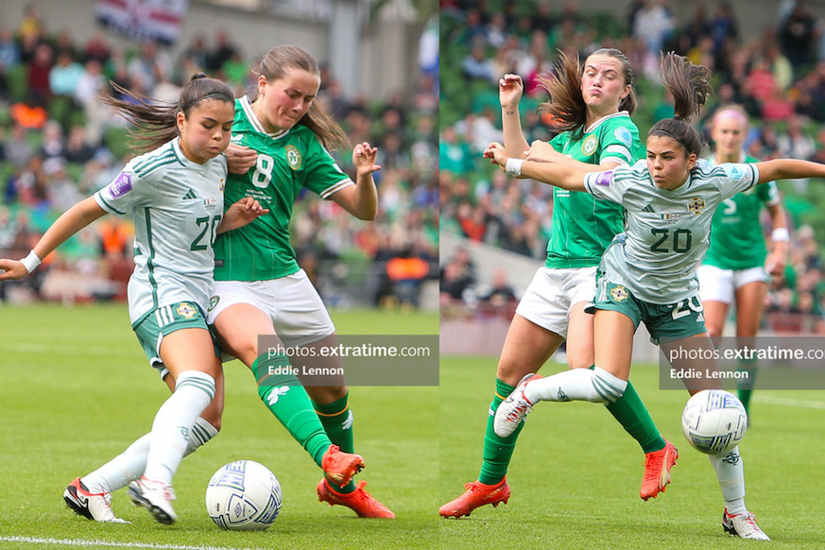 Tyler Toland: 'Nothing makes me prouder than playing for Ireland and pulling on the green jersey'
Macdara Ferris reports from the Aviva Stadium
One clear sign of a new era for the Irish woman's football team was the return to the international stage for Tyler Toland.
Frozen out of the squad by previous manager Vera Pauw, interim boss Eileen Gleeson had no hesitation in bringing the Blackburn Rovers player back into the fold and giving her a first international start for four years.
Gleeson described Toland as "super comfortable in the middle" and that "she's been great in training all week, slotting right in. I thought she gave us great balance and she's composed on the ball and I wanted to keep the ball."
Speaking to the media after the match, Toland wasn't dwelling on her international isolation and was just delighted to be back playing for the Girls in Green.
"The past is in the past. Look, I just kept my head down. I've obviously been out a while now but I'm going to look forward. We've loads of games coming up, good, hard games, and we just want to keep creating history and legacy.
"It's never been easy but we're going to keep going. Nothing makes me prouder than playing for Ireland and pulling on the green jersey and that's just what I did today. All positive."
Toland only got the word that she was in the starting XI just prior to kick off but it didn't faze her as she put in a player of the match performance.
"We got the team news literally just before the game and I was happy to be able to help the team. It was tight. You'd never know who's going to start but, look, I got the nod today."
Asked about her player of the match award she said: "When you're on the pitch, you're just in the zone. When the 90 minute whistle blows you can start thinking about that. But, look, I'm really happy to get the result and to be back."
Playing in front of the record breaking 36,000 crowd Toland described the day as "brilliant" with "a great result and a great occasion".
"It was absolutely incredible the amount of people that came out to support us. Hopefully it keeps happening in the future, people keep coming to watch us and we keep performing."
Toland was then off to airport as Ireland flew out on Saturday evening to Budapest for next Tuesday's UEFA Nations League qualifier before she'll be back playing her club football with Blackburn.
"It is a big game against Hungary (who drew away to Albania in the other group game last night) so we're going to head off and play them in Budapest and hopefully we can bring another three points home.
"Blackburn is a great club. I joined there in the summer, I'm playing regular minutes, I'm really enjoying it, great club, great people, great facilities, I'm getting on well."
UEFA Nations League: Republic of Ireland 3 - 0 Northern Ireland https://t.co/7p4zV1aEq4pic.twitter.com/BPpWarEzyZ

— Extratime.com (@ExtratimeNews) September 23, 2023