League Preview: Waterford -v- Cobh Ramblers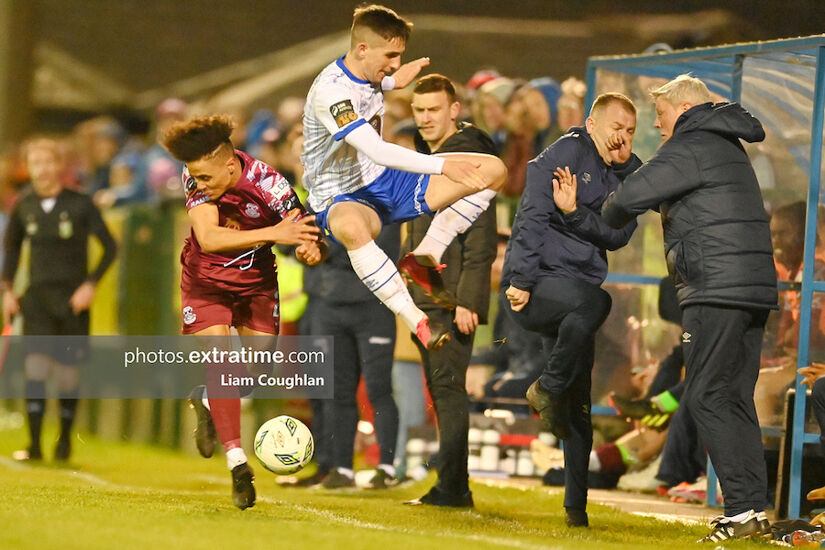 WATERFORD
Waterford host Cobh Ramblers at the RSC on Friday night, safe in the knowledge that they will be involved in the promotion play offs in November.
They have been secure in second place on the table since the beginning of the season, unable to match Galway United's relentless march to the title but also sufficiently consistent to be well clear of all other opponents as the next best team in the league.
Their goal scoring ability has been their trademark all season, netting 77 goals in 30 games, only one goal less that Galway even though they trail the Tribesman by 15 points with six games left to play.
Their opponents on Friday night are only one place behind them in the league table but there is a marked difference in their goal differences, with Waterford on +51 and Cobh Ramblers on +3
They have been scoring freely at home and away, as exemplified by their 4-0 thrashing of Finn Harps in Ballybofey last weekend.
They had the three points well wrapped up early in the second half in Donegal, being 3-0 ahead by the 54th minute and their task was made all the easier by the 60th minute dismissal of Harps's Noe Baba. Dean McMenamy capped off a good night for himself by scoring a fourth goal shortly after the red card in the 67th minute, his second of the night.
Speaking to Waterford's media ahead of the game, Head Coach Long said: "Cobh will prove another tough test on Friday night.
"They're in good form and into the play-off spots after a good run.
"We need to focus on ourselves though, keep integrating the new players, continue to get minutes into the players returning from injury and look to maintain a good run leading up to the play-offs."
COBH RAMBLERS
Cobh Ramblers are the real surprise packet of the First Division this season, currently sitting on third spot on the table on 48 points and well on course to be involved in the promotion play offs at the end of the season.
They finished in eight (of ten teams) and ninth (last of nine teams) in the last two seasons so they have undergone a major transformation in performance levels since the appointment of Shane Keegan as manager in June 2022.
Keegan has brought in players who have made a major impact on his side, with the likes of Alec Byrne, Wilson Waweru, Jack Doherty and Dean Larkin all driving Keegan's team into the upper reaches of the table.
As well as a confidence boosting Munster Senior Cup win over Cork City in mid-August, they have been beaten only once in their last five games, picking up eight points out of a maximum of twelve.
They overcame their nearest rivals Athlone Town by 1-0 at home last Saturday night, Jack Doherty's stunning 62nd minute free kick the difference between the two sides.
Keegan is well aware of the challenge they face on Friday night, a point he reinforced when he spoke to the Ramblers media team this week.
He said: "I think Waterford are a serious side. They have a huge amount of quality and they're going to go into the play-offs absolutely nailed on as the firmest favourites.
"That's the challenge we're up against but at the same time we can't really be in a better place in terms of our own mentality, our own confidence levels. We'll give it a decent crack."
Referee: Declan Toland
MATCH STATS
Waterford picked up all six points in the first two clashes between both sides earlier in the season (3-1 away and 5-0 at home), however the Rams got a measure of revenge in the third encounter in St Colman's Park in June when they recorded a 1-0.
Wilson Waweru scored the only goal in that game, and he has had a good season in general for the Cork side, being their second highest scorer on 11 goals.
Ex- Wexford player Jack Doherty is their leading scorer on 13 goals.
Waterford's leading scorer this season is Ronan Coughlan who has scored a remarkable 31 goals. He has missed the last four games through injury however, but such is the goalscoring ability in Keith Long's side that they have still managed to average two goals per game in those four games even in his absence.
BETTING
Waterford 4/11; Draw 7/2; Cobh Ramblers 11/2.
PREDICTION
Waterford 2-1 Cobh Ramblers
Waterford
Injured: Barry Baggley, Ronan Coughlan, Harry Nevin, Rowan McDonald
Doubtful: None
Suspended: Ryan Burke
Cobh Ramblers
Injured: Pierce Phillips
Doubtful: None
Suspended: None
Unavailable: Dean Larkin, Liam Kerwick (both on loan from Waterford)