Ireland Women's Under-16s record dominant 5-0 win over Faroe Islands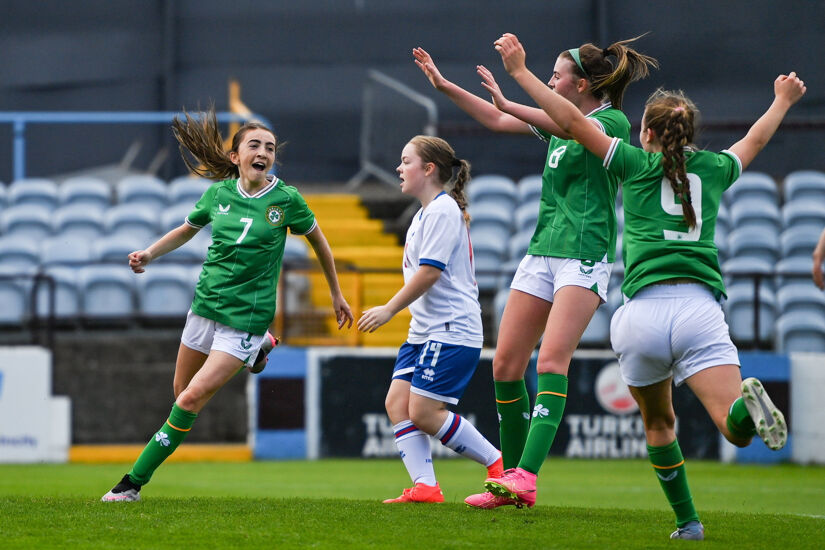 Ireland Women's Under-16s registered a 5-0 victory against Faroe Islands at Weavers Park, Drogheda.
The game was the first of two International Friendly matches between the teams.
The Irish side took an early lead, with DLR Waves midfielder Ella Kelly scoring just seven minutes into the game.
Kelly, capitalizing on a pass from Anna Butler, showcased impeccable footwork by taking a touch and then expertly finishing with her left foot.
She didn't stop there; by the 20th minute, she had another goal to her name, masterfully diverting a cross from the left wing into the net.
The game's momentum remained in Ireland's favor. Leah McGrath extended the lead, coolly netting a penalty in the 75th minute, after Ava Mullins was fouled in the area.
Aisling Meehan further widened the gap with a goal at 84 minutes, swiftly capitalizing on a weak clearance from the visitors and delivering a powerful right-footed shot from a distance.
McGrath, the Wexford Youths forward, sealed the deal by scoring her second goal of the game a minute later.
She adeptly spun off her marker and fired a shot that ricocheted off the post into the net.
With another game scheduled for Thursday at Home Farm FC, Head Coach Megan Smyth-Lynch will be looking for a similar level of enthusiasm and performance.
Ireland: Laura Fanning; Kate Jones (Katie Ray 65), Abigail Bradshaw (Michaela Hand 55), Chloe Wallace (Kaitlyn Delahunty 15), Aiblinn Cotter (Kya McKenna 65); Lauren Bowe (Heather Loomes 55), Finley Newell (Ava Mullins 55); Ella Kelly (Madison McGuane 70), Beatrice Silickaite (Sarah McCaffrey 65), Mary Hartofilis (Aisling Meehan 70); Anna Butler (Leah McGrath 70).

Faroe Islands: Rannva vio Streym; Ronja Ragnarsdottir Trier, Halla Morgan Ejdesgaard, Leona Kjaerbaek Djurhuus, Silja Ragnarsdottir Trier, Elisbet Norooy Vihelmsen, Sara Kristiansen, Tora Vatnhamar Olsen, Valbjorg Davidsen, Ranja Joensen, Hansina Nesa.

Referee: Sarah Dyas.