Sinead Farrelly with World Cup close on her horizon: 'It still feels a little bit surreal'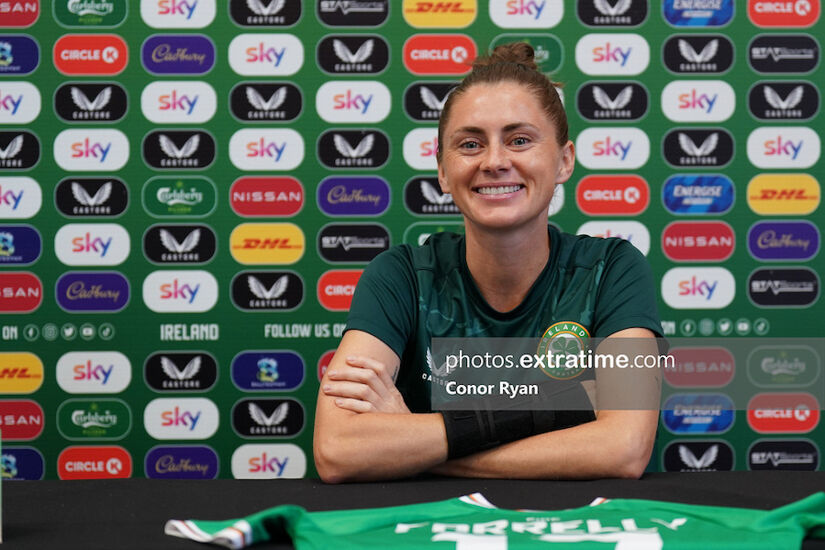 It can't have been an easy few days for Sinead Farrelly as the talk ahead of Thursday's Ireland friendly with France was about the accusations published in The Athletic around Vera Pauw's behaviour when the Ireland boss was coaching in the US.
Details from Pauw's time at Houston Dash regarding body shaming – which the Dutch woman repudiates – were included in an NSWL report published last December. That report also resulted in the banning of coach Paul Riley for life due to sexual harassment and coercion of players including of Farrelly when she played under Riley.
Farrelly was catapulted into the Ireland team back in April only weeks after her return to football after an eight year absence as she dealt with that incident and a serious car crash, and she now finds herself jetting out to Australia this weekend for the World Cup with Ireland.
"It still feels a little bit surreal," admitted Farrelly about being on the cusp of the World Cup. "It almost feels a bit of a blur."
The 33-year-old has played just 485 minutes across 11 games with Gotham FC in the NWSL this year but has done enough to earn herself selection in Ireland's World Cup squad and she started in Thursday's friendly against France in Tallaght.
"I've been playing more minutes with my club. I think I got 80 minutes (in the 3-0 loss to France) before my calves started cramping. Hopefully I can push it to 90 if they need me. It was great.
"For me it is just about getting more experience with the team and touching the ball and really getting the anxiety out is helpful."
extratime.com asked the player about the experience of her first start for Ireland and lining out listening to Amhrán na bhFiann in front of her family and what was a record home attendance at a game for the Girls in Green.
"It was awesome. I was really nervous about it and I was excited. Seeing all the flags waving, you can feel the passion and the heart, and hear the cheers from everyone."
The crowd will jump from just under 8,000 in Tallaght to over 80,000 in Australia for Ireland's next international.
"It is crazy. 30,000 is the most I've maybe played in front of before.That is a pretty big difference. I trust that once I'm playing I'll be focused on getting the job done and I'll block it out. The second I start over thinking it is just a disaster. I'm just hoping for the best."
Quality
Ireland took on a French side fifth in the world as their final home game before the friendly and put in an excellent first half performance before coughing up two late goals in the opening period.
Farrelly showed plenty of her quality in the game but some misplaced passes didn't help her team and she said she needs to remain positive about her own outlook.
"I think I was ok," was Farrelly's assessment of her performance. "I can tell when I'm playing a bit scared and I definitely felt that tonight - being nervous and rushing a few passes when I gave the ball away when I could have kept the ball.
"One of my strengths is being calm on the ball and keeping the ball for us. There are a few things I wish I did differently but I'm going to learn from them. For me I just have to be positive as I will spiral.
and we showed what we could do. We can be confident with how we played for some of the game but there are things we need to work on before we get to the World Cup.
"This is only my second game with the team and there are new players in. We are still learning how to play with each other."
Ireland had an offside goal incorrectly ruled out early in the first half after Farrelly flicked on a header to Kyra Carusa and the Girls in Green were well in the game before costly errors allowed the French in.
"It sucks," said Farrelly about the late first half goals.
"It was a heart breaking feeling when you are dominating and you feel like you switch off for a second and being punished for it but that is what football is. There is a lot that we can learn from that.
"Maybe a lot of people think of us more as a defensive team but I think we showed we can do amazing things offensively and it is just about capitalising on that."
Family
Farrelly, who lived for a short spell in Shankill, qualifies for Ireland due to her father from Cavan and last weekend she got the chance to relax away from the camp with her family.
"My sister has just moved to Delvin so my parents were here to help with the move so I got to hang out with them in their house. It was very chilled - nice and relaxing. I saw my Aunts and Uncles on Saturday so that was really nice and they came to the game (in Tallaght)."
The Girls in Green will gather in Brisbane over the weekend as the team flew out in two groups across two different days from Dublin.
They play Colombia next Friday in a behind-closed-doors uncapped game in Brisbane's Meakin Park before taking on tournament co-hosts Australia in Sydney on the opening day of the tournament.
Kyra Carusa: 'Opponents are thinking they're going to get points off us. We have to thrive on that and that has to become our superpower' https://t.co/Xq3ysh9hBKpic.twitter.com/bKWLyHFsWU

— Extratime.com (@ExtratimeNews) July 7, 2023