Kyra Carusa: 'Opponents are thinking they're going to get points off us. We have to thrive on that and that has to become our superpower'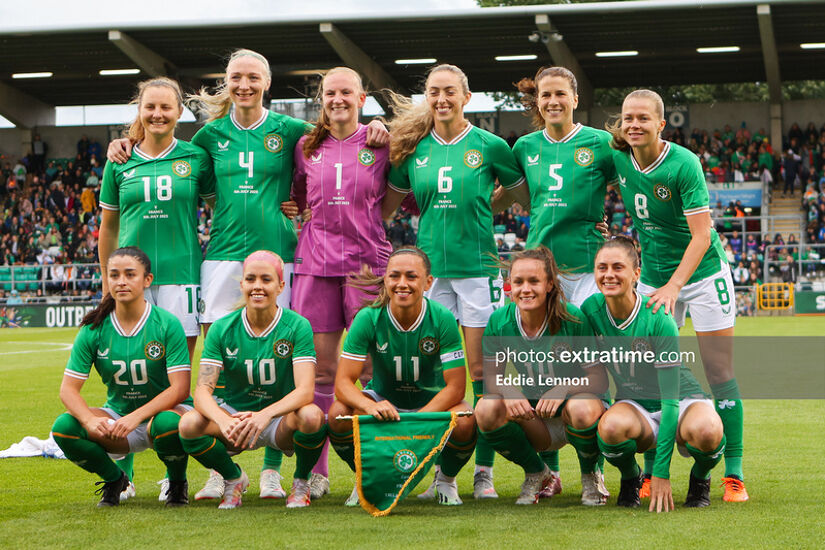 Macdara Ferris reports from Tallaght Stadium
The Girls in Green will hope to get the benefit of VAR at the upcoming World Cup. Had the system been in place in Tallaght Stadium on Thursday night, it most likely would have meant the Republic of Ireland would have had an 11th minute opener.
That would have changed the complexion of the friendly against France that ultimately Ireland lost 3-0 – disappointingly conceding two goals at the end of a first half when the home side had taken the game to Les Bleus in the opening period.
"I would say that I was 100 per cent onside," was Ireland forward Kyra Carusa's assessment of the chance that she finished running onto Sinead Farrelly's flicked header.
"As a striker, I'm always onside. No further questions! That being said, you need to put that goal away because in the World Cup there is VAR and that's a goal. I don't care how many people raise their hand, want to scoff at it and say 'I stopped playing', that ball is in the back of the net and it's a goal, then we're 1-0 up on a top five team in the world. That's the important thing to me."
Ireland took on the difficult task of playing high level opposition in this friendly knowing the tough group that awaits them down under – facing World Cup hosts Australia, Olympic Champions Canada and Nigeria in the group. Carusa is looking for the Girls in Green to embrace the underdog tag.
"We have to remember we are Ireland," said the 27-year-old striker who was making her 12th appearance for the Girls in Green.
"Every opponent is looking at us and thinking they're going to get points off us. We have to thrive on that. That has to become our superpower. I really do think, this team especially, that is ingrained in us - that grind and grit."
It was a record crowd for an Ireland women's international with 7,633 in attendance – much to delight of the Ireland players who will travel out to Australia in two groups over the weekend.
"That is big time. A send-off of all send-offs. To bring a top-five team to Tallaght, and to be welcomed by such an impressive and supportive crowd, incredible fans that have backed us for long... oh my gosh the growth is unbelievable. It really is electric and it makes it extra special. Thank you to everyone who made that happen."
The result wasn't what that record crowd wanted but there were plenty of positives to take from the game against Herve Renard's French side.
"In the first 45 minutes, there was so much that I was so impressed with the girls on this team. We were high up the field and made France uncomfortable.
"That is testament to how we as a team have grown so much, how we have trusted each other and developed this style of play. That makes me so happy to see from this game.
"The two goals at the end of the half were non-negotiables that can't happen in these last five minutes.
"That's something that as a team we have to reflect on and make sure that as much as we're disciplined in every tackle, as much as we're disciplined in clearing our lines, you can't let those moments slip away.
"I think this is another big step for us as a team to grow and to mind ourselves so that when we get into those pivotal moments in the game that's when we have to be the loudest, when we have to be on each other's back the most, when we have to celebrate throw-ins and really push an opponent back as much as possible."
World Cup Warm Up: Republic of Ireland 0 - 3 France https://t.co/MStE9Pwzr7pic.twitter.com/mTP76jKB6y

— Extratime.com (@ExtratimeNews) July 6, 2023