Irish Under-21s squad for trio of friendies announced by coach Jim Crawford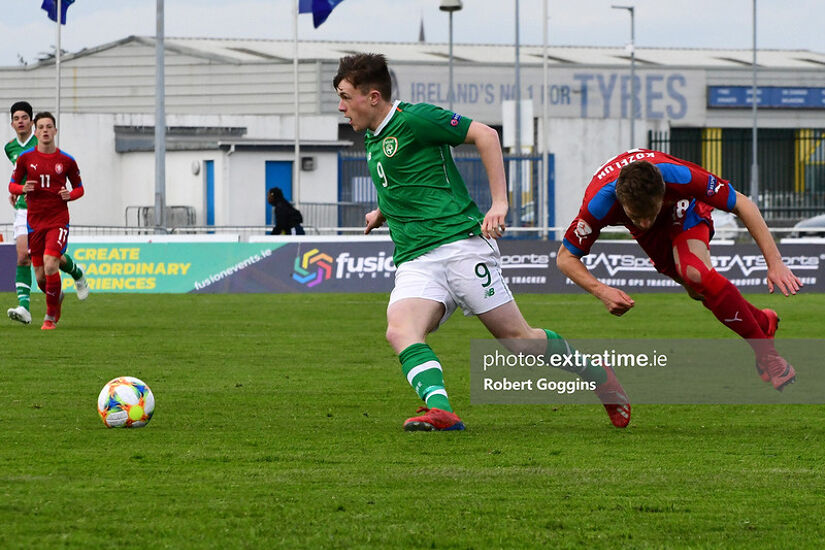 Ireland's Under-21s Head Coach Jim Crawford has unveiled a squad of 26 players for a trio of friendlies set to take place in Austria next week.
The games will pit the young Irish team against counterparts from Gabon, Ukraine, and Kuwait.
The squad sees nine new faces receiving their inaugural Under-21 call-ups. These debutants include James Abankwah (Udinese), Killian Cahill (Brighton & Hove Albion), Conor Carty (St. Patrick's Athletic), Dylan Duffy (Lincoln City), Sean Grehan (Crystal Palace), Jack Henry-Francis (Arsenal), Ed McJannet (Lecce), Rocco Vata (Celtic), and Harry Vaughan (Hull City).
Four players in the squad hail from League of Ireland clubs - Johnny Kenny, currently with Shamrock Rovers on loan from Celtic. Conor Carty and Sam Curtis from St. Patrick's Athletic and Ollie O'Neill from Derry City.
Also making a return to the Under-21s is Darragh Burns, who last appeared in the squad in March 2022.
The upcoming games hold significant importance for the Irish U21 team, serving as a preparation ground for their U21 EURO qualifiers against Turkey and San Marino, scheduled at home in September.
Discussing the upcoming matches, Head Coach Jim Crawford said, "These three games will be important for the development of our squad. We're playing three teams from three different continents and that brings an exciting challenge that not all Irish teams get exposure to. There's a lot of quality in our opponents."
Crawford further added that he was eager to use these friendlies as an opportunity for the players to establish their position in the squad for the September qualifiers and beyond.
He added, "We won our first game as a group against Iceland and we want to use that as a platform for these upcoming games."
The Irish Under-21 team will kick off their friendly series against Gabon U23 on May 13, followed by a clash with Ukraine U21 on May 16, and will finally face Kuwait U22 on May 19. Venues are yet to be confirmed.
Goalkeepers: Tiernan Brooks (Notts County), Killian Cahill (Brighton & Hove Albion), Josh Keeley (Tottenham Hotspur)
Defenders: James Abankwah (Udinese), Tayo Adaramola (Crystal Palace), Sam Curtis (St. Patrick's Athletic) James Furlong (Brighton & Hove Albion), Anselmo Garcia MacNulty (Wolfsburg), Sean Grehan (Crystal Palace), Connor O'Riordan (Crewe Alexandra), Sean Roughan (Lincoln City)
Midfielders: Darragh Burns (MK Dons), Jack Henry-Francis (Arsenal), Joe Hodge (Wolves), Bosun Lawal (Celtic), Ed McJannet (Lecce), Killian Phillips (Crystal Palace), Rocco Vata (Celtic) Harry Vaughan (Hull City)
Forwards: Sinclair Armstrong (QPR), Conor Carty (St. Patrick's Athletic), Dylan Duffy (Lincoln City), Johnny Kenny (Shamrock Rovers, on loan from Celtic), Andrew Moran (Brighton & Hove Albion), Armstrong Oko-Flex (West Ham United), Ollie O'Neill (Derry City, on loan from Fulham)