Stephen Henderson: "At the start of it, I'm not going to lie to you, I was stressed out of my head"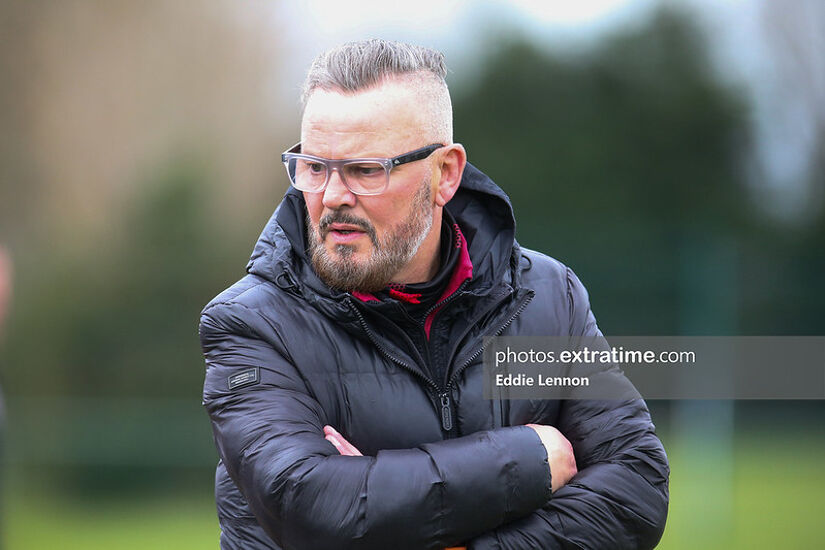 Stephen Henderson, the manager of Longford Town, candidly shared how he was "stressed out of my head" when he had to rebuild the team for the De Town this season.
The former Cobh Ramblers boss, who made a return to the League of Ireland side line for the 2023 season after a gap, expressed his surprise at being back on the touchline in the League of Ireland this season, during his recent interview with the extratime.com podcast.
Henderson, who last managed in the league back in July 2019 with the Ramblers, before resigning and taking up the role of Head of Youth Development at Shelbourne till 2021, stated, "At the start of it, it caught me cold to be honest with you. When you're out of it, you're out of it. I had my own little thing, working with brilliant young players and I was loving it. It came as a bit of a surprise to go back".
His return, however, was not a smooth one. After the team managed to reach the play-offs last season, most of the squad members left during the winter break, presenting Henderson with a massive task of assembling a new side.
"Obviously, I went in a bit late, I was later than others (managers in the league), and suppose I have said it before, it was the Longford job you are looking at, how they done last year and you're saying you'll only want three or four players here to really push and we might win this league", Henderson revealed.
"By the time I got in, 14 of that squad had been signed up by other clubs so I now I was kind of bricking it. My pool of players would be mostly around Munster, so I was very dependent on Gav (Gavin Peers), Wayne (Groves), my brother Dave and other people I know in Dublin to help me out in relation to players and their backgrounds and stuff like that," he added.
The process became rushed as he explained, "Wexford got a big backing, and they were able to afford players they couldn't afford before, which took players away from us. Same with Bray. So, most of the players we were looking for were gone".
Given the history of Longford Town and the loss of 22 players in the off-season, Henderson admitted that this was the most stressed he had ever been before the start of a season.
Listen to the full interview




To add to his stress, losing the first match of the season to bitter rivals Athlone Town "made it even more stressful," but since then, the journey has been steadier.

This season has been mixed for Longford Town, who currently sit 8th in the First Division table. An injury crisis has plagued the squad so far, with key players unable to play.





Henderson noted, "I'm not sure I have ever experienced the amount of injuries. We have had something like 12 first team squad members out injured. We've had 6 of them not kick a ball for us this year, and these would have been the more experienced players that we would have brought in to build our structure around these players. Unfortunately, they got injured in preseason."

The inconstancy we have seen from the first set of games, it was kind of expected because of how young our lads are, coming straight out of academy football. We were hot and cold. We were difficult to beat, well organised, but we were naïve at times."

The second series of games now, I said these young players have become the corner stone of what we are doing because obviously the older more experienced lads still haven't come back and we kind of got that consistency in there. When I look at that, this isn't bad at all."

Cristian Magerusan, is one of the top strikers in the country, he hasn't kicked a ball for us this year. James Doona would be one of the best wingers, without a shadow (of a doubt) he hasn't kicked a ball for us this year."

Aaron Walsh, a player we brought down from Northern Ireland. Big, strong centre half., lovely and exactly what we needed, hasn't kicked a ball for us this year. 20 minutes is all we got out of him. Derek Daly, we only got two matches out of Derek Daly."

So, if you have these players in the team with (Jack) Brady and (Shane) Elworthy and these young players coming through, we would be looking at more than just play offs here. But the fact is we have 12 first team players out injured."

Despite the arduous rebuilding process and the injury crisis, Henderson expressed his immense enjoyment working with the current group of players.

"Winning a few games, losing a few games but (we're) staying in touch with that playoff spot, which is a great credit to everybody involved with the club at the moment," he said.

To listen to the entire conversation with Stephen Henderson, tune into the latest episode of the extratime.com podcast.
"At the start of it, I was stressed out of my head"

Have a listen to @stevehendo07 on returning to LOI management this season with @LongfordTownFC and more on the latest episode of the https://t.co/M1NUOvWGvh podcast.

Listen from 36:36 onwards - https://t.co/4vQcgxb2yI#LOIpic.twitter.com/F7NKgQgUem

— Extratime.com (@ExtratimeNews) June 4, 2023