Vinny Faherty: It's been frustrating and tough at Galway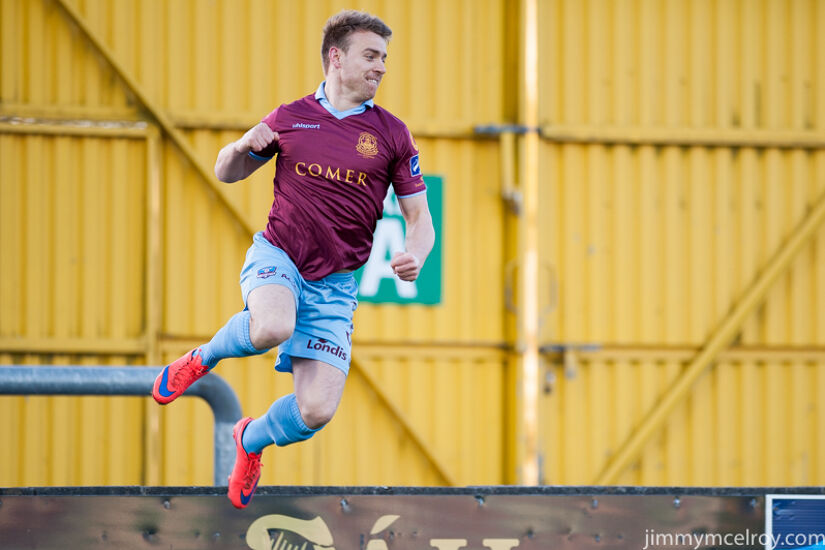 Throughout a typical football career, a player will move to different towns, sometimes to another country and rarely to the opposite hemisphere. Vinny Faherty has experienced all of the aforementioned, but time and again the lure of representing his hometown club Galway United has proven too great to resist.
A youth career with Saltbill Devon culminated in capturing the 2006 League of Ireland U-21 Division before a first stint at Terryland Park and then St Patrick's Athletic. 2011 witnessed an unusual direction for an Irish player in their mid-twenties, as Vinny went to Australia, turning out for Moreland Zebras (now called Brunswick Juventus Football Club) in the Victorian State League Division One.
"It came up out of nowhere, really. I'd just left Pat's and one thing or another fell through that was meant to happen with various clubs. I'd a friend down there that said he'd put me in touch with someone. Their manager organised flights, a car, accommodation and a salary, so it just sort of fell into place. I said: 'Why not?' Do it for a year and see what happens. Before that I didn't know where I was going to go, so I jumped at the opportunity. I'm glad I did, from a lifestyle point of view because it was a great couple of years."
A return to Inchicore in 2012 preceded signing for Stephen Kenny's Dundalk, but a solitary goal in 22 Lilywhite appearances, albeit mostly as a substitute, suggests chances created and normally put away, were spurned for some reason during this particular season.
"I didn't adjust to the astroturf, but that's just a small fraction of it. In my own head and speaking to Stephen at the time, the plan was for me to play up top. Patrick Hoban, who was an unknown entity, just hit the ground running and to be completely honest, it was a case of him being better than me. I was a sub a lot and couldn't have any complaints. Looking back now, if my mind was a bit different and I saw myself as an impact sub, I think I could have contributed more, but there was always that bit of disappointment in not being a starter. I have great respect for lads who win leagues etc., but to win a league and sit on the bench wouldn't have satisfied me. I could have dealt with the fact of not playing every week with Dundalk better, but at the same time, Pat Hoban was a great player and even on my best day, I wasn't going to keep him out of the team."
After a second spell with Galway, the forward found himself playing as a midfielder and out wide for the majority of the first half of the 2015 campaign at Limerick, but still went on to be their top scorer, as the Munster side eventually were beaten in the relegation play-off final against Finn Harps.
"I was pushing for a place up top and always tried to make it known at the time. Martin Russell wanted to play a more counter-attacking game and wanted someone up front with a bit of pace. Anyone's that seen me play would know that doesn't suit my particular set of attributes. The first time I did play up top, I scored twice against Sligo, then stayed there for the rest of the year. I'd play wherever though and if a manager asked me to play right-back or sit on the bench, I'd play right-back. I'm a number nine and could play elsewhere to fill a gap, but wouldn't have the legs to play in those other positions."
Back to the west, with first Galway (of course) and then Sligo Rovers, until at the age of 31, Faherty ended up featuring in Cypriot Second Division football for PAEEK.
"That was a funny one. The plan was to go to America for a year and I spoke to a couple of clubs over there. My girlfriend at the time, my wife now, just wanted to get away and do something different. She's a guard and got the opportunity to work for the UN on a peace-keeping mission over in Cyprus. We decided to take a chance on it, but I had some stuff lined up and at the last minute fell through. When I was over there, I scrabbled around trying to get a club and ended up getting one. It was more to enjoy a summer climate for a year and we certainly did that. It was a good experience and a bit of an eye opener. I enjoyed it, but you hear all these stories in those neck of the woods about players not getting paid and match fixing etc. I've seen enough in those short few months, which certainly gave me an education."
The story and senior playing career inevitably ends where it all began, with Vinny putting pen to paper for the Tribesmen on a fourth and final occasion.
"Growing up, I would have been a supporter. I went to Terryland pretty much every second Friday with my father. When I got the opportunity to first sign, I could have done likewise for Sligo, but chose Galway and loved my three years there. I think whenever you see something special being built in Galway and especially being from the area, you want to be a part of it. In a funny way, being there was probably the least enjoyable part of my career too because when things aren't going well and you're not going well, it definitely hurts you more than anywhere else. It's been frustrating and tough at Galway, but there's always that draw. Sometimes it might have been better for my career to go to a different club, but there's the fear that Galway might get to a cup final and play at the Aviva ... If so, it would mean that bit more."
Women's Premier Division round-up: Dublin derby ends scoreless as Peamount extend lead at the top - https://t.co/94rjArr8tjhttps://t.co/R7yI0WNJiT

— Extratime.com (@ExtratimeNews) June 4, 2023