Athlone Town's Herron is poised for flight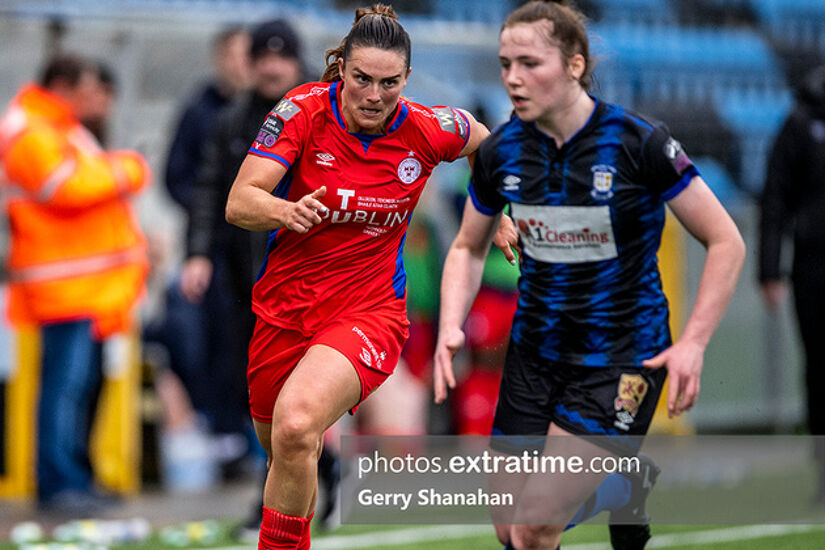 Eighteen year old Scarlett Herron is not your average Monaghan teenager.
The Leaving Certificate student is a key cog in the engine room of an Athlone Town midfield- a side which finished runners up in both the league and FAIW Cup last season.
The former Monaghan Harps GAA player, when chatting with Shane Hannon and Paraic Clerkin on the Different Class podcast, explained how sports played an important part in her life from an early age.
'I always remember being obsessed with football, always having a ball at my feet. However, there were no girls (soccer) teams in the CMUL, Cavan Monaghan region until recently and I never got the chance to play with a girls team. It's brilliant to see now how it's grown in the Monaghan Cavan region and how it's grown around the country'.
'It's brilliant to see the girls teams in the region getting better and stronger all the time.'
Due to the absence of those teams in the locality at the time,Herron needed to look further afield in order to develop her career.
'At 15 I joined Dundalk Under 19s in the Metropolitan League. After (the) COVID (shutdown) I went up to Peamount United Under 17s for a trial and was lucky enough to make it.'
'I think growing up I was mostly playing in the centre back position and I went through a period of playing in goals for a while as well but now I've progressed to a midfield role though I've yet to move further up the field!'
The Coláiste Oiriall student had a busy summer of 2021, picking up silverware with Monaghan Harps GAA as well as being named EA Sports Under 17 Player of the Month for July in her other sporting career. Her soccer development continued at pace and soon she was involved with the senior team.
'I suppose at the first training session (with Peamount) I was probably a bit starstruck. The likes of Stephanie Zambra, Áine O'Gorman are household names and really well known so it was a great experience training with them and now playing against them in the league.
'Peamount was a great club and I really progressed there. James O'Callaghan was a brilliant coach and I think I really improved in my time there'.
Despite debuting in the league for Peamount United in an 8-0 win over Cork City in April 2022, her playing time was limited at the club and a summer move to the Greenogue outfit's title rivals Athlone Town was welcomed.
'When you're playing with the likes of Peamount, they're a top club so it's hard for younger players to break through. I was seventeen at the time and I was finding it difficult to get a place on the team. Athlone came knocking promising first team football and to be fair they've delivered massively.'
'It was a brilliant move for me personally. It's match practice which improves you as a player and that's what I was trying to achieve by moving to Athlone'.
Prior to moving to the midlands outfit in the summer of 2022, Herron had already received international recognition, earning an invitation to join Dave Connell's Under 19 side for a friendly against England.
Since then, she's gone on to earn a number of competitive caps at the same age level- most recently scoring in European Qualifiers against both Norway and Croatia.
'When it happened (first international callup), my dad said, 'I always wanted to believe in you but I didn't think a girl from Monaghan would make an Irish team'
'There's no greater pride than to play and score for your country and it's certainly not something I take for granted. I appreciate it every day and now strive for more'.
'It's exciting to see the rapid growth of women's football across Ireland, especially since the Euros and I also think the World Cup will be instrumental in further growth'
'(The upcoming World Cup) It's an opportunity for the senior team to showcase and to show how strong the international team is, even though they've a strong group'.
'In terms of the future for me, I was lucky enough to be called to the Home Based League of Ireland training camp with Vera Pauw and hopefully after the World Cup they'll have another and we'll see what happens.'
Finishing up her interview, the midfielder had the following piece of advice for aspiring young players.
'You need to train hard and work hard. I'd say it's eighty per cent mental and twenty per cent physical. Positive thinking can't lead to bad things and important to stay confident'
't's important for young girls to have confidence and believe in themselves that they can go far if they work hard.'
'Adding up information from coaches and parents can help you improve and be the best version of yourself'.