Women's Champions League Final Report: Barcelona 3 - 2 Wolfsburg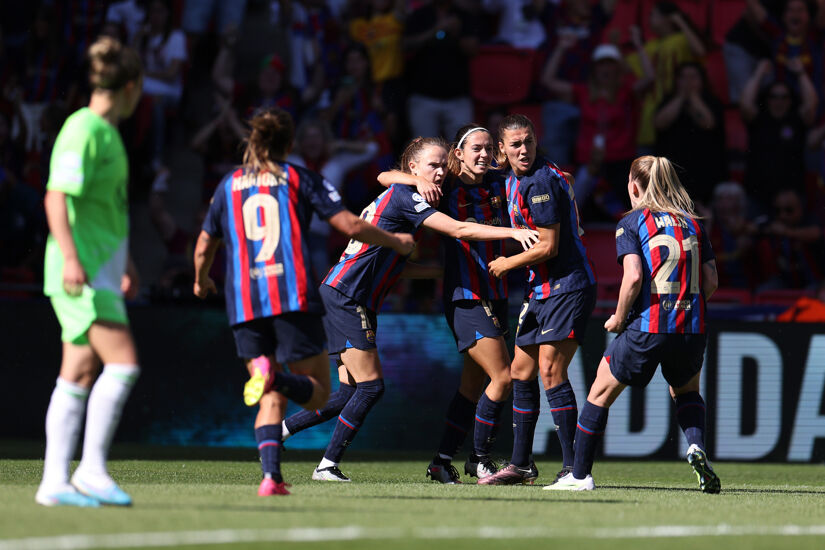 Dylan O'Connell reporting from the Philips Stadion in Eindhoven
If there was a way to right a wrong, this was it as Barcelona scored three second half goals over turn a 2-0 deficit and win the UEFA Women's Champions League final at the Philips Stadion in Eindhoven.
Before the game, the squad seemed haunted by their 3-1 defeat to Lyon at this stage of the competition last year, a result that Caroline Graham Hansen even called 'traumatic' before kick-off.
When it came to it, Patricia Guijarro scored twice and Fridolina Rolfö got one of the easiest goals she will ever score.
The close range finish didn't matter at the full-time whistle. Lyon in Turin is now classed as a once-off game, and Barcelona are European champions for a second time in their history.
Everything was about fighting a sense of injustice and it showed with the first play of the game. The Catalans targeted Wolfsburg's left flank and Guijarro tried to score from distance.
Merle Frohms comfortably caught this for Wolfsburg and won them their first spell in possession inside the opening two minutes.
Once Barcelona got the ball back, they went back to passing it around and trying to build from the back. This led to the opening goal as Ewa Pajor pressed, won the ball back, and fired into the top left corner.
Before the game, Barcelona coach Jonatan Giráldez talked about his plan to control the pace of the game and minimising the strengths of Wolfsburg. That plan was torn asunder just four minutes in, with one of the German's strengths quite literally forcing the opening goal.
Barcelona tried to respond with a succession of set pieces, with the first one getting headed out for a corner. The crescendo of this was an attempt from Salma Paralluelo that went miles over and out for a goal-kick.
The Catalans continued to go down the left flank, and they continued to win set pieces. This almost paid off when a María Pilar León corner was headed wide at the back post.
The sense of frustration didn't falter with Paredes trying her luck from the edge of the area, and Wolfsburg blocked this while preventing Barcelona from getting to the loose ball.
The Germans' first half was almost scripted; they got an early goal and defended comfortably for 45 minutes. Wolfsburg's plan; if it involved closing off passing lanes and forcing Barcelona to shoot from distance,worked.
This isn't to say that everything worked flawlessly, Lynn Wilms was often needed to jump into block shots inside the area.
When Wolfsburg were pried open, fortune favoured them as Caroline Graham Hansen mis-controlled a shot in front of the posts and the ball went out of play.
Then they countered and Pajor crossed in from the left to Alexandra Popp, and she headed in to make it 2-0.
A chance to pull one back fell to Paralluelo in the closing seconds of the first half and Frohms snatched this from the feet of the striker.
The whistle ushered an uneasy silence into the Philips Stadion, with the majority questioning Barcelona's ability to come-back given their defeat in the 2022 final.
It happened, rather quickly. Guijarro flicked into the top corner in the 48th minute and her next touch of the ball headed in the equaliser.
Barcelona were in total control after this, and rightfully so. Their original plan was back and it was executed flawlessly by a group of players that seemed to alleviated of any pressure they put themselves under.
When that was turned on Wolfsburg, they couldn't get rid of the ball inside their own penalty area and an unmarked Fridolina Rolfö hit the roof of the net.
Wolfsburg's big chance to equalise came from a corner in injury time and Sandra Paños comfortably caught this.
Barcelona: Sandra Paños; Irene Paredes, María Pilar León, Mariona Caldentey (Claudia Pina 79), Caroline Graham Hansen (Ana-Maria Crnogorčević 79), Patricia Guijarro, Aitana Bonmatí (Alexia Putellas 89), Lucy Bronze, Fridolina Rolfö, Salma Paralluelo (Geyse 70), Kiera Walsh (Ingrid Syrstad Engen 89).
Subs not used: Catalina Coll; Laia Codina, Jana Fernàndez, Marta Torrejón, Bruna Vilamala, Nuria Rábano, Victoria López.
Booked: Aitana Bonmatí (Yellow)
Wolfsburg: Merle Frohms; Lynn Wilms (Marina Hegering 84), Kathrin Hendrich, Lena Oberdorf, Dominique Janssen, Ewa Pajor (Pauline Bremer 84), Svenja Huth, Alexandra Popp, Felicitas Rauch, Jill Roord (Lena Lattwein 72), Sveindís Jane Jónsdóttir.
Subs not used: Lisa Weißl; Katarzyna Kiedrzynek, Sara Agrež, Kristin Demann, Pia-Sophie Wolter, Rebecka Blomqvist, Joelle Wedemeyer, Tabea Wassmuth, Jule Brand.
Booked: Kathrin Hendrich (Yellow Card),
Referee: Cheryl Foster