Barcelona coach believes experience could be the difference in Champions League Final in Eindhoven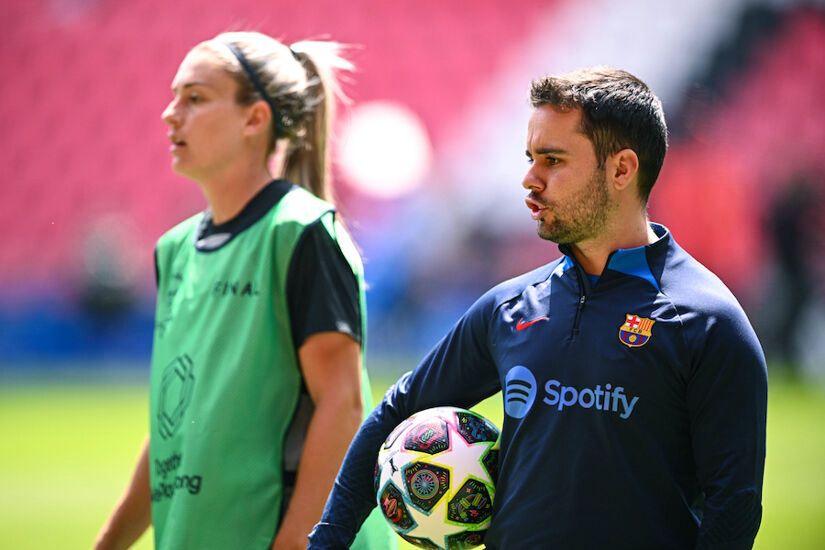 From Dylan O'Connell in Eindhoven
They went for immortality and left empty handed, just another team that attempted to join the most exclusive of exclusive clubs and came up short at the final hurdle.
Barcelona were supposed to win back to back Women's Champions League titles but they were tripped by the favourites tag and Lyon left Turin with the trophy last year.
Barca boss Jonatan Giráldez will now lead his players into their third successive final, his second as manager, and the memories of May 21st 2022 linger.
The coach, who guided the club to the Liga F title just a few weeks ago, is keen to focus on what was learned as opposed to what was lost Barcelona get ready to face Wolfsburg at the Philips Stadion.
"Experience is one of the most important things, that goes for all areas of life. The more experience you have the better you will do," he said.
"Sometimes you need time to gain that experience and of course that helps."
The one thing Wolfsburg hold over Barcelona is their recent experience of big games. Die Wölfinnen needed to keep winning so they could keep up with Bayern Munich in the race for the Frauen-Bundesliga title whereas the Catalans wrapped up their domestic duties weeks ago.
Does the coach think this will affect the final and give Wolfsburg a slight edge on Saturday?
"No, that will not affect us or have an impact," he said. "Both teams have had time to recover."
With this in mind, Giráldez knows what Barcelona need to do if they are do beat Wolfsburg and win the Champions League.
"We need to minimise their strengths," he explained. "We will be weary of their quick attacks and set pieces. Based off their set pieces, we are aware of that and the type of players that they have in that context.
"Experience gives us a boost and more strategies before the final."
Before leading his players out for a training session, he played down making Saturday a revenge mission over last year. It's all about the next game for Barcelona, the final game of a long season.
"The work doesn't go from one final to the other. The work starts when one game ends. We've been working ever since and playing important games," he said.
"It doesn't apply from final to final, but throughout the whole season. I think we're a more patient team now. Our memories from Turin are not with us right now because we've been working on that all season long."
Women's Champions League Final Preview: Barcelona -v- Wolfsburg https://t.co/OtPyaxm1Ecpic.twitter.com/FiW3qk7YYD

— Extratime.com (@ExtratimeNews) June 2, 2023