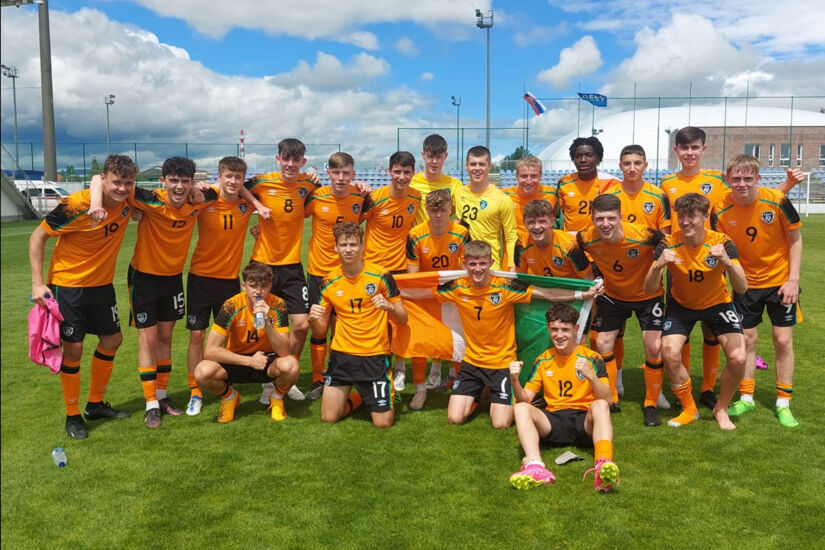 Irish Men's Under-16s Triumph in UEFA Development Tournament
Mon, May 15 2023




The Irish Men's Under-16s football team celebrated a triumphant finish at the UEFA Development Tournament in Slovakia, edging out the hosts 2-1 in the final game.

The victory capped a hugely positive season for the team, which remained unbeaten and boasted a string of impressive wins.

The deciding match saw William Martin score his third goal of the competition, and Michael Noonan convert a second-half penalty to seal the win for Ireland. Earlier in the season, the MU16s had claimed the Victory Shield and demonstrated strong performances against Switzerland. Their journey in this tournament was marked by victories over Latvia (4-2) and Ukraine (3-1).

The match against Slovakia got off to a promising start, with Ireland taking the lead in the 4th minute. Shelbourne's Daniel Ring executed a fine assist to Martin, who coolly slotted the ball into the bottom corner. Despite Slovakia's increased pressure and a near miss in the 9th minute, the Irish defense held firm.

However, Slovakia found their equalizer in the 42nd minute, when Samuel Kováčik finished off a pass from Martin Bačik. The teams went into the break with the scoreline at 1-1.

In the second half, substitutes James Roche, Kyle Fitzgerald, and Noonan made their entry onto the field. Fitzgerald, only minutes into the game, won a penalty for Ireland with his pace and agility. Noonan successfully converted the penalty, giving Ireland a 2-1 lead and marking his 10th international goal of the season.

Despite several intense moments in the second half, including a desperate goal-mouth scramble in the 56th minute, the Irish managed to keep Slovakia at bay. The match ended with a 2-1 victory for Ireland, concluding their season with six wins and two draws, a total of 19 goals in eight games.

In the post-match interview, Head Coach Paul Osam said, "It has been an excellent week and I'm delighted to win the tournament. We have a number of players away with the Under-17s and gave five players their debuts, so to finish the tournament with three wins out of three is excellent."

"The 3-1 win over Ukraine was particularly pleasing. It was the best performance from this group and perhaps the best performance in my time as Head Coach," he added.

Osam concluded by expressing his satisfaction with the team's overall performance and player development throughout the season, emphasizing the team's dominance and unbeaten record.