Stephen Henderson: 'I forgot how hard it was to sign players - I didn't realise there were so many'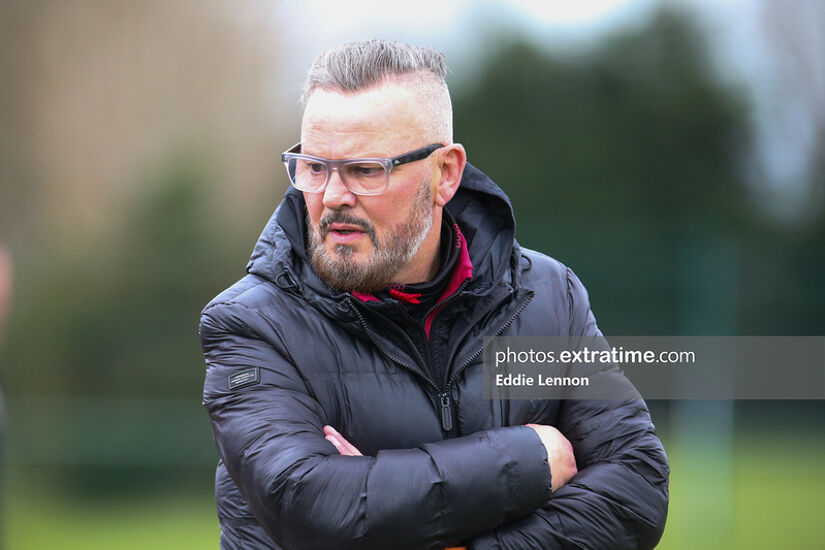 Back in the League of Ireland senior managerial hot-seat for the first time since 2019, Longford Town boss Stephen Henderson is ready to roll for the 2023 season.
Most recently in charge of Cobh Ramblers, Henderson admitted to not being sure of being offered another job in senior management after his break from the managerial circuit.
But he is back and ready to make his mark.
Granted, he has been forced to almost entirely rebuild Longford Town's first-team squad with just four players remaining from last season.
"We have 24 players and 20 of them are new," he told extratime.com. "It's basically a clean slate and we are trying to formulate a basic structure into the team.
"That's what we worked on during the first few weeks of pre-season and the players bought into it really well.
"We are now moving on to the second phase of that which sees how the players will express themselves. What we have seen is that we have players who will hurt anyone on their day."
Acting quickly during the off-season, Henderson has appointed Gavin Peers as his first-team coach alongside Wayne Groves.
But it was the recruiting of players that the Dubliner admitted to being the biggest challenge throughout that time.
"I forgot how hard it was to sign players," he admits. "I made contact with 160 players and I have a list of 150 that I spoke to.
"I didn't realise there was that amount of players. 95% of them told me no, so it was tough.
"There was a lot of new stuff for clubs to deal with in the league with infrastructure and regulations.
"Trying to deal with that was difficult. But we started to slowly put the squad together. We have a young squad but with experience in the right areas. We'll be competitive this year."
Added to that, clubs in the Premier and First Division have been mandated to pay a minimum wage to full-time and part-time players in both tiers.
But Henderson insists that its introduction should have been implemented on a phase-by-phase basis instead.
"It felt like it was just dropped on the doorstep of clubs and that's something that we never seem to learn from," he explains.
"A plan should be developed over a three-year period. It is not something you make up and throw at clubs. Clubs need stability to be able to step up to things like that.
"It costs more money. What are we historically known for in this league? A lack of finances….
"Everything has to be done in a structured way because you are still looking after the players. You can't demand for a club to come up with this out of nowhere, make a promise to a player and then break that promise.
"That's no good to anyone. That's all I will say but there has to be three-year lead-ins for that.
"Hopefully we can figure out how that went and then we'll definitely have better plans in place for next year.
"Then we can talk to players about how it works and what the system is about and then take it from there."
But while he may have been forced to navigate through tricky waters in that regard – he is relishing his return to senior League of Ireland football as a manager.
"It has been brilliant. And hard. Really hard," he explains. "I'm not just saying this because I am back in it but it looks like it is going to be the most competitive First Division in a decade.
"There is big investment going into clubs that wouldn't normally get that investment and the players are distributed really well across the league.
"Every team will believe they have an opportunity to get into the play-offs. Who will win it? You have to look at Waterford and Galway.
"Wexford and Bray have also invested with players they have brought in, while Harps have gone full-time. Ramblers have invested really well.
"We have stayed within our means with a good First Division budget. Everyone is going to be there. I think this will be the most competitive division in a decade."
And having stayed within Longford's means this year, Henderson is aware of the club's potential going forward.
As previous two-time FAI Cup winners and the home to a 6,000 capacity all-seater stadium, De Town are nearing their centenary as they close in 100 years of existence.
"There is huge potential," he stressed. "You don't get to 100 years as a club without being run properly.
"The chairman knows how to run a football club and knows how a club can be competitive, sustainable and more importantly stay within its means.
"It is a good budget in the First Division. It works within that structure. It's something that the club can afford.
"We've been using that budget cleverly and brought in players that will play well for Longford Town and bring success.
"They've done all they can to help us. It's up to us to show what we can on the pitch."
But all eyes are on their opening night assignment against Athlone Town.
The Longford boss said: "We are the home team in a derby and are going to find out if our players have the balls for this or not.
"I know that it's a cliché but we can't afford to get caught up in an occasion. We can't get caught up in the fact that it is a local derby. It is a chance to get the first three points of the season.
"The sooner we start getting points the sooner confidence starts building and then we can start progressing through the league."
2023 Season Preview: Longford Town https://t.co/SSBzXtmK08pic.twitter.com/lp5paEQXqk

— Extratime.com (@ExtratimeNews) February 12, 2023