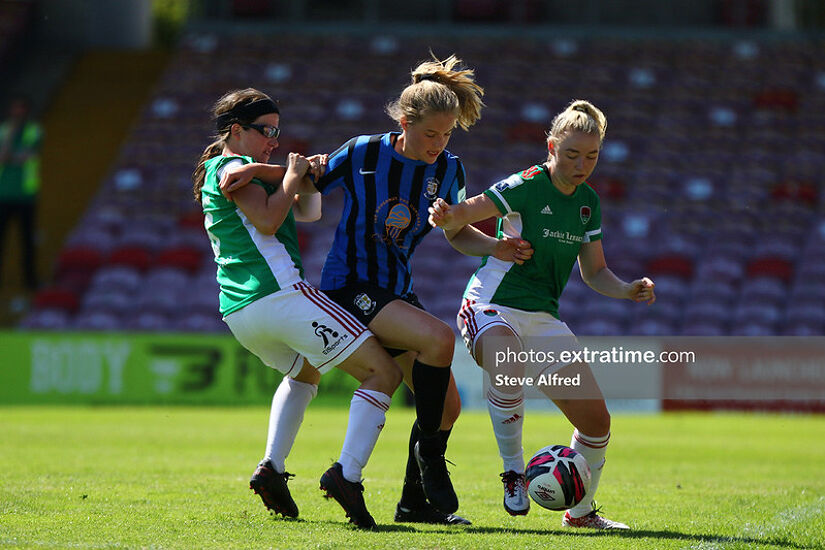 Wexford Youths signal intent as they sign Emily Corbet
Thu, Jan 19 2023




With the re-introduction of Shamrock Rovers to the Women's National League this season it has been a winter of discontent for many of the other league teams, waiting to see if the money and glamour of the Hoops will succeed in prising away their best players.

Aine O'Gorman, Stephanie Roche, Abbie Larkin, Jessica Hennessy and Jess Gargan are just a few of the top players who have already been lured away to join the Tallaght-based club.

Indeed, such is the pulling power of Shamrock Rovers that fans and club officials alike have been waiting with bated breath to see how many of the other stars of women's football will end up in the green & white in 2023.

Among the players as yet unannounced are the likes of Sadbh Doyle of Peamount, Julie Ann Russell and Chloe Singleton at Galway, Sligo's Gemma McGuinness and Ellen Molloy at Wexford, although her long-term injury may have kept her off the Hoops' radar.





All of these are quality players who would improve any team in the league, but the highest profile player yet to commit herself for the new season has undoubtedly been Athlone Town's Emily Corbet.

Last season the striker hit 23 goals in 30 appearances and was the marquee player for the Midlands club as they surprised everyone with a monumental title challenge that fell just short, and a Cup run that brought them all the way to the Final where they lost out to Shelbourne.

Up until today's announcement you would have got short odds on Corbet ending up at Whitestown Way – but on Thursday afternoon she pledged her immediate future not to Shamrock Rovers but to Wexford Youths.

Wexford were themselves involved in last season's epic title race, losing out on the last weekend when they were beaten at home by the club that ended up as League and Cup double champions, Shelbourne.

Wexford's league challenge was fatally undermined in the final weeks by the injury to star player Ellen Molloy but they remain among the top sides in the women's game.

The arrival of Corbet only strengthens their hand and the hope in the sunny South-East will be that, along with the signing of winger Abbie Brophy from Bohemians, Corbet will provide the goals to fuel another title chase.