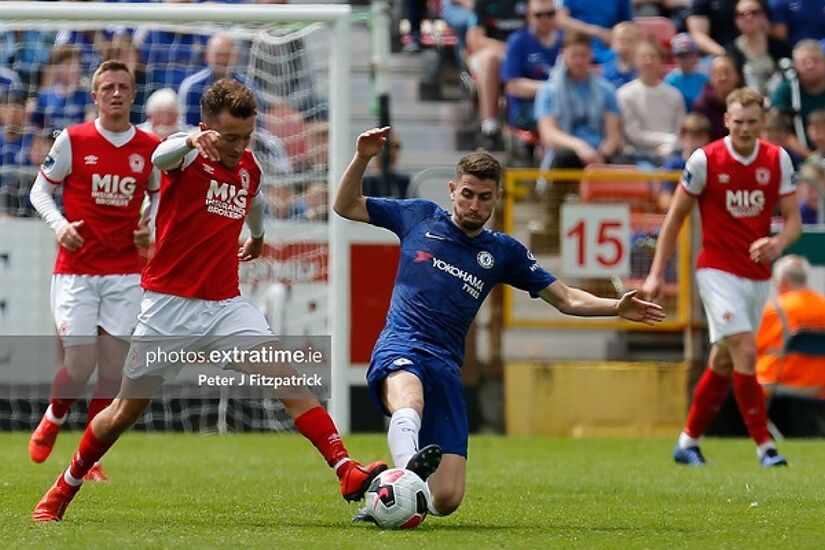 The English Premier League is back on Saturday - who should League of Ireland fans support?
Tue, Sep 15 2020




The stadiums remain closed to the public but, all over Ireland, football fans will tune in this weekend to watch their heroes battle it out at the top level on the box.

Titanic tussles, fierce rivalries, passionate derbies, dressing room egos, owners with more money than sense, Ollie Horgan – the League of Ireland has it all.

For a small but dedicated sect of Irish football fans, however, the real action takes place overseas in Europe's niche leagues: in England, in Scotland and probably other places too.

This weekend will see the return of one of Europe's youngest leagues: the 'Premier League' was created as recently as 1992 in order to allow England's top professionals to face each other on a regular basis.

It doesn't have the history of the League of Ireland, which was created in 1921, but the fledgling 'Premier League' has steadily grown despite a weak domestic economy and non-membership of the European Union.

The 'Premier League' kicks off this weekend and what better time for Irish football fans to familiarise themselves with the clubs? Who knows, you might even fall in love with one!

So who should fans of each League of Ireland club support in the English 'Premier League'? Keep reading for your exclusive extratime.com Guide to the 'Premier League'!

Liverpool – Shamrock Rovers

An easy one to start with. Historically, Shamrock Rovers have been Ireland's most successful club, but did you know that the Merseyside Reds have won almost as many trophies?

Like the Hoops, Liverpool were massive in the '80s, winning title after title, but the 1990s and early 2000s were tough to deal with.

Liverpool's infamous 'Spice Boys' of the '90s were virtual celebrities with smart suits and fake tans, which Shamrock Rovers fans will be familiar with having signed Billy Dennehy.

Rovers at least won a title with moustachioed striker Stephen Geoghegan – Liverpool tried Ian Rush, John Aldridge and even Nigel Clough, who didn't have a moustache, to no avail.

It took almost 30 years for the caterpillar lip of Mo Salah, and possibly football talent, I don't know, to fire Liverpool to the domestic title.

Nowadays, both sides have seen the glory days return with fast-paced, high-intensity football under the stewardship of young managers with beards.

Manchester City – Cork City

Like Cork City, Manchester City came out of nowhere in the 2010s to become arguably the biggest club in the country and regularly challenge for titles.

Citizens of Manchester, like Cork people, have a huge amount of regard for their city and consider it the best in the land – a position shared, in both cases, by absolutely nobody else.

Under John Caulfield, Cork came against a seemingly immovable force in Dundalk, while Man City were faced with Alex Ferguson's all-conquering Manchester United team.

Both found their ways to their respective summits before firing the manager who got them there and haven't been able to emulate that success since.

Manchester United – Dundalk

The aristocrats of their respective leagues, both Dundalk and Manchester United have always been more of a big deal than would seem obvious on first glance.

Both sides have been among the most well-supported in the country regardless of success and have recently won a glut of league titles under a charismatic demagogue.

Each is owned by a group of American investment capitalists with little interest in football bar an affinity for awkwardly wearing a club scarf.

Both sides struggled to deal with the departure of their singular figure, Stephen Kenny for Dundalk and Alex Ferguson for Man U, and have recently flirted with the live comedy circuit.

Chelsea – Waterford

Temperamental overseas-based owner with interests in multiple clubs? Check. A rapid rise to the upper echelons of the league? Check. Em… play in blue? Check.

When former Irish under-21 international Lee Power took over Waterford United in 2016, the transformation was immediate as they won the First Division in year one.

Chelsea's rise was somewhat more gradual under Abramovic, who failed to make a single appearance for England's under-21s, but they got there in the end.

Not that either has much time for UEFA: Waterford were excluded from the 2018/19 Europa League due to the small matter of them not having existed two years earlier.

Likewise, Chelsea were banned from signing players for a year after making more than 150 breaches of transfer rules. It's like looking in the mirror!

Tottenham Hotspur – Sligo Rovers

Like Sligo Rovers, Tottenham have a reputation going back decades for playing attractive, easy-on-the-eye, progressive football.

And like Sligo Rovers, Spurs have a reputation going back decades for playing attractive, easy-on-the-eye, progressive football and not really winning anything.

The comparison isn't exact, because Sligo have won the Premier Division and FAI Cup in recent years, whereas Spurs couldn't even win a free stadium because they kept telling people they'd demolish it.

There are other dissimilarities: Sligo have invested in a top-class stadium and facilities at the Showgrounds, whereas Spurs couldn't even win a free stadium because they kept telling people they'd demolish it.

In Liam Buckley, Sligo have a football purist while in Jose Mourinho, Spurs have a manager only a purist could love, but both proven winners are always liable to upset the applecart.

Wolverhampton Wanderers – UCD

Every few years, UCD arrive in the league with a bunch of players you've never heard of, play scintillating football before losing the plot for a couple of months.

At the end of the season, they lose their best players to bigger clubs and go away for a while to repeat the cycle.

Wolves.

Arsenal – St Patrick's Athletic

Yep, we're going with the jerseys again but there are legitimate reasons to believe that Saints fans and Gunners fans are a perfect fit.

Like St Patrick's Athletic, Arsenal fans are well-known for going on Youtube and making a holy show of themselves to everybody else's amusement.

Both clubs enjoyed periods of unprecedented success under exotic managers who matched a taste for a brand of fluid, passing, attacking football with great hair.

Liam Buckley eventually saw the door after a couple of years of underperformance and Arsene Wenger at Arsenal suffered a similar fate.

In both cases, the fanbases instantly regretted their decision but will continue to maintain they were right out of sheer pride – and, really, what else is more important in football fandom?

Southampton – Shamrock Rovers II

Any Shamrock Rovers fan who wants to see the next generation of Rovers stars would do well to catch the reserve team in action this year.

Likewise, any Liverpool fan who wants to see the next generation of Reds stars would do well to catch Southampton in action this year.

Everton – Bohemians

Like Bohemians and Shamrock Rovers, the Merseyside derby has always been the premier intracity rivalry in English football.

And like Bohemians, Everton are the older club in their particular city, having formed in 1878, 14 years before their crosstown rivals.

Bohemians have their own craft beer, called Bohs Light, while Everton have a link-up with Carling, meaning neither will appeal to anybody who actually likes beer.

Now, both clubs are managed by silver-haired maestros who know the game in and out and have a track record for getting absolutely everything from their sides.

Bohs are managed by Keith Long while Everton are under the tutelage of Carlo Ancelotti: two genuinely terrifying men.

Newcastle United – Galway United

The third-biggest city in the Republic of Ireland has never really seen its one-city club enjoy the success their latent support base would suggest they should.

Similarly, Newcastle is one of the biggest clubs in England in terms of attendances and the number of people within their exclusive catchment area but have always underachieved.

The past two years have even seen both clubs engage in banter-era flirtations with Saudi Arabian investors.

And in both cases, the Saudi investors eventually decided it would cost less time and money to invest in something less risky, like roulette.

Leeds United – Shelbourne

Like Shelbourne, 2020 marks the return of a heavyweight of English football, Leeds United, to the top tier after a long period in the doldrums.

Past generations of the clubs' fans have been used to only the best, star players and title wins, but the latest crop has experienced mainly disappointment.

Like Shelbourne, Leeds United have historically had problems balancing the books, which is ironic considering the majority of both clubs' Irish fanbases are middle-aged accountants.

Both sets of fans would love to see the glory days come back on their return to the top flight but both are smart enough to know better.

If anything, fans of Shelbourne and Leeds United know that pain is what football is really about. After all, football without misery is nothing.