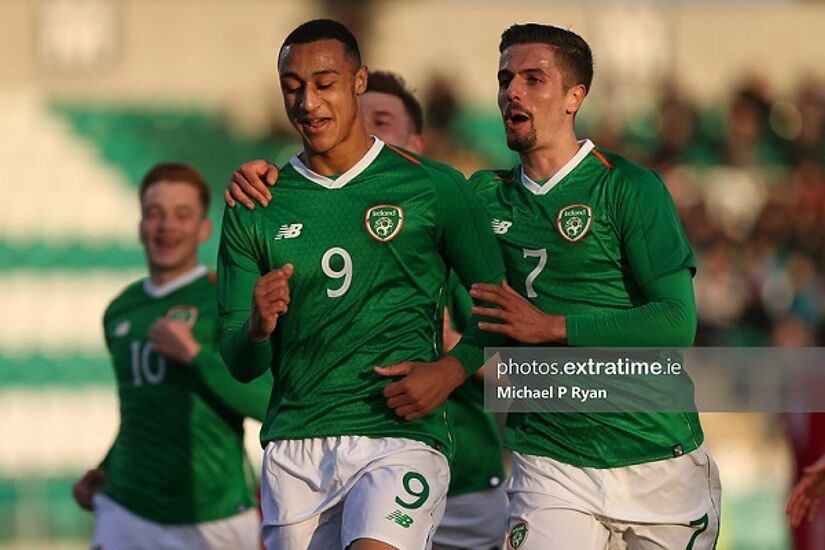 Young Irish Canaries Primed for Flight
Sat, Dec 28 2019




If things go to plan, Steve Weaver and Stuart Webber could be the men responsible for backboning the success of the Republic of Ireland senior football team in the decade to come. Who? Why? And what am I on about? Let's take a trip down memory lane to the turn of the millennium.

Leeds United were making waves in the Premier League under George Graham. After their 1997 FA Youth Cup success under Paul Hart, George Graham's senior side had finished 5th (1997/98) and 4th (1998/99) in the table. The club was chock full of young Irish players trying to establish themselves in English football. Drogheda's Gary Kelly had long established himself as one of the best full backs in the top tier of English football while his nephew, Ian Harte, would soon carve out a reputation of his own on the opposite flank with a wand of a left foot.

As part of the 1997 successful starting XI, defenders Damian Lynch and Alan Maybury (both formerly of St Kevin's Boys) and midfielder Stephen McPhail (ex Home Farm) were some of the Dubliners present at the club (a number which also included Nicky Byrne (another ex SKB) and Paul Donnelly) along with Sligo's Alan Cawley and Dundalk's Brian McCrystal. (both joined in 1998) Under the tutelage of the aforementioned Hart, the Whites won the FA Youth Cup in both 1993 and 1997, however, despite the plethora of underage talent at the club – other members of the 1997 FA Youth Cup Final included Paul Robinson, Jonathan Woodgate and Harry Kewell – new manager George Graham relied on more experienced players to carry the team to European qualification instead of promoting from within. Hart himself had left the club in 1997 to allow the players the greatest chance of first team development which he felt wasn't happening because of his presence at the club and his difference in opinion to that of Graham.

Two years after his arrival at the club, Graham departed and the youth produced by Hart finally got the chance to shine with the likes of Harte, McPhail and Maybury all tasting European football under new manager David O Leary while also receiving international caps during the same period. While, ultimately, the Leeds United project failed and the club descended into depths from which it is slowly reappearing from almost two decades later, the reality is that these players needed to have a manager who believed in them.

That's where we now arrive back with Weaver and Webber. Much like the Leeds side of 1993, which produced little of note for the senior team, Norwich City's Youth Cup winning side of 2013 had contributed only one regular first team player at the start of the 2017/18 season – several from both squads had gone on to have decent careers with other clubs. Club owner Delia Smith needed to find a recipe for developing and keeping talented youngsters at the club. To help kickstart the process, Stuart Webber joined Norwich City from Huddersfield in April 2017, having carved out a reputation for developing young players – Raheem Sterling was one of his early signings from his time at Liverpool. Steve Weaver was appointed Head of the Norwich Youth Academy in September 2017, two years later and Norwich tied with Arsenal as providing the highest number of players (3) for the English Under 21 squad – Max Aarons, Todd Cantwell and Elliott Godfrey. Weaver's vision is one which values the concept of first team football and the importance of players engaging with senior competitive football as soon as they can.

From an Irish point of view, unlike the delays which occurred at Leeds United, this means that this season Simon Power is playing on loan at Ross County in the Scottish Premier League, having spent last season in Holland. (A far cry from the South Dublin parks of Cabinteely and Belfield where he kick-started his career) Similarly, Cork's Adam Idah, despite being still eligible for Academy football, has appeared on the senior Norwich City bench and made his senior debut for the club in an EFL tie in August, weeks after signing a new four year deal at the club. Much like his international Under 21 manager Stephen Kenny, Idah's club manager Daniel Farke is a believer in the concept of, 'If you're good enough, you're old enough'. This rings true in The Canaries' underage sides too, with 19 year old William Hondermarck (signed from Drogheda United in January 2019) and 17 year old Leixlip native Andrew Omobamidele (who recently signed a new two year deal at the club) both featuring regularly with the Under 23 side in Premier League 2 – a league in which Aaron Connolly top scored in last season. Other Irishmen featuring regularly with the club's underage sides include another Leixlip man, Josh Giurgi of the Under 18s, and Tony Springett who was recently part of the Irish Under 18s. While progress in underage Academy sides is by no means a precursor to senior success, at Norwich there is an explicit focus on keeping players developing by explaining that the Academy team is merely a stepping stone to the first team and not a final destination.

This idea of moving through the age groups as necessary has also translated to the international setup for the young Irish hopefuls as Idah (18) and Power (21) have both been with Stephen Kenny's Under 21s this season, Omobamidele (17) was a key player for Tom Mohan's Under 19s while Giurgi (17) netted for Colin O'Brien's Under 17s in 2019. Hondermarck was born in France but has been involved in the Irish underage setup, as has English born Tony Springett. In the past few seasons, under the direction of Weaver and Webber and the managerial guidance of Farke, Norwich have managed to get promoted to the Premier League and developed an impressive number of young players at the same time. As mentioned already, the trio of Todd Cantwell, Max Aarons and Elliott Godfrey have all received international call ups to add to their growing reputation, while Jamal Lewis has emerged as a key member of the Northern Ireland defensive unit. Many Irish fans are hoping that they will see a few more follow in their footsteps in the near future, gaining their wings and learning to fly with the Canaries.