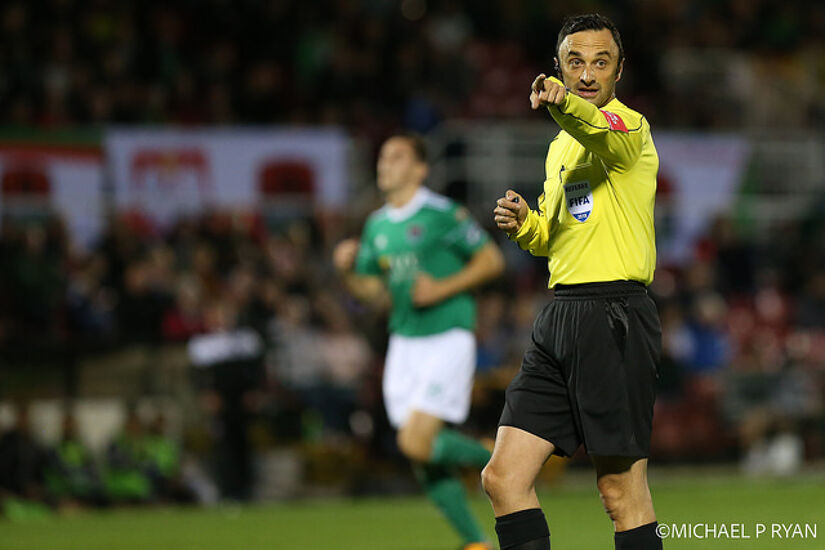 extratime.ie is looking for you to join our 2020 reporting team
Wed, Jan 01 2020




With the new League of Ireland season due to kick-off in two months, extratime.ie are doing our annual recruitment drive for new reporters to join our volunteer team.

We asked a selection of our reporters to give us their own highlights from their time spent in the press box. So check out below a flavour of what you could be a part. If you are interested in getting involved, please get in touch by emailing gareth.penrose@extratime.ie.

Andrew Dempsey

On the opening night of the season it was a Dublin Derby clash for me in the UCD Bowl as the Students took on Shelbourne. From there I managed to make it around all the Dublin grounds during the season and saw plenty of cracking games;





None more so than what would turn out to be Shelbourne's final game of the season – the insane playoff match against Drogheda United in Tolka Park – a match report which made the Top 10 most read articles on extratime.ielast year.

I saw some special goals with Neil Farrugia's finish to a lovely UCD move being one of the finest. I talked one-on-one with Bray Wanderers boss Gary Cronin and Bohemians manager Keith Long for an episode of RTÉ's Soccer Republic.

However my favourite moment of the year was covering the Republic of Ireland v Wales game at the Aviva Stadium. It was a night I'll never forget, despite the game being an unmitigated disaster for the Boys in Green!

From covering the game in the press box to hearing from Shane Duffy and Richard Keogh in the mix zone afterwards (and realising they are both as big as they look on TV!). From freezing my fingers off in February to watching on from a cushy press box in the national stadium, it was a good year to be with extratime.ie.

Report from Tolka is in as @shelsfc suffer Playoff heartbreak at the hands of @DroghedaUnited. What. A. Game. #FDPlayoffs

https://t.co/UTHucHAnCX

— Andrew Dempsey (@AndrewDempsey98) October 8, 2018

Dylan O'Connell





Growing up in Cork in the late 1990s, there was always one man on everyone's mind and that was Roy Keane. Joined with fellow Corkonian Denis Irwin at Manchester United, the pair would capture the imagination of the city as United went on to reach the pinnacle of club football.

Last year when I wandered down the Marina to the Liam Miller Tribute Game, I could not help but feel the butterflies in my stomach when approaching Pairc Ui Chaoimh.

The air was electric and there was a jungle of noise and excitement as people awaited the chance to see the famous 'Class of 92' amongst a host of former United and Ireland players.

In the media room I was reporting for extratime.ie but in my mind there was the 90s kid who was in awe listening to these superstar former players such as Ryan Giggs and Roy Keane speak to the media about their former colleague Liam Miller.

Goal posts? In Pairc Uí Chaoimh? Absolutely brilliant to see! #LiamMillerTribute pic.twitter.com/LdWMHRE6hp

— Dylan O'Connell (@JudgeDyl) September 25, 2018

Macdara Ferris





It would be very easy for me to talk about being at the World Cup in Russia last Summer but there was another event that came to mind when penning this piece on memorable moments from the events I covered in 2018 for extratime.ie. This was one where I got to chat with one of my childhood footballing heroes.

Back in the late 1980s when Sky TV was first launched, and there was very little football on TV, they had a Dutch football highlights programme (some might remember it used U2's 'Pride' as its intro music!).

I loved watching Ronald Koeman play in the all conquering PSV team. He scored 51 goals in 98 league appearance across three title winning seasons prior to a move in 1989 to Barcelona.

It seems remarkable now that Barca had not won a European Cup prior to Koeman's arrival at the Catalan club but the Dutchman proved the match winner in the 1992 final played at Wembley with a thumping free kick against Sampdoria.

Back in December last year, myself and Dave Donnelly attended the EURO 2020 draw in the Convention Centre for extratime.ie and in the press area afterwards I got the chance to talk briefly one-on-one with Koeman.

I asked him about the draw that saw Northern Ireland switching in for the Republic of Ireland in their group with Germany, their qualification for the Nations League semi-final and about the EURO 2020 tournament to be played across Europe.

Listening back to the interview afterwards, I was thinking yeah that's me just me chatting with Ronald Koeman and I thought that certainly wasn't a bad way to spend a Sunday afternoon!

Just me chatting with Ronald Koeman... https://t.co/mIJEDE51cT

— Macdara Ferris (@macdarabueller) December 3, 2018

Brendan Graham

One of the highlights of my journalism career to date came down in Pairc Ui Chaoimh at the Liam Miller Tribute match. Although a sad occasion at times, it was such a memorable day and a fitting tribute for an Irish sporting hero. As a Man Utd fan, the day had an extra special feel to it.

From interviewing players like Paul Scholes and Denis Irwin, to having one of the best views in the house from the press box, it was one of the most enjoyable and rewarding days I've had yet as a reporter.

Having said that across the season, the access and match day experience I always receive as a reporter is second to none. extratime.ie is the best place around for anybody looking to gain experience if they have an interest in becoming a reporter.

Liam Miller Tribute Match - Pairc Ui Chaoimh pic.twitter.com/HR2VIExhQM

— Brendan Graham (@BrendanGraham1) September 25, 2018

Gerard Grimes

2018 was my second full season covering the SSE Airtricity League for extratime.ie. As a student in the final of year of my journalism degree, having an outlet that gives me the opportunity to cover games every week, write regular articles on the League of Ireland and Irish football in general, and cover media events and undertake interviews, has been more than I could have asked for.

One interview that stands out for me is with Drogheda United chairman Fiachra Kierans that took place on the pitch at United Park. This was on the opening night of the season when the game against Finn Harps was called off due to unsatisfactory lighting.

Kierans explained the situation and revealed that new floodlights were set to be installed, with the article from extratime.ie being referenced on RTE's Soccer Republic that week.

Working with extratime.ie has allowed me to cover events in the Aviva Stadium, including Ireland press conferences and the friendly between Liverpool and Napoli. From the press area in the back row of the stand in United Park to the press area in the Aviva, the opportunities in the last year alone have been a great experience.

Includes a short clip from United Park by myself about why Drogheda vs Finn Harps was called off - excuse the floodlight behind me! https://t.co/tiVvnLOkXn

— Gerard Grimes (@GerardGrimes11) February 23, 2018

Dan Lucey

I've been writing interviews for extratime.iesince 2015. Initially, too intimidated to volunteer for a live match report, I suggested conducting an interview with then Cork City goalkeeper Alan Smith.

Mainly because he lived just down the road from me, but also because his last team were Glasgow Rangers and I thought that a young Irish player's experience at that club would be an interesting angle.

Forward to the present day and over 60+ interviews later and I still enjoy the process, as I get to speak to some really intriguing people (especially those no longer involved in football).

Even emigrating to Australia hasn't affected my input and I'm looking forward to continue with these interviews this coming year.

An @ExtratimeNews interview with former @acciesfc and @ShamrockRovers defender @davidelebert25: https://t.co/WXYgCZqf41

— Dan Lucey (@DanLucey5) December 27, 2018

Niall Newberry

I've been part of the extratime.ie team for past three seasons but last year was by far the most fulfilling for my own development. It was a season that started in the fairly humble surroundings of Oriel Park for a pre-season friendly between Dundalk and Cabinteely.

That first game was watched by around 500 spectators but the most recent match I covered attracted the slightly larger figure of 30,412. That was the FAI Cup final between Dundalk and Cork City at the Aviva Stadium - an event that I was privileged enough to cover as a reporter for extratime.ie.

This was an opportunity that I thought would never be bestowed upon me but it was just one of several highlights from the past 12 months. Travelling as member of the media to both Estonia and Cyprus for Europa League qualifiers were also standout moments in an unforgettable year.

Having said that one of the best things about writing for extratime.ie is working with the vast array of players, managers and interesting people around the league that you are likely to encounter on your travels as a reporter.

My parting shot from Tallinn, where I just spent an amazing couple of days. Dundalk pretty much got what they came for but will be fully aware that the job is only half complete – Oriel is sure to be rocking for the return leg on Thursday. https://t.co/rBi13GgjKL

— Niall Newberry (@niallnewberry) July 15, 2018

We are on the look out for new talent, people who are interested in writing about all aspects of Irish football. If this sounds like something that might interest you, now is the time to get in touch with us by emailing gareth.penrose@extratime.ie explaining why you want to be part of our volunteer team, details of any journalism experience to date and, where possible, a one page CV.