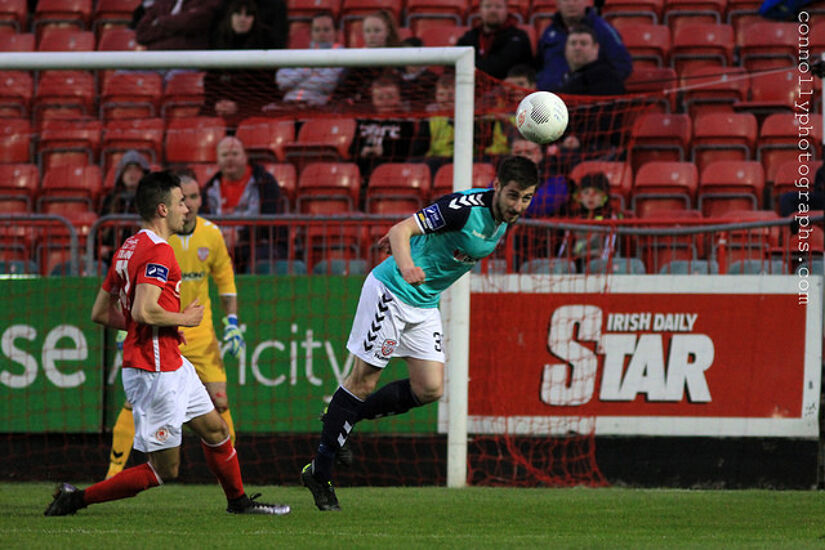 In Pictures: St Patrick's Athletic 0 - 1 Derry City
Mon, May 09 2016




Barry McNamee's second-half goal was enough to see off St. Pat's and record Derry City's third league win on the road at Richmond Park.





Peter Fitzpatrick and Darragh Connolly were our men with cameras at this one and they sent us in a selection of pictures from the game. You can read Billy Smith's match report from the game here.
About Darragh Connolly
Darragh comes from a family of fine photography following in his father's footsteps. After beginning his sporting photography career with Saint Patrick's Athletic several years ago (where he still enjoys the role of a club … View Full Profile
| | Team | P | W | D | L | Pts |
| --- | --- | --- | --- | --- | --- | --- |
| 1 | PEA | 3 | 3 | 0 | 0 | 9 |
| 2 | SHE | 3 | 2 | 1 | 0 | 7 |
| 3 | Shamrock Rvrs | 3 | 2 | 1 | 0 | 7 |
| 4 | WEX | 2 | 2 | 0 | 0 | 6 |
| 5 | BOH | 3 | 2 | 0 | 1 | 6 |
| 6 | ATH | 2 | 1 | 0 | 1 | 3 |
| 7 | DLR | 2 | 1 | 0 | 1 | 3 |
| 8 | GUW | 3 | 1 | 0 | 2 | 3 |
| 9 | SLI | 3 | 0 | 0 | 3 | 0 |
| 10 | COR | 3 | 0 | 0 | 3 | 0 |
| 11 | TRE | 3 | 0 | 0 | 3 | 0 |
Be Social