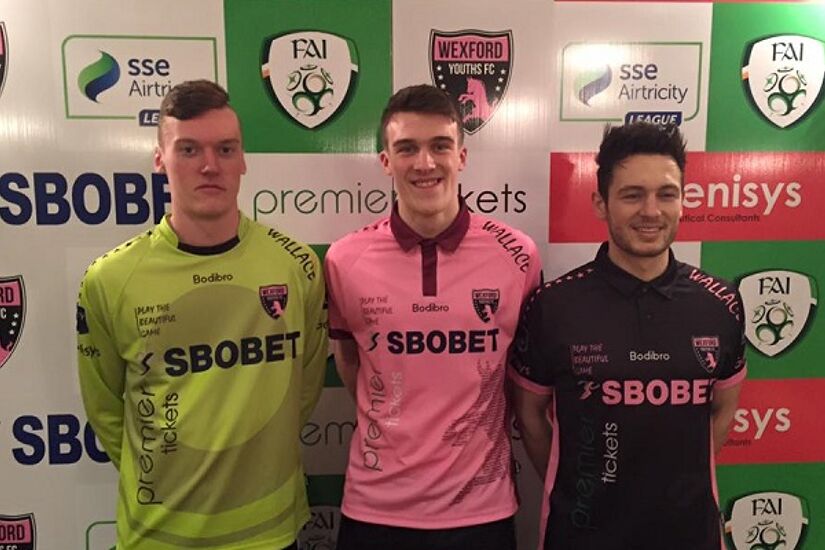 Wexford Youths unveil SBOBET sponsorship
Sun, Feb 21 2016




Wexford Youths have announced operators of the global online sportsbook SBOBET, Celton Manx, as the club's principal sponsor for the 2016 season.

Shortly after the announcement, Celton Manx executive director Bill Mummery spoke of the company's pleasure at linking up with Youths.

"We are pleased to have entered into a sponsorship agreement with a club now in its first season playing in the top tier of Irish football, and to be able to share with them their hard-fought success during 2016," Mummery said.

"Wexford Youths FC is clearly a club with its eye very much on the future, encouraging talent and making lasting contributions to the community, values we applaud and by which Celton Manx has always operated," he continued.

SBOBET was the name printed on the brand new Wexford Youths kits that were released over the weekend, but Mummery is confident that the partnership between Celton Manx and Wexford Youths will achieve more than just exposure for the sportsbook.

"I am confident that this will be a partnership that will not only lead to a heightened brand presence in the Republic of Ireland for SBOBET and raise the Isle of Man's profile there, but also serve to strengthen Wexford's standing in the League of Ireland and enable the club to develop positive links with the local community," Mummery concluded.

Shane Keegan, who is juggling his role as first team manager with a new role as the club's commercial manager ,spoke about what he believes will be a healthy relationship with Celton Manx.

"For the club to be aligned with such a trusted global brand as SBOBET is a tremendous coup," said Keegan.

"To have Celton Manx as our principal sponsor will open up exciting new opportunities for our players, our supporters and indeed, for the Wexford community.

"We are all looking forward to the 2016 season and developing what I am sure will be a mutually beneficial relationship with Celton Manx and the Isle of Man," the Youths boss concluded.

About Josh Dolan
Josh Dolan is one of our Dublin based reporters, who also helps out with Extratime.ie's administration tasks.

Josh, who was recommended to us by fellow reporters, joined the site as a teenager … View Full Profile
| | Team | P | W | D | L | Pts |
| --- | --- | --- | --- | --- | --- | --- |
| 1 | Shamrock R | 25 | 16 | 5 | 4 | 53 |
| 2 | Dundalk | 26 | 13 | 10 | 3 | 49 |
| 3 | Derry | 25 | 12 | 9 | 4 | 45 |
| 4 | St. Pats | 25 | 11 | 6 | 8 | 39 |
| 5 | Sligo | 25 | 9 | 8 | 8 | 35 |
| 6 | Bohs | 25 | 8 | 8 | 9 | 32 |
| 7 | Shels | 24 | 9 | 4 | 11 | 31 |
| 8 | Drogheda | 27 | 7 | 9 | 11 | 30 |
| 9 | UCD | 26 | 3 | 7 | 16 | 16 |
| 10 | Harps | 26 | 3 | 6 | 17 | 15 |