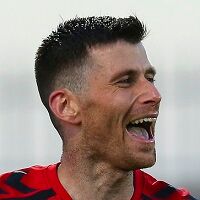 Dinny Corcoran
Forward
Height
Age 33 years, 6 months
Place of Birth Portrane, Dublin, Ireland
Nationality Ireland
Stats based on games populated in our system. They can be viewed below
Dinny's Biography
Dinny joined Sporting Fingal in their debut league season of 2008, scoring four times in 30 appearances, but 2009 saw limited opportunities and he played just 6 times for the first team as the club won promotion to the Premier Division and won the FAI Cup, beating Sligo Rovers in the final.

Dinny signed for First Division Shelbourne in 2010 and contributed 11 goals in 22 appearances in a frustrating season for the Reds as they narrowly missed out on the promotion play-offs.

In 2011 Dinny signed for Drogheda United where he played under Mick Cooke and made 32 league appearances, scoring seven times. He moved on that winter and in January 2012 Dinny signed for Aaron Callaghan at Bohemians. He made his debut for the Gypsies away to Derry City on the opening night of the season and he scored four times in 21 league appearances.

In February 2013 Dinny crossed the Liffey to join UCD and made his league debut for the Students in a 6-0 defeat to Derry City on 15 March. But he made just one start in 7 league appearances before returning to Bohemians in July 2013. His return benefited everyone as Dinny scored twice in a 3-1 win over Bray Wanderers on his second debut. He finished the season with four goals from twelve games as Bohemians finished tenth and avoided the relegation pay-offs.

Dinny started off the 2014 season well, and scored three goals in the first seven matches. Injury and suspension restricted him to just one appearance in the next seven games, but he went on to play in every other game of the 2014 season, finishing with thirteen goals in 27 appearances as Bohs finished eighth under Owen Heary.

As soon as the season had ended Heary was named the new boss at Sligo Roves and on the 31 October 2014, Dinny followed his manager to the west and signed for Sligo for the 2015 season. He finished the season as the club's topgoalscorer with twelve goals in 28 league appearances as Sligo finished ninth in the Premier Division.

In November 2015 Dinny moved to St Patrick's Athletic, making his first appearance for the Saints as an 80th minute substitute against Galway United on 4 March 2016. He made just 2 league starts that year adding another 13 league appearances from the bench. He scored once, in an FAI Cup win over Limerick side Pike Rovers, and left the club at the end of the 2016 season to join cross-city rivals Bohemians, his third spell with the Gypsies. In October 2019, Dinny re-signed with Bohs for the 2020 season.

In December 2020, Dinny signed for Drogheda United.


Career Facts
League of Ireland Premier Division
League of Ireland First Division
Season
Round
Team
Starts
Goals
Pens
MP
Assists
Subs
Sub On
Sub Off
Yellow
Red
MinP
2022

First

First Division

Wexford Wexford
13
4
1
-
1
10
7
1
1
-
-
2010

First

First Division

Shelbourne Shels
13
10
1
-
-
13
-
-
-
-
-
2009

First

First Division

Sporting Fingal Fingal
1
1
-
-
-
6
-
-
-
-
-
2008

First

First Division

Sporting Fingal Fingal
14
4
-
-
-
17
-
-
-
-
-
Friendly
Setanta Sports Cup
Season
Round
Team
Starts
Goals
Pens
MP
Assists
Subs
Sub On
Sub Off
Yellow
Red
MinP
2012

SETA QF

QF

Bohemians Bohs
-
-
-
-
-
1
-
-
-
-
-
2012

SETA R1

R1

Bohemians Bohs
2
1
-
-
-
-
-
-
-
-
-
FAI Cup
Europa League
Leinster Senior Cup
League Cup
Challenge Cup
Season
Round
Team
Starts
Goals
Pens
MP
Assists
Subs
Sub On
Sub Off
Yellow
Red
MinP
2018-2019

IRN-BRU R3

R3

Bohemians Bohs
1
-
-
-
-
-
-
1
-
-
-
2018-2019

IRN-BRU R2

R2

Bohemians Bohs
-
-
-
-
-
1
-
-
-
-
-