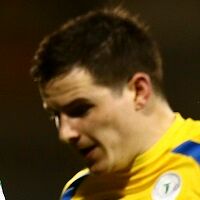 Ciaran Coll
Defender
Height 178 cm
Age 31 years, 3 months
Place of Birth Letterkenny
Nationality Ireland
Stats based on games populated in our system. They can be viewed below
Ciaran's Biography
Ciaran played under-age football with Kildrum Tigers before signing for SPL side Hearts in 2007. He spent a year at Tyncastle before returning to Ireland where he signed for Finn Harps at the start of the 2009 season.

Ciaran made his Harps debut against Kildare County on 7 March 2009 and made 28 league appearances for the club that season. But in 2010 injury ruined Ciaran's season and his only appearance came in the final game against Mervue United. 2011 saw Ciaran back involved and he made 21 league appearances during Finn Harps First Division campaign.

In 2012 Ciaran scored his first league goal for Harps netting in the 62nd minute against SD Galway on June 1st. Seven minutes later he scored his second as Harps went on to win 5-1. By the end of that season Ciaran had made 27 league appearances and in 2013 he added 18 more. The following year he was again a key part of Harps' defensive line, making another 27 league appearances.

Ciaran was once again a key part of the Finn Harps side in the 2015 season as he made 25 league appearances during the First Division campaign, captaining the side whenever Kevin McHugh was absent, before playing in all four play-off matches, scoring a huge goal in the opening minute of the away match to UCD as Harps won 1-0. The club were promoted to the Premier Division that year after overcoming UCD and Limerick.

Coll helped Harps stay up in 2016 thanks to his 29 starts in their Premier Division campaign, he then signed a new contract to keep him with the club for the 2017 season. Ciaran re-signed with Harps for the 2018 season.

In December 2018, Ciaran signed with Derry for the 2019 season. In June of 2019, it was announced that Ciaran had also committed to Derry for the 2020 campaign.


Career Facts
League of Ireland Premier Division
Season
Round
Team
Starts
Goals
Pens
MP
Assists
Subs
Sub On
Sub Off
Yellow
Red
MinP
2022

Prem

Premier Division

Derry City Derry
6
-
-
-
-
18
3
1
1
-
-
2021

Prem

Premier Division

Derry City Derry
26
-
-
-
-
6
1
1
-
-
-
2020

Prem

Premier Division

Derry City Derry
16
-
-
-
1
-
-
1
2
-
-
2019

Prem

Premier Division

Derry City Derry
31
1
-
-
-
5
1
2
2
-
-
2017

Prem

Premier Division

Finn Harps Harps
32
-
-
-
-
-
-
-
2
-
-
2016

Prem

Premier Division

Finn Harps Harps
29
-
-
-
-
-
-
-
4
-
-
2015

Playoff

Playoff

Finn Harps Harps
4
1
-
-
-
-
-
1
-
-
-
League of Ireland First Division
Season
Round
Team
Starts
Goals
Pens
MP
Assists
Subs
Sub On
Sub Off
Yellow
Red
MinP
2018

First

First Division

Finn Harps Harps
24
-
-
-
-
-
-
1
-
-
-
2015

First

First Division

Finn Harps Harps
25
-
-
-
-
-
-
-
3
-
-
2014

First

First Division

Finn Harps Harps
25
-
-
-
-
1
-
1
2
-
-
2013

First

First Division

Finn Harps Harps
17
-
-
-
-
1
1
-
1
-
-
2012

First

First Division

Finn Harps Harps
27
2
-
-
-
-
-
-
5
-
-
2011

First

First Division

Finn Harps Harps
17
-
-
-
-
5
-
-
2
-
-
2010

First

First Division

Finn Harps Harps
-
-
-
-
-
3
-
-
-
-
-
2009

First

First Division

Finn Harps Harps
23
-
-
-
-
5
-
-
-
-
-
Friendly
FAI Cup
Europa League
Season
Round
Team
Starts
Goals
Pens
MP
Assists
Subs
Sub On
Sub Off
Yellow
Red
MinP
2020-2021

EL QR1

QR1

Derry City Derry
1
-
-
-
-
-
-
-
-
-
-
League Cup
2018 Promotion/Relegation Play-off Series
Season
Round
Team
Starts
Goals
Pens
MP
Assists
Subs
Sub On
Sub Off
Yellow
Red
MinP
2018

PO Final

Final

Finn Harps Harps
2
-
-
-
-
-
-
-
-
-
-
2018

PO Semi Final

Semi Final

Finn Harps Harps
2
-
-
-
-
-
-
-
-
-
-
Europa Conference League
Season
Round
Team
Starts
Goals
Pens
MP
Assists
Subs
Sub On
Sub Off
Yellow
Red
MinP
2022-2023

ECL QR1

QR1

Derry City Derry
-
-
-
-
-
2
-
-
-
-
-