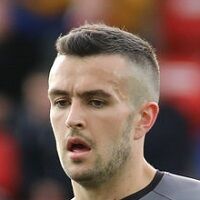 Michael Duffy
Midfield
Height
Age 28 years
Place of Birth
Nationality Northern Ireland
Stats based on games populated in our system. They can be viewed below
Michael's Biography
Michael played for Derry City's reserve side in the Ulster Senior League in 2012 and also made his league debut for the first team that year, coming on as a late substitute in the league game against UCD at Belfield on 6 July 2012. He made 5 league appearances in his debut season and added 23 more in 2013. He scored his first league goal in the 1-0 win away to Shelbourne on 8 June 2013 and then scored both goals in the EA Cup 2-0 win over Bohemians in July.

Michael stayed with Derry for the 2014 season and went on to enjoy a goal-scoring year, notching up eleven goals in 29 league appearances, including a hat-trick in a 6-1 win over UCD, as Derry finished eighth in the table. He also scored twice in four games during Derry's Europe campaign that season, grabbing goals in the 5-0 win over Aberystwyth and the 5-1 loss to Shaktyr Soligorsk. He also played in the FAI Cup Final, which Derry lost 2-0 to St Pats.

On 2 February 2015 Michael signed for Scottish giants Celtic. He spent two years at Parkhead without making a league appearance but he did enjoy two productive loan spells. He scored three times in 38 appearances for Alloa Athletic where he spent the 2015/16 season, and in six months at Dundee FC in the latter half of 2016 he scored once in 13 appearances. In January 2017 Michael prematurely ended his loan period at Dundee in order to facilitate a move away from Celtic to Dundalk. In January 2021, Michael re-signed with Dundalk on a one year deal.


Career Facts
League of Ireland Premier Division
Season
Round
Team
Starts
Goals
Pens
MP
Assists
Subs
Sub On
Sub Off
Yellow
Red
MinP
2022

Prem

Premier Division

Derry City Derry
-
-
-
-
-
3
3
1
-
-
-
2021

Prem

Premier Division

Dundalk Dundalk
31
4
-
-
5
5
3
1
3
-
-
2020

Prem

Premier Division

Dundalk Dundalk
15
4
-
-
5
1
1
1
-
-
-
2019

Prem

Premier Division

Dundalk Dundalk
31
12
-
-
-
3
2
1
1
-
-
2018

Prem

Premier Division

Dundalk Dundalk
36
13
-
-
-
-
-
1
1
-
-
2017

Prem

Premier Division

Dundalk Dundalk
29
8
-
-
-
3
3
3
1
-
-
2014

Prem

Premier Division

Derry City Derry
24
11
-
-
-
7
5
1
2
-
-
2013

Prem

Premier Division

Derry City Derry
10
2
-
-
-
19
13
1
2
-
-
2012

Prem

Premier Division

Derry City Derry
-
-
-
-
-
11
-
-
-
-
-
UEFA Champions League
Season
Round
Team
Starts
Goals
Pens
MP
Assists
Subs
Sub On
Sub Off
Yellow
Red
MinP
2020-2021

CL QR1

1st Q Rd

Dundalk Dundalk
1
-
-
-
-
-
-
-
-
-
-
Presidents Cup
Season
Round
Team
Starts
Goals
Pens
MP
Assists
Subs
Sub On
Sub Off
Yellow
Red
MinP
2019

President's Cup

2019 Pres Cup

Dundalk Dundalk
1
-
-
-
-
-
-
-
-
-
-
2018

Pres Cup

Final

Dundalk Dundalk
1
-
-
-
-
-
-
-
-
-
-
2017

Pres Cup

Final

Dundalk Dundalk
1
-
-
-
-
-
-
1
-
-
-
Friendly
Setanta Sports Cup
Season
Round
Team
Starts
Goals
Pens
MP
Assists
Subs
Sub On
Sub Off
Yellow
Red
MinP
2013

SETA QF

QF

Derry City Derry
-
-
-
-
-
1
-
-
-
-
-
FAI Cup
Europa League
League Cup
UEFA Champions League Qualifiers
Season
Round
Team
Starts
Goals
Pens
MP
Assists
Subs
Sub On
Sub Off
Yellow
Red
MinP
2019-2020

CL QR2

QR2

Dundalk Dundalk
2
-
-
-
-
-
-
1
-
-
-
2019-2020

CL QR1

QR1

Dundalk Dundalk
1
-
-
-
-
-
-
-
-
-
-
2017-2018

CL QR2

QR2

Dundalk Dundalk
2
-
-
-
-
-
-
1
1
-
-
Unite the Union Champions Cup
Season
Round
Team
Starts
Goals
Pens
MP
Assists
Subs
Sub On
Sub Off
Yellow
Red
MinP
2019

UTU

Final

Dundalk Dundalk
1
-
-
-
-
1
1
-
-
-
-
Europa Conference League
Season
Round
Team
Starts
Goals
Pens
MP
Assists
Subs
Sub On
Sub Off
Yellow
Red
MinP
2022-2023

ECL QR1

QR1

Derry City Derry
-
-
-
-
-
1
-
-
-
-
-
2021-2022

ECL 3QR

3QR

Dundalk Dundalk
2
-
-
-
-
-
-
-
-
-
-
2021-2022

ECL 1QR

1QR

Dundalk Dundalk
2
2
-
-
-
-
-
-
-
-
-