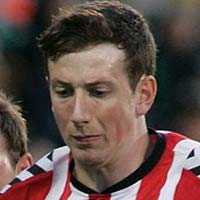 Shane McEleney
Defender
Height 179 cm
Age 31 years, 10 months
Place of Birth Derry
Nationality Ireland
Stats based on games populated in our system. They can be viewed below
Shane's Biography
Shane made his debut for Derry City against Drogheda United on 18 September 2009. He made 3 league appearances for the Candystripes that season and stayed with the club after their expulsion from the league at the end of 2009. Readmitted to the First Division in 2010, Shane made 23 league appearances for Derry who went on to win the First Division title and he made a further 33 league appearances in 2011 when Derry returned to Premier Division competition.

In 2012 Shane won an FAI Cup winner's medal when Derry beat St Patrick's Ath 3-2 in the final. He remained a key part of the club's back four with another 26 league appearances as Derry finished fourth in the league. Shane remained with Derry for the 2013 and 2014 seasons and made forty-three appearances over the two seasons, as Derry finished fourth and eighth respectively.

Shane stayed with Derry City for the 2015 season, being ever-present and appearing in all twenty-one league games before leaving for St. Patrick's Athletic near the end of July 2015. He went on to play in eight games for them as they finished in fourth and secured European football for the next season.

Shane was then released from his St. Pats contract a month before the end of the 2016 season. Shane made 24 appearances during his time in Inchicore. Shane then joined Ottawa Fury in December 2016.

In January 2018, Shane joined Larne FC following his spell in America.


Career Facts
League of Ireland Premier Division
League of Ireland First Division
Season
Round
Team
Starts
Goals
Pens
MP
Assists
Subs
Sub On
Sub Off
Yellow
Red
MinP
2010

First

First Division

Derry City Derry
17
-
-
-
-
11
-
-
4
-
-
Friendly
Setanta Sports Cup
FAI Cup
Europa League
Season
Round
Team
Starts
Goals
Pens
MP
Assists
Subs
Sub On
Sub Off
Yellow
Red
MinP
2014-2015

EL QR2

QR2

Derry City Derry
1
-
-
-
-
1
-
-
-
-
-
2014-2015

EL QR1

QR1

Derry City Derry
-
-
-
-
-
2
1
-
-
-
-
2013-2014

EL QR2

QR2

Derry City Derry
2
-
-
-
-
-
-
-
-
-
-
2009-2010

EL QR3

QR3

Derry City Derry
-
-
-
-
-
1
-
-
-
-
-
2009-2010

EL QR2

QR2

Derry City Derry
-
-
-
-
-
2
-
-
-
-
-
Leinster Senior Cup
Dublin Super Cup
Season
Round
Team
Starts
Goals
Pens
MP
Assists
Subs
Sub On
Sub Off
Yellow
Red
MinP
2011

Super Cup

Super Cup

Airtricity League XI AL11
1
-
-
-
-
1
-
-
-
-
-
League Cup
Europa Conference League
Season
Round
Team
Starts
Goals
Pens
MP
Assists
Subs
Sub On
Sub Off
Yellow
Red
MinP
2022-2023

ECL QR1

QR1

Derry City Derry
2
-
-
-
-
-
-
-
-
-
-