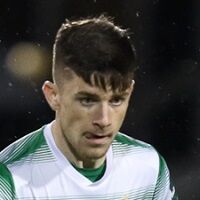 Aaron Bolger
Midfield
Height
Age 22 years, 6 months
Place of Birth Dublin, Ireland
Nationality Ireland
Stats based on games populated in our system. They can be viewed below
Aaron's Biography
Aaron is an underage Irish international who played in the underage set up at Shamrock Rovers before being drafted into the first team squad in 2016. He made his league debut for the Hoops as a substitute against Galway United on 23 September and made 3 league appearances that year.

Aaron signed for Cardiff City from Shamrock Rovers in July 2019. In August 2020, Aaron signed with Shamrock Rovers on loan from Cardiff. Aaron would go on to make 11 appearances during that spell.

In January 2021, Aaron signed for Longford on loan from Cardiff City. In July 2021, Aaron left Cardiff and signed for Cork City.


Career Facts
League of Ireland Premier Division
League of Ireland First Division
Season
Round
Team
Starts
Goals
Pens
MP
Assists
Subs
Sub On
Sub Off
Yellow
Red
MinP
2022

First

First Division

Cork City Cork
23
2
-
-
-
-
-
3
5
-
-
2021

First

First Division

Cork City Cork
8
-
-
-
-
2
2
1
3
-
-
2020

First

First Division

Shamrock Rovers II Shamrock RII
10
-
-
-
-
1
1
3
4
-
-
Friendly
FAI Cup
Europa League
Leinster Senior Cup
UEFA European Under-19 Championship
U17 Cup
Season
Round
Team
Starts
Goals
Pens
MP
Assists
Subs
Sub On
Sub Off
Yellow
Red
MinP
2016

U17 Cup

U17 Cup

Shamrock Rovers U17 Shmrk R U17
1
-
-
-
-
-
-
-
-
1
-
League Cup
UEFA European Under-17 Championship
National U17 League
Season
Round
Team
Starts
Goals
Pens
MP
Assists
Subs
Sub On
Sub Off
Yellow
Red
MinP
2016

LOI17 South

South

Shamrock Rovers U17 Shmrk R U17
4
-
-
-
-
-
-
-
-
-
-
National U19 League
Atlantic Cup
Season
Round
Team
Starts
Goals
Pens
MP
Assists
Subs
Sub On
Sub Off
Yellow
Red
MinP
2018

AC

Grp

Shamrock Rovers Shamrock R
1
-
-
-
-
2
-
-
-
-
-