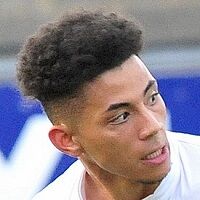 Mikey Place
Midfield
Height
Age 24 years, 4 months
Place of Birth
Nationality Ireland
Stats based on games populated in our system. They can be viewed below
Mikey's Biography
Mikey played with the Sligo Rovers's u19 squad for the 2015 short season before impressing Dave Robertson and signing his first professional deal with the club in January 2016. He made his league debut as a late substitute against St Patrick's Athletic at Richmond Park on 8 April 2016 and scored his first league goal in a 5-0 win over Wexford Youths on the last day of the season. He finished 2016 with one goal from 7 league appearances.

In July 2017 Derry snapped him up as a replacement for Mark Timlin but he would leave at the end of that campaign.

In May 2018, Michael signed with Finn Harps for the remainder of the 2018 season. Michael signed for the 2019 season in December of 2018. Mikey signed for Galway for the 2020 season. In December 2020, Mikey re-signed for Galway United.


Career Facts
League of Ireland Premier Division
Season
Round
Team
Starts
Goals
Pens
MP
Assists
Subs
Sub On
Sub Off
Yellow
Red
MinP
2019

Prem

Premier Division

Finn Harps Harps
12
1
3
-
-
22
9
1
1
-
-
2017

Prem

Premier Division

Sligo Rovers Sligo
2
-
-
-
-
19
12
1
4
-
-
2017

Prem

Premier Division

Derry City Derry
-
-
-
-
-
2
-
-
-
-
-
2016

Prem

Premier Division

Sligo Rovers Sligo
-
1
-
-
-
30
5
-
-
-
-
League of Ireland First Division
Season
Round
Team
Starts
Goals
Pens
MP
Assists
Subs
Sub On
Sub Off
Yellow
Red
MinP
2021

First

First Division

Galway United Galway
11
-
-
-
-
14
9
3
3
-
-
2020

First

First Division

Galway United Galway
13
3
-
-
1
1
1
1
4
1
-
2018

First

First Division

Finn Harps Harps
13
7
2
-
-
1
1
2
4
-
-
Friendly
League Promotion Playoff
Season
Round
Team
Starts
Goals
Pens
MP
Assists
Subs
Sub On
Sub Off
Yellow
Red
MinP
2020

PO Semi Final

SF

Galway United Galway
1
-
-
-
-
-
-
1
1
-
-
2020

PO Quarter Final

QF

Galway United Galway
-
-
-
-
-
-
1
-
-
-
-
FAI Cup
U19 Cup
Season
Round
Team
Starts
Goals
Pens
MP
Assists
Subs
Sub On
Sub Off
Yellow
Red
MinP
2016

U19 Cup

U19 Cup

Sligo Rovers U19 SLI U19
-
2
-
-
-
-
-
-
-
-
-
League Cup
National U19 League
2018 Promotion/Relegation Play-off Series
Season
Round
Team
Starts
Goals
Pens
MP
Assists
Subs
Sub On
Sub Off
Yellow
Red
MinP
2021

PO Semi Final

SF

Galway United Galway
-
-
-
-
-
2
-
-
-
-
-
2019

PO Final

Final

Finn Harps Harps
1
-
-
-
-
1
1
1
-
-
-
2018

PO Final

Final

Finn Harps Harps
2
-
-
-
-
-
-
-
1
-
-
2018

PO Semi Final

Semi Final

Finn Harps Harps
2
-
-
-
-
-
-
1
1
-
-