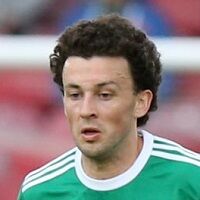 Barry McNamee
Midfield
Height 181 cm
Age 30 years, 5 months
Place of Birth Ramelton, Co Donegal, Ireland
Nationality Ireland
Stats based on games populated in our system. They can be viewed below
Barry's Biography
Barry was a member of Derry City's youth set up in 2011 and made his first senior appearance for the club against UCD in the quarter-final of the EA Sports Cup in June 2011. His league debut came the following season when he came on as a late substitute against Sligo Rovers on 18 April 2012. Barry started 2012 as a regular on the Derry bench but worked his way in to the starting XI as the season progressed, making 13 league appearances and scoring his first senior goal in a 3-1 league win against Shamrock Rovers. Barry also played in that season's FAI Cup final against St Pats.

In 2013 Barry played a major role in Derry's season, scoring five times in 30 league appearances as well as earning European experience in both of Derry's Europa League games against Turkish side Trabzonspor. Barry stayed with Derry for the 2014 season and made a further 21 league appearances, scoring twice, as they finished eighth in the league. He also came on as a substitute in the FAI Cup Final, which Derry lost 2-0 to St Pats.

In 2015 Barry played in all 33 of Derry's league games, scoring three goals in the process, as Derry finished seventh in the Premier Division, and in 2016 he scored five times in 30 league appearances as Derry qualified for the Europa League with a third place finish in the Premier Division.

After more than 150 games for Derry, Barry decided to move South and signed for double champions Cork City in November 2017.

In January 2019, Barry returned to the North signing back with Derry City.

In November 2020, Barry re-signed with Finn Harps after helping them to survival in 2020. In November 2021, Barry re-signed with Finn Harps for another season having started 39 of the 40 Harps games in 2021.


Career Facts
League of Ireland Premier Division
Presidents Cup
Season
Round
Team
Starts
Goals
Pens
MP
Assists
Subs
Sub On
Sub Off
Yellow
Red
MinP
2018

Pres Cup

Final

Cork City Cork
1
1
-
-
-
-
-
-
-
-
-
Friendly
Setanta Sports Cup
FAI Cup
Europa League
Season
Round
Team
Starts
Goals
Pens
MP
Assists
Subs
Sub On
Sub Off
Yellow
Red
MinP
2018-2019

EL QR3

QR3

Cork City Cork
1
-
-
-
-
1
1
1
-
-
-
2017-2018

EL QR1

QR1

Derry City Derry
-
-
-
-
-
2
-
-
-
-
-
2014-2015

EL QR2

QR2

Derry City Derry
2
-
-
-
-
-
-
-
-
-
-
2014-2015

EL QR1

QR1

Derry City Derry
2
2
-
-
-
-
-
-
-
-
-
2013-2014

EL QR2

QR2

Derry City Derry
1
-
-
-
-
1
1
-
-
-
-
Munster Senior Cup
Season
Round
Team
Starts
Goals
Pens
MP
Assists
Subs
Sub On
Sub Off
Yellow
Red
MinP
2018

MSC Final

Final

Cork City Cork
1
-
-
-
-
-
-
-
-
-
-
2018

MSC SF

SF

Cork City Cork
1
-
-
-
-
-
-
-
-
-
-
League Cup
UEFA Champions League Qualifiers
Season
Round
Team
Starts
Goals
Pens
MP
Assists
Subs
Sub On
Sub Off
Yellow
Red
MinP
2018-2019

CL QR1

QR1

Cork City Cork
2
-
-
-
-
-
-
2
1
-
-