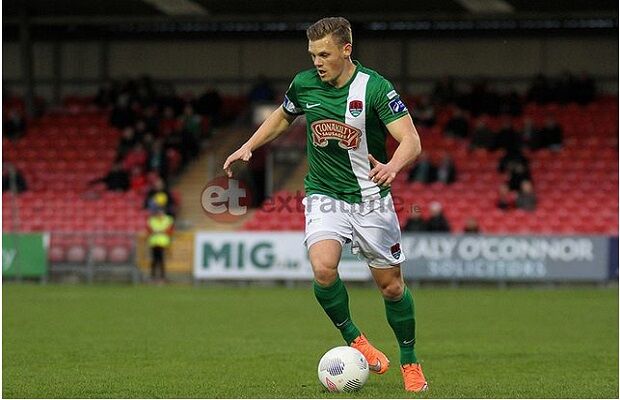 Ian Turner
Midfield
Follow
Height
Age 33 years, 5 months
Place of Birth Cork
Nationality Ireland
Stats based on games populated in our system. They can be viewed below
Ian's Biography
Ian played under-age football with local Cork side Wilton United before going through the youth ranks at Cork City. He played for the club's Futsal side in 2009 but cemented a place in the first team when the club played under the name Cork City Foras Co-op in 2010, making his debut away to Derry City on the opening night of the season and going on to make 29 league appearances that year.

In 2011 the club regained the Cork City name and Ian made 13 league appearances, scoring once in the 4-0 win over Salthill Devon, as the Rebels snatched the First Division title with a last gasp win over Shelbourne on the final night of the season. When City made their return to the top flight in 2012 Ian scored three times in 24 league appearances and added two more goals in 23 league appearances during 2013.

He made just 2 league appearances for Cork City in 2014 before going on loan to Limerick FC that summer. He made 15 league appearances for the Blues, scoring twice in wins over Shamrock Rovers and UCD, as Limerick finished sixth in the league. Ian returned to Cork at the end of the season but when his contract expired he made a permanent move to Limerick at the start of 2015.

In 2015 Ian made 32 league appearances for Limerick, scoring eight goals in the process, as the SuperBlues finished eleventh and were forced into a relegation play-off against Finn Harps, which they lost. Ian played in both play-off matches as Limerick were relegated to the First Division. Ian returned to Cork City for 2016 where he made another 14 league appearances. He was also an unused substitute in City's FAI Cup final win over Dundalk at the Aviva Stadium.

In December 2016, Ian signed for a third spell at Limerick FC where he remained until the summer of that year when he was released by the club. His next stop was Richmond Park where he signed for Liam Buckley at St Patrick's Athletic on 25 July 2017. In 2017, Ian made 9 appearances for the Saints in all competitions. Ian then re-signed with Pats for the 2018 season.

Ian made 31 appearances for Cobh in his first season with the club in 2019 and then featured in 17 of Cobh's 21 games in the truncated 2020 season before he re-signed for the 2021 campaign.

That would prove to be Ian's final season of League of Ireland football and he announced his retirement in January 2022.