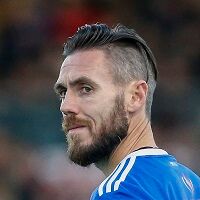 Mark McNulty
Goalkeeper
Height 186 cm
Age 41 years, 10 months
Place of Birth Cork
Nationality Ireland
Stats based on games populated in our system. They can be viewed below
Mark's Biography
Mark originally played as a striker for Ballincollig and was the club's top scorer at every level from U11 to U17. In 2001 he moved to Cobh Ramblers, where he spent two years, before joining Cork City's successful eircom U21 League side under Stuart Ashton, and was a regular starter for the U21 sides that won successive league titles in '03 and '04.

Mark turned professional in 2006 and became first choice 'keeper at Turners Cross in 2010 when the club played as Cork City Foras Co-op in the First Division. He made 33 league appearances that year and played 29 times for City during their First Division title winning season of 2011. Mark missed just five league games in City's first two seasons back in the Premier Division, adding another 61 league appearance to his career total, and in 2014 Mark won the SWAI Goalkeeper of the Year award after he played in all 33 of the Rebels' Premier League fixtures, finishing as runners up in the title race to Dundalk during John Caulfield's first season as manager.

Mark continued to be key to Cork's defence as he once more played in all thirty-three league games for the club, keeping seventeen clean sheets, as Cork finished runners-up to Dundalk once more. He was also a part of the team that played in the FAI Cup Final but Dundalk defeated them by a one-nil victory after extratime. In November 2017, Mark signed a new two year deal with Cork City. In December 2019, Mark re-signed with Cork as a Player Coach. In January 2021, Mark once again signed back with Cork - again working as both a coach and a player.


Career Facts
League of Ireland Premier Division
Season
Round
Team
Starts
Goals
Pens
MP
Assists
Subs
Sub On
Sub Off
Yellow
Red
MinP
2020

Prem

Premier Division

Cork City Cork
11
-
-
-
-
4
1
-
-
-
-
2019

Prem

Premier Division

Cork City Cork
28
-
-
-
-
7
-
-
1
-
-
2018

Prem

Premier Division

Cork City Cork
30
-
-
-
-
5
-
1
-
-
-
2017

Prem

Premier Division

Cork City Cork
32
-
-
-
-
1
-
-
3
-
-
2016

Prem

Premier Division

Cork City Cork
33
-
-
-
-
-
-
-
2
-
-
2015

Prem

Premier Division

Cork City Cork
33
-
-
-
-
-
-
-
3
-
-
2014

Prem

Premier Division

Cork City Cork
33
-
-
-
-
-
-
-
4
-
-
2013

Prem

Premier Division

Cork City Cork
32
-
-
-
-
-
-
-
6
-
-
2012

Prem

Premier Division

Cork City Cork
30
-
-
-
-
-
-
-
3
1
-
2009

Prem

Premier Division

Cork City Cork
8
-
-
-
-
28
-
-
-
-
-
2008

Prem

Premier Division

Cork City Cork
6
-
-
-
-
27
-
-
-
-
-
2007

Prem

Premier Division

Cork City Cork
-
-
-
-
-
2
-
-
-
-
-
2006

Prem

Premier Division

Cork City Cork
1
-
-
-
-
-
-
-
-
-
-
League of Ireland First Division
Season
Round
Team
Starts
Goals
Pens
MP
Assists
Subs
Sub On
Sub Off
Yellow
Red
MinP
2022

First

First Division

Cork City Cork
-
-
-
-
-
2
-
-
1
-
-
2021

First

First Division

Cork City Cork
23
-
-
-
-
3
-
-
1
-
-
2011

First

First Division

Cork City Cork
29
-
-
-
-
-
-
-
2
1
-
2010

First

First Division

Cork City Foras Co-op Cork
33
-
-
-
-
-
-
-
1
-
-
Presidents Cup
Season
Round
Team
Starts
Goals
Pens
MP
Assists
Subs
Sub On
Sub Off
Yellow
Red
MinP
2019

President's Cup

2019 Pres Cup

Cork City Cork
1
-
-
-
-
-
-
-
-
-
-
2017

Pres Cup

Final

Cork City Cork
1
-
-
-
-
-
-
-
-
-
-
2016

Pres Cup

Final

Cork City Cork
1
-
-
-
-
-
-
-
1
-
-
Friendly
Setanta Sports Cup
Season
Round
Team
Starts
Goals
Pens
MP
Assists
Subs
Sub On
Sub Off
Yellow
Red
MinP
2013

SETA SF

SF

Cork City Cork
2
-
-
-
-
-
-
-
-
-
-
2013

SETA QF

QF

Cork City Cork
2
-
-
-
-
-
-
-
-
-
-
2013

SETA R1

R1

Cork City Cork
2
-
-
-
-
-
-
-
-
-
-
2009-2010

SETA Grp 1

Grp 1

Cork City Cork
2
-
-
-
-
-
-
-
-
-
-
2008

SETA Final

Final

Cork City Cork
1
-
-
-
-
-
-
-
-
-
-
2008

SETA SF

SF

Cork City Cork
1
-
-
-
-
-
-
-
-
-
-
2008

SETA Grp 1

Grp 1

Cork City Cork
2
-
-
-
-
4
-
-
-
-
-
FAI Cup
Europa League
Season
Round
Team
Starts
Goals
Pens
MP
Assists
Subs
Sub On
Sub Off
Yellow
Red
MinP
2019-2020

EL QR1

QR1

Cork City Cork
2
-
-
-
-
-
-
-
-
-
-
2018-2019

EL QR3

QR3

Cork City Cork
2
-
-
-
-
-
-
-
-
-
-
2017-2018

EL QR2

QR2

Cork City Cork
2
-
-
-
-
-
-
-
-
-
-
2017-2018

EL QR1

QR1

Cork City Cork
2
-
-
-
-
-
-
-
-
-
-
2016-2017

EL QR3

QR3

Cork City Cork
2
-
-
-
-
-
-
-
-
-
-
2016-2017

EL QR2

QR2

Cork City Cork
2
-
-
-
-
-
-
-
-
-
-
2016-2017

EL QR1

QR1

Cork City Cork
2
-
-
-
-
-
-
-
-
-
-
2015-2016

EL QR1

QR1

Cork City Cork
2
-
-
-
-
-
-
-
1
-
-
2008-2009

UC QR1

QR1

Cork City Cork
-
-
-
-
-
2
-
-
-
-
-
Munster Senior Cup
League Cup