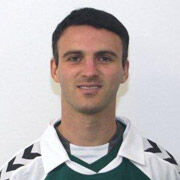 Danny Murphy
Defender
Height 5' 6"
Age 39 years, 8 months
Place of Birth London
Nationality England
Stats based on games populated in our system. They can be viewed below
Danny's Biography
Danny started his career in London at West Ham and QPR, also playing at Swindon Town for a spell. He originally signed for Cork City at the beginning of 2004 from English non-league side Margate and won the league title with the club in 2005 before departing to Motherwell in January 2007. In November of '07 Danny went on loan to Dunfermline but in January of '08 he returned of Cork City, signing for then boss Alan Mathews.

He spent another two years at Turner's Cross before City folded due to financial difficulties at the end of 2009 with City having finished third in the Premier Division. On 12 February 2010 Danny signed for Shamrock Rovers where he won his second League title medal at the end of that season. He made 26 league appearances in 2010 but by the season's end Enda Stevens had established himself as first choice left back and Danny returned to Cork City for the start of 2011 and a third spell at his adopted home. He made 28 league appearances for the Rebels as they won the First Division title and returned to the top tier after an absence of two years.

Danny remained a central figure in the Cork defence as they returned to top flight football and he made 58 league appearances in their first two seasons back in the Premier Division. But in March 2014, after ust one game of the new league seasion, Danny left Cork City.


Career Facts
League of Ireland Premier Division
Season
Round
Team
Starts
Goals
Pens
MP
Assists
Subs
Sub On
Sub Off
Yellow
Red
MinP
2014

Prem

Premier Division

Cork City Cork
-
-
-
-
-
1
-
-
-
-
-
2013

Prem

Premier Division

Cork City Cork
30
1
-
-
-
1
-
1
9
-
-
2012

Prem

Premier Division

Cork City Cork
29
-
-
-
-
-
-
-
7
-
-
2010

Prem

Premier Division

Shamrock Rovers Shamrock R
23
-
-
-
-
9
-
-
4
1
-
2009

Prem

Premier Division

Cork City Cork
32
1
-
-
-
-
-
-
6
2
-
2008

Prem

Premier Division

Cork City Cork
30
2
-
-
-
-
-
-
-
1
-
2006

Prem

Premier Division

Cork City Cork
25
-
-
-
-
-
-
-
-
-
-
League of Ireland First Division
Season
Round
Team
Starts
Goals
Pens
MP
Assists
Subs
Sub On
Sub Off
Yellow
Red
MinP
2011

First

First Division

Cork City Cork
28
1
-
-
-
-
-
-
3
-
-
Friendly
Season
Round
Team
Starts
Goals
Pens
MP
Assists
Subs
Sub On
Sub Off
Yellow
Red
MinP
2014

FR

Domestic

Cork City Cork
1
-
-
-
-
4
4
-
-
-
-
2013

FR

Domestic

Cork City Cork
4
-
-
-
-
1
-
1
-
-
-
2012

FR

Domestic

Cork City Cork
5
-
-
-
-
1
-
-
-
-
-
2011

FR

Domestic

Cork City Cork
3
-
-
-
-
-
-
-
-
-
-
2009

FR

Domestic

Cork City Cork
1
-
-
-
-
-
-
-
-
-
-
Setanta Sports Cup
Season
Round
Team
Starts
Goals
Pens
MP
Assists
Subs
Sub On
Sub Off
Yellow
Red
MinP
2013

SETA SF

SF

Cork City Cork
2
-
-
-
-
-
-
-
-
-
-
2013

SETA QF

QF

Cork City Cork
2
-
-
-
-
-
-
-
-
-
-
2013

SETA R1

R1

Cork City Cork
2
-
-
-
-
-
-
-
-
-
-
2009-2010

SETA Grp 1

Grp 1

Cork City Cork
2
-
-
-
-
-
-
-
-
-
-
2008

SETA Final

Final

Cork City Cork
1
-
-
-
-
-
-
-
-
-
-
2008

SETA SF

SF

Cork City Cork
1
-
-
-
-
-
-
-
-
-
-
2008

SETA Grp 1

Grp 1

Cork City Cork
4
-
-
-
-
-
-
-
-
-
-
FAI Cup
Europa League
Munster Senior Cup
Season
Round
Team
Starts
Goals
Pens
MP
Assists
Subs
Sub On
Sub Off
Yellow
Red
MinP
2012

MS Cup QF

QF

Cork City Cork
1
-
-
-
-
-
-
-
-
-
-
2011

MSC QF

QF

Cork City Cork
1
-
-
-
-
-
-
-
-
-
-
Dublin Super Cup
Season
Round
Team
Starts
Goals
Pens
MP
Assists
Subs
Sub On
Sub Off
Yellow
Red
MinP
2011

Super Cup

Super Cup

Airtricity League XI AL11
1
-
-
-
-
1
-
-
1
-
-
League Cup