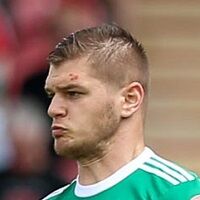 Colm Horgan
Defender
Height
Age 28 years, 4 months
Place of Birth Galway, Ireland
Nationality Ireland
Stats based on games populated in our system. They can be viewed below
Colm's Biography
Colm is a defender who developed in the underage system at Salthill Devon. He made his league debut for the club against Monaghan United on 2 July 2010, their first season in League of Ireland football, and made a total of 7 league appearances that year.

Colm became a regular in the Salthill line-up in 2011, making 19 league appearances for the club while also turning out for Salthill's U19 side. The following season Colm appeared in 25 of Salthill's 28 league games and when the club dropped out of the league at the end of 2013, Colm was snapped up by Galway FC, ahead of their debut season in League of Ireland football.

Colm's first league appearance for the Tribesmen came against Longford Town on the opening weekend of the 2014 season and he went on to make 32 league appearances for Galway in the First Division and the play-offs, as Galway won promotion to the Premier Division for the 2015 season. He remained a key part of their Premier Division team, making a further 31 league appearances as Galway finished tenth in the top tier, also playing in the EA Sports Cup Final, which Galway lost on penalties to St Pats.

Colm re-signed with Galway United for the 2016 season during which he added another 31 league appearances to his career tally.

In November 2017 Colm signed for Champions Cork City on a two year contract.

In February 2021, Colm signed for Sligo Rovers after spending 2020 with Derry.


Career Facts
League of Ireland Premier Division
League of Ireland First Division
Presidents Cup
Season
Round
Team
Starts
Goals
Pens
MP
Assists
Subs
Sub On
Sub Off
Yellow
Red
MinP
2019

President's Cup

2019 Pres Cup

Cork City Cork
-
-
-
-
-
1
-
-
-
-
-
2018

Pres Cup

Final

Cork City Cork
1
-
-
-
-
-
-
1
-
-
-
Friendly
FAI Cup
Europa League
Season
Round
Team
Starts
Goals
Pens
MP
Assists
Subs
Sub On
Sub Off
Yellow
Red
MinP
2020-2021

EL QR1

QR1

Derry City Derry
1
-
-
-
-
-
-
-
-
-
-
2019-2020

EL QR1

QR1

Cork City Cork
2
-
-
-
-
-
-
-
-
-
-
Munster Senior Cup
Season
Round
Team
Starts
Goals
Pens
MP
Assists
Subs
Sub On
Sub Off
Yellow
Red
MinP
2019

2019 MSC Final

Final

Cork City Cork
1
-
-
-
-
-
-
1
-
-
-
2019

2019 MSC SF

SF

Cork City Cork
1
-
-
-
-
-
-
1
-
-
-
2019

2019 MSC QF

QF

Cork City Cork
1
-
-
-
-
-
-
1
-
-
-
2018

MSC Final

Final

Cork City Cork
1
-
-
-
-
-
-
-
-
-
-
League Cup
Europa Conference League
Season
Round
Team
Starts
Goals
Pens
MP
Assists
Subs
Sub On
Sub Off
Yellow
Red
MinP
2022-2023

ECL QR3

QR3

Sligo Rovers Sligo
-
-
-
-
-
1
-
-
-
-
-
2022-2023

ECL QR1

QR1

Sligo Rovers Sligo
2
-
-
-
-
-
-
-
-
-
-
2021-2022

ECL 1QR

1QR

Sligo Rovers Sligo
1
-
-
-
-
1
1
-
-
-
-