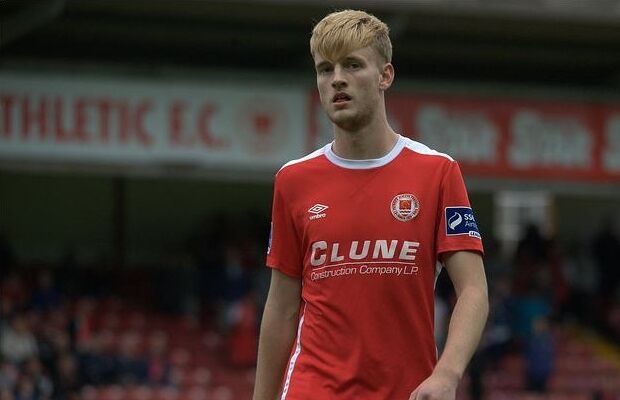 Steven Kinsella
Forward
Height
Age 23 years, 11 months
Place of Birth
Nationality Ireland
Stats based on games populated in our system. They can be viewed below
Steven's Biography
Steven played underage football with Templeogue United before joining the youth academy at Everton in the summer of 2014. He returned to Dublin in July 2016 when he joined St. Patrick's Athletic on loan until the end of the League of Ireland season and made his debut for the Saints against Wexford Youth at Ferrycarrig Park on 1 August. He made 10 league appearances for Pats that year.

In February 2017 Steven signed another loan deal, this time with league Champions Dundalk. Having scored once for the Lilywhites that year he returned to Everton at the end of 2017 and was released by the Toffees the following Summer.

In August 2020 Steven returned to the LOI and signed for First Division leaders Cabinteely where he played out the remainder of the 2020 season. Just before Christmas Steven signed for Bray Wanderers where he played for the 2021 season.


Career Facts
League of Ireland Premier Division
League of Ireland First Division
Season
Round
Team
Starts
Goals
Pens
MP
Assists
Subs
Sub On
Sub Off
Yellow
Red
MinP
2021

First

First Division

Bray Wanderers Bray
6
-
-
-
-
19
6
2
1
-
-
2020

First

First Division

Cabinteely Cabinteely
4
-
-
-
1
5
4
1
-
-
-
Presidents Cup
Season
Round
Team
Starts
Goals
Pens
MP
Assists
Subs
Sub On
Sub Off
Yellow
Red
MinP
2017

Pres Cup

Final

Dundalk Dundalk
-
-
-
-
-
1
1
-
-
-
-
Friendly
Season
Round
Team
Starts
Goals
Pens
MP
Assists
Subs
Sub On
Sub Off
Yellow
Red
MinP
2021

FR

Domestic

Bray Wanderers Bray
1
1
-
-
-
-
1
1
-
-
-
2017

FR

Domestic

Dundalk Dundalk
1
-
-
-
-
-
-
-
-
-
-
FAI Cup
Leinster Senior Cup
Season
Round
Team
Starts
Goals
Pens
MP
Assists
Subs
Sub On
Sub Off
Yellow
Red
MinP
2017

LS Cup SF

SF

Dundalk Dundalk
1
-
1
-
-
-
-
-
-
-
-
U19 Cup
Season
Round
Team
Starts
Goals
Pens
MP
Assists
Subs
Sub On
Sub Off
Yellow
Red
MinP
2016

U19 Cup

U19 Cup

St Patrick's Ath U19 PATS U19
1
-
-
-
-
-
-
-
-
-
-
League Cup
National U19 League
Season
Round
Team
Starts
Goals
Pens
MP
Assists
Subs
Sub On
Sub Off
Yellow
Red
MinP
2017

LOI19 North

North

Dundalk U19 DUN U19
1
1
-
-
-
-
-
-
-
-
-
UEFA European U21 Championships
2018 Promotion/Relegation Play-off Series
Season
Round
Team
Starts
Goals
Pens
MP
Assists
Subs
Sub On
Sub Off
Yellow
Red
MinP
2021

PO Semi Final

SF

Bray Wanderers Bray
-
-
-
-
-
2
-
-
-
-
-