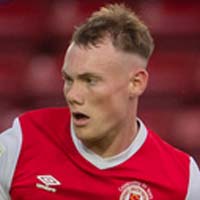 Ciaran Kelly
Defender
Height
Age 24 years, 4 months
Place of Birth
Nationality Ireland
Stats based on games populated in our system. They can be viewed below
Ciaran's Biography
Ciaran is a defender who came through the underage ranks at St. Patrick's Athletic, playing for club's U19 team in 2015, 2016 and 2017. He made his senior league debut on 25 October 2016 when he came on as a late substitute against Dundalk at Richmond Park, his only league appearance that season.

In January 2018, Ciaran signed for Drogheda United from St Patrick's Athletic. In November 2018, Ciaran would then sign back with St Patrick's Athletic.

In November 2020, Ciaran re-signed with Bohs for the 2021 season.


Career Facts
League of Ireland Premier Division
League of Ireland First Division
Season
Round
Team
Starts
Goals
Pens
MP
Assists
Subs
Sub On
Sub Off
Yellow
Red
MinP
2018

First

First Division

Drogheda United Drogheda
27
5
-
-
-
-
-
-
3
-
-
Friendly
FAI Cup
Europa League
Season
Round
Team
Starts
Goals
Pens
MP
Assists
Subs
Sub On
Sub Off
Yellow
Red
MinP
2019-2020

EL QR1

QR1

St. Patrick's Athletic PATS
2
-
-
-
-
-
-
-
1
-
-
Leinster Senior Cup
U19 Cup
League Cup
National U19 League
2018 Promotion/Relegation Play-off Series
Europa Conference League
Season
Round
Team
Starts
Goals
Pens
MP
Assists
Subs
Sub On
Sub Off
Yellow
Red
MinP
2021-2022

ECL 3QR

3QR

Bohemians Bohs
1
-
-
-
-
-
-
-
-
-
-
2021-2022

ECL 2QR

2QR

Bohemians Bohs
2
-
-
-
-
-
-
-
-
-
-
2021-2022

ECL 1QR

1QR

Bohemians Bohs
2
-
-
-
-
-
-
-
-
-
-