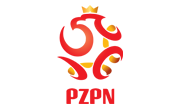 Poland
The White Eagles
Follow
Poland's Biography
The Poland national football team represents Poland in association football and is controlled by the Polish Football Association. Poland's home ground is Silesian Stadium in Chorzów and their head coach is Franciszek Smuda.

The most well-renowned Polish team was the one of the mid-seventies that held England to a draw at Wembley to qualify for the World Cup in 1974. They finished third 1-0 over Brazil in the tournament with striker Grzegorz Lato winning the Golden Boot for his seven goals. Poland had another third place result in 1982 beating France 3–2 in the third-place play-off.

Poland also won the gold medal in the 1972 Summer Olympics in Munich, and the silver medal in 1976 in Montreal as well in 1992 silver medal in Barcelona. Their Olympic success was helped by a wholly amateur squad, similar to other nations behind the Iron Curtain.

Poland first qualified for the European Football Championships in 2008, and they were joint hosts with Ukraine in 2012.


Poland Squad
| Squad No | Player | Pos | Age | Nation | Start | Cur |
| --- | --- | --- | --- | --- | --- | --- |
| 1 | Wojciech Szczesny | GK | 32 years, 7 months | | Nov. 18, 2009 | ✅ |
| 12 | Lukasz Skorupski | GK | 31 years, 7 months | | Dec. 14, 2012 | ✅ |
| 22 | Kamil Grabara | GK | 23 years, 11 months | | Nov. 14, 2022 | ✅ |
| 15 | Kamil Glik | DF | 34 years, 10 months | | Jan. 20, 2010 | ✅ |
| 3 | Artur Jedrzejczyk | DF | 35 years, 1 month | | Oct. 12, 2010 | ✅ |
| 18 | Bartosz Bereszynski | DF | 30 years, 4 months | | June 4, 2013 | ✅ |
| 5 | Jan Bednarek | DF | 26 years, 8 months | | Sept. 4, 2017 | ✅ |
| 2 | Matty Cash | DF | 25 years, 4 months | | Nov. 12, 2021 | ✅ |
| 21 | Nicola Zalewski | DF | 20 years, 10 months | | Sept. 5, 2021 | ✅ |
| 14 | Jakub Kiwior | DF | 22 years, 9 months | | June 11, 2022 | ✅ |
| 25 | Robert Gumny | DF | 24 years, 6 months | | Nov. 11, 2020 | ✅ |
| 4 | Mateusz Wieteska | DF | 25 years, 10 months | | March 15, 2022 | ✅ |
| 8 | Damian Szymanski | MID | 27 years, 5 months | | Sept. 7, 2018 | ✅ |
| 24 | Przemyslaw Frankowski | MID | 27 years, 8 months | | March 23, 2018 | ✅ |
| 19 | Sebastian Szymanski | MID | 23 years, 7 months | | Sept. 9, 2019 | ✅ |
| 20 | Piotr Zielinski | MID | 28 years, 6 months | | June 4, 2013 | ✅ |
| 26 | Michal Skoras | MID | 22 years, 9 months | | Nov. 1, 2022 | ✅ |
| 10 | Grzegorz Krychowiak | MID | 32 years, 10 months | | June 13, 2017 | ✅ |
| 11 | Kamil Grosicki | MID | 34 years, 6 months | | Feb. 2, 2008 | ✅ |
| 17 | Szymon Zurkowski | MID | 25 years, 2 months | | March 24, 2022 | ✅ |
| 6 | Krystian Bielik | MID | 24 years, 11 months | | Sept. 6, 2019 | ✅ |
| 13 | Jakub Kaminski | MID | 20 years, 6 months | | Sept. 5, 2021 | ✅ |
| 16 | Karol Swiderski | FW | 25 years, 10 months | | March 15, 2021 | ✅ |
| 9 | Robert Lewandowski | FW | 34 years, 3 months | | March 26, 2017 | ✅ |
| 23 | Krzysztof Piatek | FW | 27 years, 5 months | | Sept. 11, 2018 | ✅ |
| 7 | Arkadiusz Milik | FW | 28 years, 9 months | | Oct. 12, 2012 | ✅ |