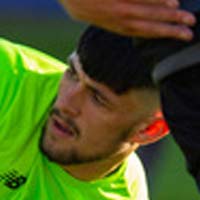 Kian Clarke
Goalkeeper
Height
Age 20 years, 11 months
Place of Birth Tallaght, Dublin
Nationality Ireland
Stats based on games populated in our system. They can be viewed below
Kian's Biography
Cian played with Bohemians' U17 and U19 teams in 2017. He also made the bench for the club's senior side a number of times in 2017 and played in a summer friendly against Derry City.

In 2018 Kian signed for Shamrock Rovers and made his senior debut for them in a Leinster Senior Cup tie against St Mochtas on 7 February. In 2020, Kian made 6 appearances for Shamrock Rovers II.

In January 2021, Kian signed for Bray Wanderers.


Career Facts
League of Ireland Premier Division
Season
Round
Team
Starts
Goals
Pens
MP
Assists
Subs
Sub On
Sub Off
Yellow
Red
MinP
2021

PO Final

Play-off

Bray Wanderers Bray
-
-
-
-
-
1
-
-
-
-
-
2019

Prem

Premier Division

Shamrock Rovers Shamrock R
-
-
-
-
-
4
-
-
-
-
-
2017

Prem

Premier Division

Bohemians Bohs
-
-
-
-
-
4
-
-
-
-
-
League of Ireland First Division
Friendly
FAI Cup
Leinster Senior Cup
UEFA European Under-19 Championship
U19 Cup
Season
Round
Team
Starts
Goals
Pens
MP
Assists
Subs
Sub On
Sub Off
Yellow
Red
MinP
2019

U19 Cup SF

SF

Shamrock Rovers U19 HOOPS U19
-
-
-
-
-
-
-
-
-
-
-
League Cup
Season
Round
Team
Starts
Goals
Pens
MP
Assists
Subs
Sub On
Sub Off
Yellow
Red
MinP
2018

LG Cup R2

R2

Shamrock Rovers Shamrock R
-
-
-
-
-
1
-
-
-
-
-
2017

EA Cup R1

R1

Bohemians Bohs
-
-
-
-
-
1
-
-
-
-
-
UEFA European Under-17 Championship
National U17 League
Season
Round
Team
Starts
Goals
Pens
MP
Assists
Subs
Sub On
Sub Off
Yellow
Red
MinP
2017

LOI17 North

North

Bohemians U17 Bohemians U17
1
-
-
-
-
-
-
-
-
-
-
National U19 League
UEFA European U17 Championships Qualifiers
Season
Round
Team
Starts
Goals
Pens
MP
Assists
Subs
Sub On
Sub Off
Yellow
Red
MinP
2017-2018

UEFA U17 Elite Grp 3

Elite Group 3

Republic of Ireland U17 ROI U17
2
-
-
-
-
-
-
-
-
-
-
2018 Promotion/Relegation Play-off Series
Season
Round
Team
Starts
Goals
Pens
MP
Assists
Subs
Sub On
Sub Off
Yellow
Red
MinP
2021

PO Semi Final

SF

Bray Wanderers Bray
-
-
-
-
-
2
-
-
-
-
-