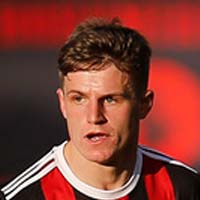 Patrick Kirk
Defender
Height None
Age 24 years, 5 months
Place of Birth None
Nationality Ireland
Stats based on games populated in our system. They can be viewed below
Patrick's Biography
Patrick played for Bohemian's U19 side for the short 2015, 2016 and 2017 seasons. In November 2017, Bohemians announced that Patrick had been promoted to the Senior Squad for the 2018 season.

In December 2018, Patrick re-signed with Bohs for the 2019 season. Patrick made 15 appearances in 2019 and then re-signed with Bohs for 2020. Paddy left Bohs in December 2020 after six years with the club.

In December 2020, Paddy signed for Longford Town ahead of their 2021 Premier Division campaign and after just one year in the Midlands he joined Sligo Rovers for the 2022 season.
In November 2022 it was announce that Paddy would be returning to Bohemians for 2023.

Career Facts
League of Ireland Premier Division
Season
Round
Team
Starts
Goals
Pens
MP
Assists
Subs
Sub On
Sub Off
Yellow
Red
MinP
2022

Prem

Premier Division

Sligo Rovers Sligo
15
1
-
-
1
9
6
-
2
-
-
2021

Prem

Premier Division

Longford Town Longford
27
-
-
-
1
5
1
1
2
-
-
2020

Prem

Premier Division

Bohemians Bohs
4
-
-
-
-
-
-
-
-
-
-
2019

Prem

Premier Division

Bohemians Bohs
13
-
-
-
-
15
2
-
3
-
-
2018

Prem

Premier Division

Bohemians Bohs
9
-
-
-
-
14
1
1
1
-
-
Friendly
Season
Round
Team
Starts
Goals
Pens
MP
Assists
Subs
Sub On
Sub Off
Yellow
Red
MinP
2021

FR

Domestic

Longford Town Longford
3
-
-
-
-
1
1
1
-
-
-
2020

FR

Domestic

Bohemians Bohs
4
-
-
-
-
-
-
1
-
-
-
2019

FR

Domestic

Bohemians Bohs
-
-
-
-
-
1
1
-
-
-
-
2018

FR

Domestic

Bohemians Bohs
1
-
-
-
-
2
-
-
-
-
-
FAI Cup
Leinster Senior Cup
Season
Round
Team
Starts
Goals
Pens
MP
Assists
Subs
Sub On
Sub Off
Yellow
Red
MinP
2019

19 LSC 4th Rd

4th Rd

Bohemians Bohs
1
-
-
-
-
-
-
-
-
-
-
2018

LSC 4th RD

R4

Bohemians Bohs
1
-
-
-
-
-
-
1
1
-
-
2017

LS Cup QF

QF

Bohemians Bohs
1
-
-
-
-
-
-
-
-
-
-
U19 Cup
Season
Round
Team
Starts
Goals
Pens
MP
Assists
Subs
Sub On
Sub Off
Yellow
Red
MinP
2016

U19 Cup

U19 Cup

Bohemians U19 BOHS U19
1
-
-
-
-
-
-
-
-
-
-
League Cup
Season
Round
Team
Starts
Goals
Pens
MP
Assists
Subs
Sub On
Sub Off
Yellow
Red
MinP
2019

Lge Cup SF

SF

Bohemians Bohs
1
-
-
-
-
-
-
-
-
-
-
2019

Lge Cup QF

QF

Bohemians Bohs
1
-
-
-
-
-
-
-
-
-
-
2019

Lg Cup 2nd RD

2nd Round

Bohemians Bohs
1
-
-
-
-
-
-
-
-
-
-
2018

LG Cup R3

QF

Bohemians Bohs
1
-
-
-
-
-
-
-
-
-
-
2018

LG Cup R2

R2

Bohemians Bohs
1
-
-
-
-
-
-
-
1
-
-
2018

LG Cup R1

R1

Bohemians Bohs
1
-
-
-
-
-
-
-
-
-
-
2017

EA Cup R2

R2

Bohemians Bohs
1
-
-
-
-
-
-
-
-
-
-
2017

EA Cup R1

R1

Bohemians Bohs
1
-
-
-
-
-
-
1
-
-
-
National U19 League
Challenge Cup
Season
Round
Team
Starts
Goals
Pens
MP
Assists
Subs
Sub On
Sub Off
Yellow
Red
MinP
2018-2019

IRN-BRU R3

R3

Bohemians Bohs
-
-
-
-
-
1
1
-
-
-
-
2018-2019

IRN-BRU R2

R2

Bohemians Bohs
1
-
-
-
-
-
-
-
-
-
-
Europa Conference League
Season
Round
Team
Starts
Goals
Pens
MP
Assists
Subs
Sub On
Sub Off
Yellow
Red
MinP
2022-2023

ECL QR3

QR3

Sligo Rovers Sligo
2
-
-
-
-
-
-
-
-
-
-
2022-2023

ECL QR2

QR2

Sligo Rovers Sligo
2
-
-
-
-
-
-
-
-
-
-
2022-2023

ECL QR1

QR1

Sligo Rovers Sligo
2
-
-
-
-
-
-
-
-
-
-