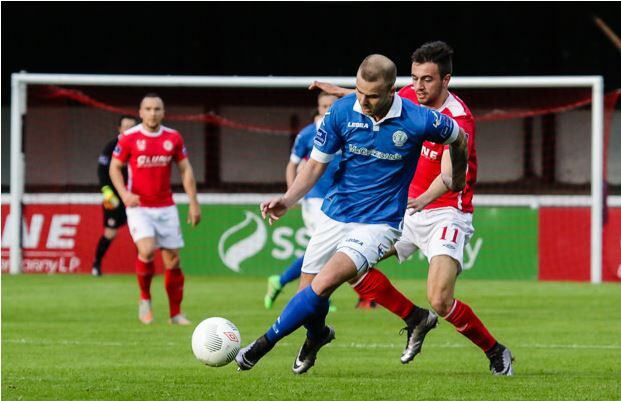 Damien McNulty
Defender
Height
Age 31 years, 6 months
Place of Birth
Nationality Northern Ireland
Stats based on games populated in our system. They can be viewed below
Damien's Biography
Damien is a central defender who played with Limavady United in 2010/11. He made 1 league appearance against Dergview on 12 March 2011 before signing for Coleraine FC that summer. He made his debut for Coleraine in a 0-0 draw away to Dungannon Swifts on 6 August 2011 and he went on to make 10 league appearances over the 2011/12 season.

On 16 January 2013 Damien signed for Peter Hutton at Finn Harps and he made his League of Ireland debut against Waterford United on the opening weekend of the season. He made 15 league appearances that year and added 25 more in 2014, also scoring three times in league and cup competition.

Damien went on to make another 21 league appearances during the 2015 First Division season, scoring two goals, before also playing in all four play-off matches as Finn Harps were promoted to the Premier Division after overcoming UCD and Limerick. And in 2016 he added 23 league appearances to his career total, scoring once, as Harps retained their place in the Premier Division with a tenth place finish.

In January 2018, Damien signed for Carrick Rangers.


Career Facts
League of Ireland Premier Division
Season
Round
Team
Starts
Goals
Pens
MP
Assists
Subs
Sub On
Sub Off
Yellow
Red
MinP
2017

Prem

Premier Division

Finn Harps Harps
27
-
-
-
-
4
1
1
10
-
-
2016

Prem

Premier Division

Finn Harps Harps
24
1
-
-
-
-
-
1
8
-
-
2015

Playoff

Playoff

Finn Harps Harps
4
-
-
-
-
-
-
-
1
-
-
League of Ireland First Division
Season
Round
Team
Starts
Goals
Pens
MP
Assists
Subs
Sub On
Sub Off
Yellow
Red
MinP
2015

First

First Division

Finn Harps Harps
19
2
-
-
-
2
1
-
6
-
-
2014

First

First Division

Finn Harps Harps
23
2
-
-
-
1
-
1
8
-
-
2013

First

First Division

Finn Harps Harps
15
-
-
-
-
-
-
1
2
-
-
Friendly
FAI Cup
Europa League
Season
Round
Team
Starts
Goals
Pens
MP
Assists
Subs
Sub On
Sub Off
Yellow
Red
MinP
2018-2019

EL QR1

QR1

Cliftonville Cliftonville
-
-
-
-
-
1
-
-
-
-
-
Irish Premiership
League Cup
Season
Round
Team
Starts
Goals
Pens
MP
Assists
Subs
Sub On
Sub Off
Yellow
Red
MinP
2017

EA Cup R2

R2

Finn Harps Harps
1
-
-
-
-
-
-
-
-
-
-
2016

EA Cup R1

R1

Finn Harps Harps
-
-
-
-
-
1
1
-
-
-
-
2013

EA Cup R1

R1

Finn Harps Harps
1
-
-
-
-
-
-
-
-
-
-