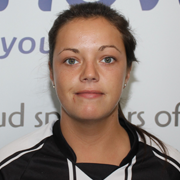 Noelle Murray
Forward
Height
Age 32 years, 7 months
Place of Birth
Nationality Ireland
Stats based on games populated in our system. They can be viewed below
Noelle's Biography
Noelle played for Raheny United and St Catherines, before joining Shamrock Rovers for the inaugural season of the Women's National League 2011/2012. In those pre WNL days she played in two FAI Women's FAI Cup finals, losing with Raheny in 2007, and scoring twice in a 3-1 win over Wilton United when with St Catherine's in 2011.

Rovers finished bottom of a six-team league in that first season and in 2012/13 Noelle returned to her former club, signing for Raheny United. Over the next three seasons she won two league titles and three FAI Cups with the Pandas. She also competed in European competition, playing in the 2013/14 and 2014/15 Champions League, reaching the Last 32 in the latter season.

Ahead of the 2015/16 season, Raheny United merged with Shelbourne and formed Shelbourne Ladies FC, with Nolle signing on for the newly-formed club.

In January 2017 Noelle signed for Glasgow City and spent one season with the Scottish club, returning to Shelbourne in March 2018.


Career Facts
Women's National League
Women's National League Cup
Women's FAI Cup
2017 Women's National League Shield
Season
Round
Team
Starts
Goals
Pens
MP
Assists
Subs
Sub On
Sub Off
Yellow
Red
MinP
2018

WNL Shield SF

SF

Shelbourne FC SHE
1
-
-
-
-
-
-
-
-
-
-
2018

WNL Shield QF

QF

Shelbourne FC SHE
1
1
-
-
-
-
-
-
-
-
-
2015-2016

WNL Shield Final

Final

Shelbourne FC SHE
1
-
-
-
-
-
-
-
-
-
-
2015/16 Women's National League
Season
Round
Team
Starts
Goals
Pens
MP
Assists
Subs
Sub On
Sub Off
Yellow
Red
MinP
2015-2016

WNL Playoff

WNL Playoff

Shelbourne FC SHE
1
-
-
-
-
-
-
-
1
-
-
Women's Champions League