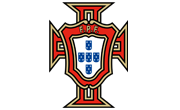 Portugal
Os Navegadores
Follow
Portugal's Biography
The Portugal national football team represents Portugal in association football and is controlled by the Portuguese Football Federation, the governing body for football in Portugal.

Portugal's home ground is the Estádio Nacional in Oeiras, and their head coach is Paulo Bento. Their first World Cup appearance, in the 1966 FIFA World Cup, saw them reach the semi-finals, losing 2–1 at Wembley to the eventual world champions, England. The next two times Portugal qualified for the World Cup were 1986 and 2002, with Portugal going out in the first round both times. In the 1986 tournament, players went on strike over prize-money and refused to train between their first and second games.

In 2003, the Portuguese Football Federation hired Luiz Felipe Scolari, the Brazilian head coach who had led the Brazil national football team to win the 2002 FIFA World Cup. Scolari led Portugal to the final of UEFA Euro 2004, where they lost to Greece, and to their second World Cup semi-final in the 2006 World Cup. Scolari left after the UEFA Euro 2008 and was replaced by Carlos Queiroz. He led Portugal to the second round of the 2010 World Cup before they were defeated by the eventual champions Spain.
Portugal Squad
| Squad No | Player | Pos | Age | Nation | Start | Cur |
| --- | --- | --- | --- | --- | --- | --- |
| 1 | Rui Patricio | GK | 34 years, 9 months | | Nov. 17, 2010 | ✅ |
| 22 | Diogo Costa | GK | 23 years, 2 months | | Sept. 1, 2021 | ✅ |
| 12 | Jose Sa | GK | 29 years, 10 months | | May 25, 2017 | ✅ |
| 4 | Rúben Dias | DF | 25 years, 6 months | | March 15, 2018 | ✅ |
| 5 | Raphael Guerreiro | DF | 28 years, 11 months | | Nov. 7, 2014 | ✅ |
| 24 | Antonio Silva | DF | - | | None | ✅ |
| 3 | Kepler de Lima Ferreira (Pepe) | DF | 39 years, 9 months | | Aug. 30, 2007 | ✅ |
| 20 | Joao Cancelo | DF | 28 years, 6 months | | Aug. 26, 2016 | ✅ |
| 19 | Nuno Mendes | DF | 20 years, 5 months | | March 24, 2021 | ✅ |
| 2 | Diogo Dalot | DF | 23 years, 8 months | | June 23, 2021 | ✅ |
| 8 | Bruno Fernandes | MID | 28 years, 3 months | | Aug. 28, 2017 | ✅ |
| 23 | Matheus Nunes | MID | 24 years, 3 months | | Oct. 9, 2021 | ✅ |
| 18 | Rúben Neves | MID | 25 years, 9 months | | Nov. 10, 2015 | ✅ |
| 10 | Bernardo Silva | MID | 28 years, 4 months | | May 31, 2015 | ✅ |
| 16 | Vitor Machado Ferreira (Vitinha) | MID | - | | None | ✅ |
| 13 | Danilo Pereira | MID | 31 years, 3 months | | March 31, 2015 | ✅ |
| 14 | William Carvalho | MID | 30 years, 8 months | | Nov. 19, 2013 | ✅ |
| 6 | Joao Palhinha | MID | 27 years, 5 months | | March 24, 2021 | ✅ |
| 25 | Otavio Monteiro | MID | 27 years, 10 months | | Sept. 1, 2021 | ✅ |
| 21 | Ricardo Horta | FW | - | | None | ✅ |
| 7 | Cristiano Ronaldo | FW | 37 years, 10 months | | March 25, 2017 | ✅ |
| 11 | Joao Felix | FW | 23 years | | June 5, 2019 | ✅ |
| 17 | Joao Mario Neto Lopes | FW | 22 years, 11 months | | Sept. 1, 2021 | ✅ |
| 15 | Rafael Leao | FW | - | | Oct. 9, 2021 | ✅ |
| 9 | André Silva | FW | 27 years, 1 month | | March 25, 2017 | ✅ |
| 26 | Goncalo Ramos | | - | | None | ✅ |