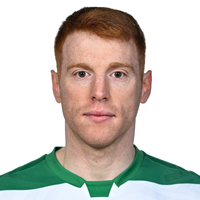 Rory Gaffney
Forward
Height 184 cm
Age 33 years, 1 month
Place of Birth Tuam, Co Galway
Nationality Ireland
Stats based on games populated in our system. They can be viewed below
Rory 's Biography
Rory is an attacking midfielder who can also play as a striker. He came through the underage system at Mervue and played in Mervue United's debut League of Ireland season of 2009, making 56 appearances in the club's first two seasons. He made his league debut on the opening day of the 2009 season against Athlone Town at Terryland Park and scored 4 senior goals that year. In 2010 Rory added another 5 goals to his tally and in 2011 he had scored a further 5 goals and amassed a grand total of 66 appearances before signing for Pat Scully's Limerick FC in late July.

He made his debut for the Blues away to Waterford United on 5 August 2011 and in the latter half of 2011 Rory made 11 league appearances for Limerick. He re-signed for the 2012 season when he and scored ten goals in 24 appearances as he helped Limerick to top the First Division and win promotion to the Premier Division.

Rory remained with Limerick for their return to the top flight in 2013 and made 19 league appearances, scoring five goals. In every game he scored in that year, Limerick won, and he re-signed for the club for the 2014 season. 2014 was an even better season for the Galway man, as he scored fourteen goals in thirty-one appearances in the league, including a hat-trick against Bray Wanderers in a 4-1, as Limerick recovered to finish sixth in the table.

His form earned Rory a move across the water to League Two side Cambridge United in November 2014.

Rory signed for Shamrock Rovers in February 2020.


Career Facts
League of Ireland Premier Division
League of Ireland First Division
Presidents Cup
Friendly
FAI Cup
Europa League
Season
Round
Team
Starts
Goals
Pens
MP
Assists
Subs
Sub On
Sub Off
Yellow
Red
MinP
2022-2023

EL QR3

QR3

Shamrock Rovers Shamrock R
2
1
-
-
-
-
-
1
-
-
-
Munster Senior Cup
Season
Round
Team
Starts
Goals
Pens
MP
Assists
Subs
Sub On
Sub Off
Yellow
Red
MinP
2013

MS Cup QF

QF

Limerick Limerick
1
-
-
-
-
-
-
-
-
-
-
2012

MS Cup Final

Final

Limerick Limerick
1
-
-
-
-
-
-
-
-
-
-
2012

MS Cup SF

SF

Limerick Limerick
-
-
-
-
-
1
-
-
-
-
-
League Cup
UEFA Champions League Qualifiers
Europa Conference League