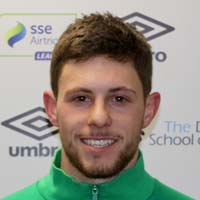 Stephen McGuinness
Goalkeeper
Height
Age 27 years, 8 months
Place of Birth Dublib
Nationality Ireland
Stats based on games populated in our system. They can be viewed below
Stephen's Biography
Stephen is a goalkeeper who played for Bray Wanderers U19 team from 2011 until 2013 and in January 2013 he was named as part of Pat Devlin's first team squad. He made one senior appearance in 2013, playing in the 4-1 Leinster Senior Cup win over Tolka Rovers but in 2014 Stephen made his league debut for the Seagulls when he replaced Shane Redmond who had been sent off in the 5-3 defeat to UCD. He kept his place the following week against Bohemians and went on to make 27 league appearances, also winning the club's Player of the Year award for 2014.

Stephen started the 2015 season as Bray's first choice goalkeeper, playing in the first 17 league matches, in which he kept five clean sheets, before injury saw him miss the rest of the campaign as Bray finished eighth in the Premier Division.

In February 2016, Stephen signed for Drogheda United in the First Division where he made 24 league appearances in a Drogheda team that won promotion to the Premier Division via the play-offs. In 2017 Stephen played in all 33 of Drogheda's Premier Division games, missing just 72 minutes of league action when forced off with injury during their game against Derry City in May. Drogheda were relegated the end of that season and Stephen left to join Pat Devlin's Cabinteely.

Stephen made his first appearance for Cabinteely in their 2018 opening night defeat to Wexford. In November 2019, Stephen signed with Bohs. In November 2020, Stephen re-signed with Bohs for the new season.


Career Facts
League of Ireland Premier Division
League of Ireland First Division
Friendly
FAI Cup
Europa League
Season
Round
Team
Starts
Goals
Pens
MP
Assists
Subs
Sub On
Sub Off
Yellow
Red
MinP
2020-2021

EL QR1

QR1

Bohemians Bohs
1
-
-
-
-
-
-
-
-
-
-
Leinster Senior Cup
League Cup
2018 Promotion/Relegation Play-off Series
Season
Round
Team
Starts
Goals
Pens
MP
Assists
Subs
Sub On
Sub Off
Yellow
Red
MinP
2019

PO Semi Final

SF

Cabinteely Cabinteely
2
-
-
-
-
-
-
-
-
-
-
2019

PO Quarter Final

QF

Cabinteely Cabinteely
2
-
-
-
-
-
-
-
-
-
-
Europa Conference League
Season
Round
Team
Starts
Goals
Pens
MP
Assists
Subs
Sub On
Sub Off
Yellow
Red
MinP
2021-2022

ECL 3QR

3QR

Bohemians Bohs
-
-
-
-
-
1
-
-
-
-
-
2021-2022

ECL 2QR

2QR

Bohemians Bohs
-
-
-
-
-
2
-
-
-
-
-
2021-2022

ECL 1QR

1QR

Bohemians Bohs
-
-
-
-
-
2
-
-
-
-
-